Amelia and Isabelle's chance encounters.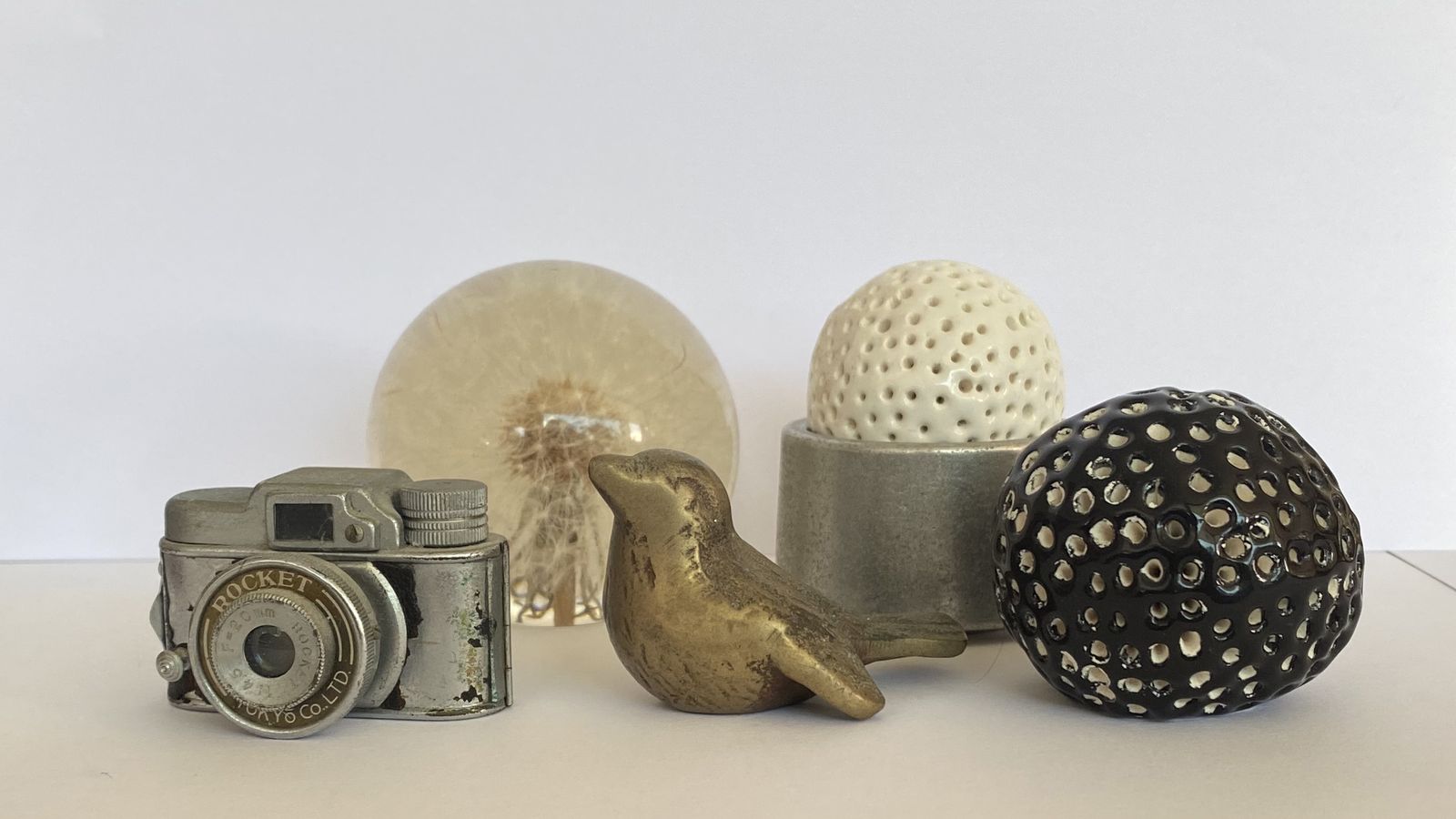 Happy objects is an Australian Design Centre exhibition exploring the value of objects in our lives. We asked Kathy Amelia Holliday and Isabelle Toland to share with us a 'happy object' and tell us a story about this object.
Without really thinking about it we both immediately thought of sharing objects that sit on the desks in our studio. We are both attracted to interesting textures, patterns and varied material qualities. We like to build on, add to, and adapt existing things, and are intrigued by interrelationships, chance encounters and happy coincidences. We constantly seek out other people who think differently to us, to challenge our assumptions or preconceptions. Our objects are reflective of what is important to us – relationships with other people, working collaboratively, and treasuring memories and experiences.
Amelia says:
My desk objects have been gifted, purchased, found and freed.
The Dandelion (female friendship) is one of several paperweights bought in London which I gifted to my favourite friends. A very close friend in Berlin has one on her desk there and regularly sends me photos of it.
The Bird (the gift of family) originally belonged to my mother but it made the journey with me when I moved out on my own, reminding me of home. The brass has worn away over the years from touch.
The Balls (fun and frivolity) are by Addison Marshall, who was one of the artists-in-residence in our old studio in William Street. I loved these balls as a set and purchased them at his pop-up exhibition in our space.
The Tray (lost love) is part of a set by Henry Wilson, which belonged to my ex-husband. I kept this one when I packed up all his things (I don't think you're supposed to keep full sets of anything at the end of a marriage).
The Camera (years of learning and influence) belonged to my stepfather, who loved technology and lifelong learning, and was a great collector. This Japanese spy camera was part of one of the largest collections of antique cameras amassed in Australia. I inherited it when he passed away in heart surgery in 1998.
Isabelle says:
I fell in love with this bowl when I saw it in Alexandra Standen's 2016 exhibition Uneasy in the Southern Highlands. I love its size and shape, its fineness and texture, the colour of the clay and the metallic glaze. The shells and coral inside are from a number of site visits to Kamay whilst we were working on the design for a project along the shoreline. It makes me happy to have these items next to me as I work. In the morning, light is reflected off the sides of the bowl onto the desk surface around it.
Amelia Holliday and Isabelle Toland are friends, colleagues and business partners. Together they own and operate Aileen Sage Architects, a Sydney-based architecture practice.