Bic's amulets, talismans and medicinal recipes.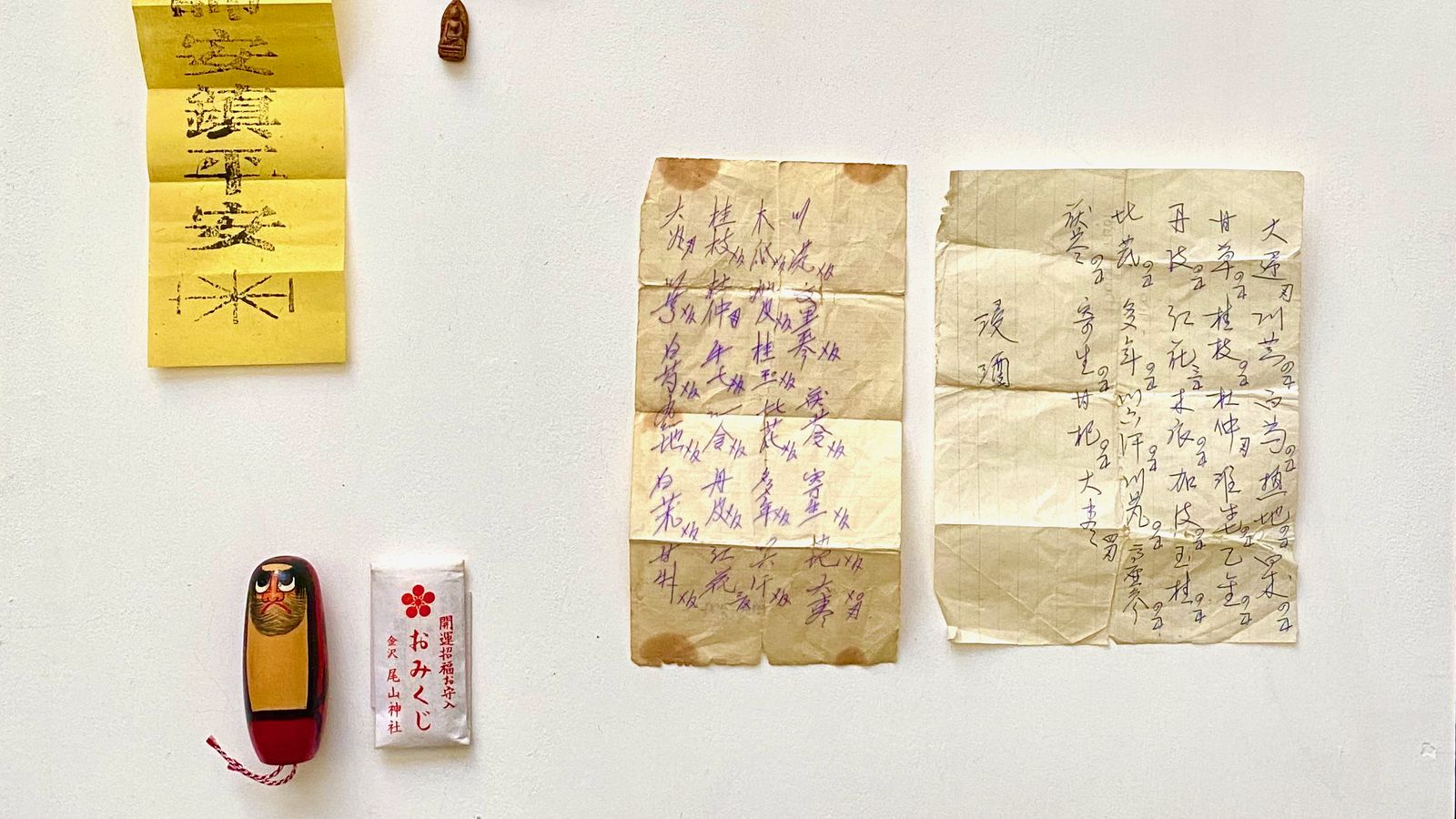 Happy objects is an Australian Design Centre exhibition exploring the value of objects in our lives. We asked Bic Tieu to share with us a 'happy object' and tell us a story about this object.
Bic says:
This series of personal magical Taoist amulets, talismans and medicinal recipes from my Grandpa have come from Buddhist temples in Sydney, Vietnam and Japan. Every Chinese New Year, following the lunar calendar dates, my parents and I attend the Mingyue Lay Buddhist temple in Bonnyrigg, south of Sydney. We move from different rooms and spaces with burning joss sticks. In each room different deities are positioned in their serenity pose with eyes gently observing. We kowtow our heads to every deity and pay respects with a burning joss stick. We hope the smoke from the incense will rise to the heavens. An assortment of fruits and sweets in season are offered to our dearly deceased; Gong (Grandpa), Mà (Grandma), Dua i (maternal first Auntie), Dua Gu and Dua Gim (maternal first uncle and his wife). My mother especially prays for good luck for the opening of the new year. At the end of this procession, my parents collect paper amulets, also known as Taoist Magical Paper for my siblings and for me. On receiving the new paper amulet, I am supposed to return the old one from the previous year which they will burn, but I choose to keep them.
These objects are significant as they are a ritual and reminder of family and tradition, and form part of my identity. They connect me to my traditional culture but mostly they are a special reminder of history, family rituals, time and places. I love how although they have similar functions and properties, their designs have been interpreted over time, through change of environment and technology. I carry the amulets in a small pouch, taking them wherever I go.
Bic Tieu is a Sydney-based contemporary jewellery and object designer. She is inspired by Asian art practices and sensibilities to communicate narratives around personal cross-cultural concepts and intercultural identity.