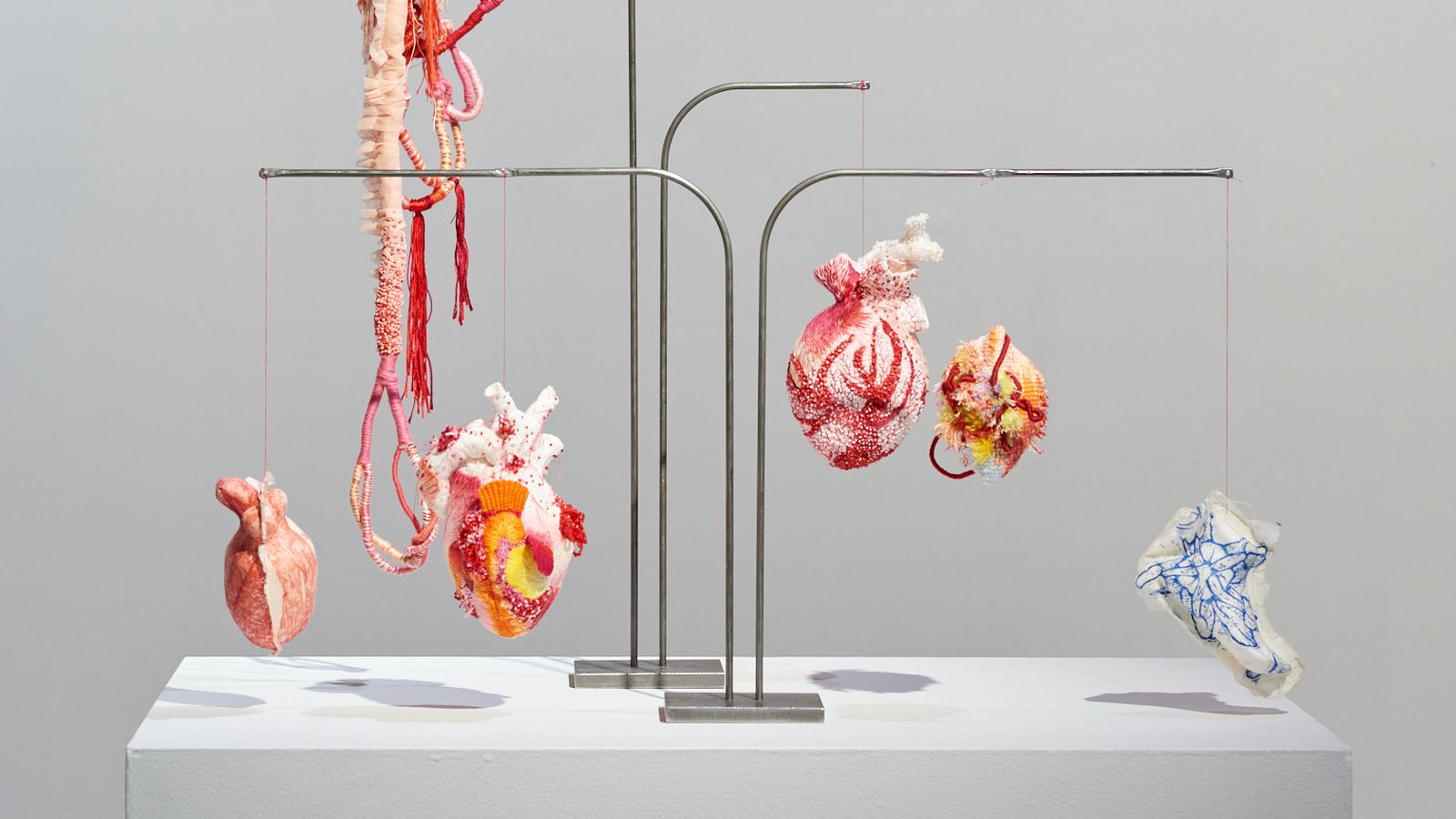 22 November – 21 January 2023

Hearts of Absent Women is a feminine expression of cultural rebellion. Each intricate embroidered heart is an act of remembering and celebrating women's untold stories.
Ema grew up in a male-dominated family in a patriarchal society where female relatives' names were not recorded, and, in the same way that works by women are historically forgotten, Korean folk art was produced by 'unknown' artists.
Since the birth of her first child in 2014, Ema has integrated her art practice into daily life, working from her home studio to produce works that celebrate women's lives and bodies. Her work is informed by not only being a woman and a mother but also a migrant as she challenges experiences of sexism and racism.

Sophia Cai, in her catalogue essay Filling the hearts of absent women, explains more about the motivations of the artist.
There are many reasons artists make work. It can be an expression of new perspectives, a means of storytelling and sharing, or is born from a compulsion to create. For Ema Shin, it is a combination of all three. Through the process of artmaking, Ema challenges deeply entrenched cultural narratives in order to express her agency, place and voice. Her compulsion to create is informed by the artist's lived experience as a woman, migrant and mother, and the intersecting forces of casual racism and sexism that have informed her place in the world.
Though this expression is compelled by anger, to encounter Ema's works is to enter a world guided by warmth and care. Working primarily with bright hues of reds, oranges, and pinks; it is easy to draw comparisons in her palette to that of the fleshy inner body. The softness and tactility of the materials furthers this reading. The colours are also a form of good fortune that honours the colours and motifs of Korean folk art. In the same way that works made by women tend to be historically forgotten, Korean folk art was produced by 'unknown' artists. These artists are not unknown; however, they are just unnamed. In Ema's hands, the care and labour she places on each individual embroidered heart is an act of remembering, a way of expressing and memorialising the hearts of women who came before. 
Ema Shin
A Melbourne based artist, Ema was born and grew up in Niigata, Japan. She studied at Tama Art University, Tokyo and completed a Master of Fine Art Degree at Aichi Prefectural Art University, Nagoya. From 2005 to 2007 she participated in Artist-in-residency programs and community projects in Japan, Mexico, Spain and Kenya.
Ema first came to Australia in 2010 on an Overseas Research Grant from the Pola Art Foundation in Japan. She has held numerous solo and group exhibitions in Japan, Korea, Australia and other countries. Ema's work was shown at Australian Design Centre in 2020 as part of Open House: Tamworth Textile Triennial. Hearts of Absent Women, was first shown at the Counihan Gallery in February 2022. The exhibition includes work that Ema has made over the course of the eleven years she has lived in Australia.
Events
Collage and Stitching Workshop
Join Ema to create unique textile pieces with the slow, calm and personalised stitching methods used in her own practice. Participants will learn to stitch, embroider and collage their own imagery onto natural hand dyed linen, natural hand dyed muslin and printed cotton fabric produced by Ema. All tools and materials included.
Where: Australian Design Centre
When: Saturday 21 January, 11:00am-2:30pm
Tickets: $85, book here