The 2016 Venice Architecture Biennale, Reporting from the Front, curated by Alejandro Aravena opened last month and I was lucky enough to spend a brief few days immersed in its wonders and dilemmas. As a project of my own over the last 18 months, I worked with Creative Directors Amelia Holliday, Isabelle Toland and Michelle Tabet, developing the branding, book design and exhibition graphics for The Pool, Australia's exhibition at the Biennale and the inaugural architectural work in the new Australian Pavilion.
The success of The Pool lays in the understanding of the power of storytelling. Much of my time as a designer is spent immersed in that world – connecting design in an understandable and accessible way to a broad audience. It was refreshing that the team instinctively had that insight from the start, nearly 18 months ago.
The Biennale itself is vast and dense – far bigger than the three days that we had would allow us to see. It is a Biennale deeply consumed with the environmental, social and economic challenges that the world is facing. From my perspective, simple powerful ideas underpinned by a depth of thinking, have remained the most resonant. Germany's intervention by opening the 'borders' of their own pavilion, Canada's meditation on the scars of extraction of mineral resources, or the British speculation Home Economics – five new models for domestic life. Or the astonishing entry to the (equally astonishing) Arsenale, an epic and beautiful installation formed from a portion of the 100 tonnes of waste material generated by the previous Biennale.
There were many others – The Pool amongst them – that used intelligent and democratic exhibition design to take their audience on a meaningful journey. Given the resources – human and material – that the Biennale consumes, it becomes our responsibility to embed our collective work with ideas, wonderment and symbolism, and to educate and inspire as many as we can.
Stephen Goddard / Project Two
For more information on the 2016 Venice Architecture Biennale click here
Image credits:
Top: The Pool, Australia's exhibition at the Venice Architecture Biennale, designed and curated by Amelia Holliday, Isabelle Toland (Aileen Sage Architects) and Michelle Tabet. Photo: Alexander Mayes
Lower: Entry installation at the Arsenale, composed of the aluminium wall studs and plasterboard fragments collected as waste from the previous Biennale. Photo: Stephen Goddard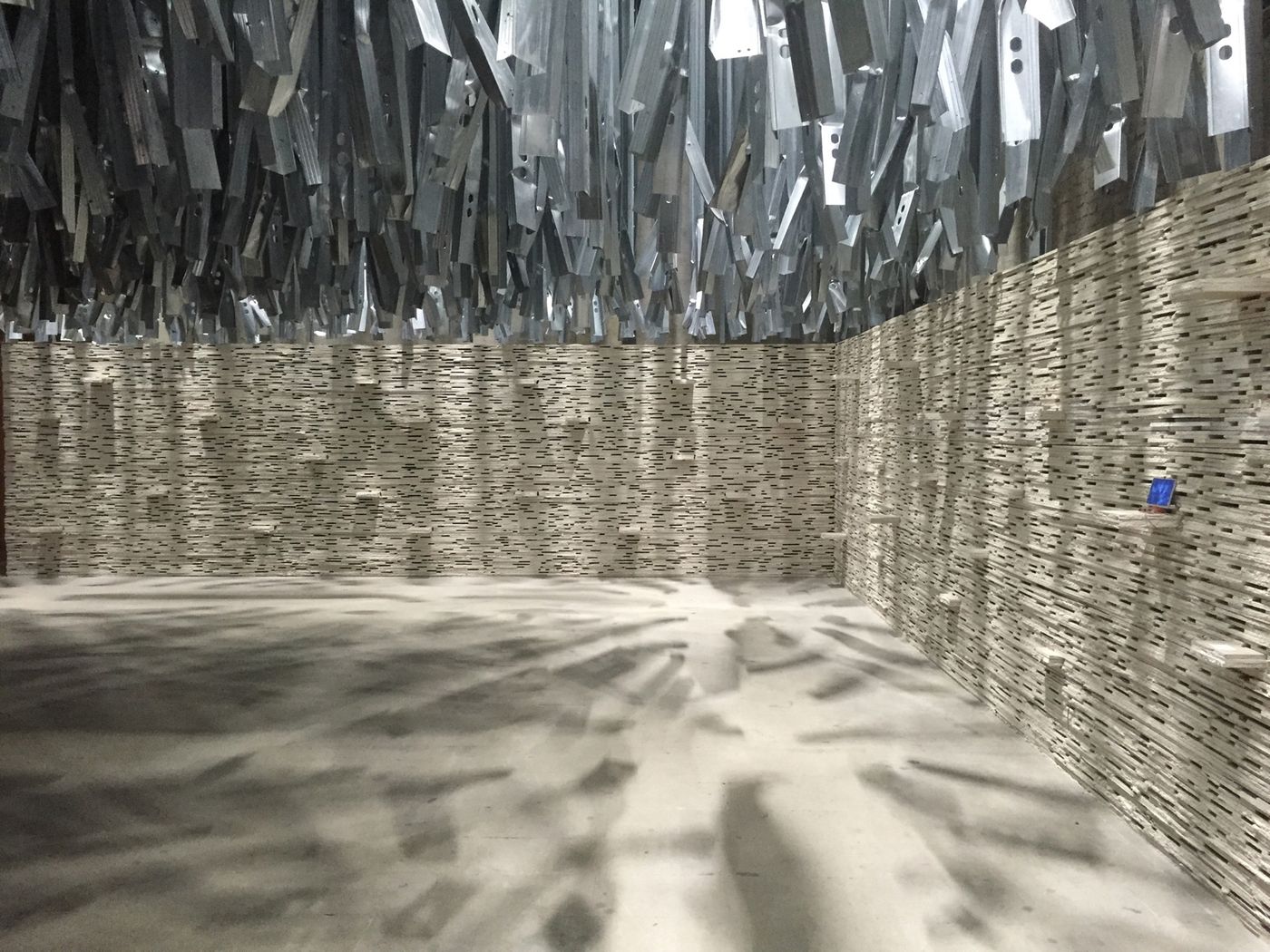 End of article.