Penny Craswell from The Design Writer shares an article about two contemporary Indigenous designers drawing on Indigenous Australian traditions in their practices; Lucy Simpson, a textile and graphic designer and Nicole Monks, a designer working across art, interiors, fashion, set and surface design.
Lucy Simpson and Nicole Monks

As a source of inspiration for designers and architects, Australian Indigenous culture should not be underestimated. At a recent talk on shield carving by Andrew Snelgar and Simon Penrose at the Art Gallery of NSW, I saw first hand the beauty of traditional shields, tools and weapons made by hand. I also learnt about practices such as the harvesting of timber from trees – up to two thirds of a tree can be removed without killing it.
This approach to design can be seen in Lucy's use of storytelling in her work, communicating aspects of Aboriginal culture as well as connections to family story and place through colour, material and motif. Her works are made from natural materials using environmentally-conscious processes, including textiles such as her tea towels for Gaawaa Miyay. Yilaalu is an artwork made of paperclay and ironbark string that was exhibited at the Museum of Contemporary Art (MCA) Australia last year. "As a Yuwaalaraay designer, I have a responsibility to represent my family and community with respect in my role as caretaker of the story and knowledge that has been passed on to me," says Lucy.
"For me, Aboriginal design represents thoughtful, integrated and often multifunctional design. It is innovative, timeless and steeped in experience, story and connections to country and place. These are beautiful and universal concepts which I feel most designers could aspire to and relate to."
Nicole Monks draws on her Aboriginal (Wajarri Yamatji), Dutch and English heritage in her work, through which she shows a respect for the land and the stories that are linked to it. Her work is made with eco-friendly and sustainable materials, and are made to order, custom made or produced in limited edition to eliminate waste. Each work is named using Wajarri Yamatji words in order to keep the language alive.
Her most recent work is the Walarnu (Boomerang) Chair whose metal structure was inspired by the irregular shape of the hunting boomerang: "The Walarnu story began after finding out my family was part of the stolen generation," explains Nicole. "I returned to my country and saw a boomerang used by my elders – it had a profound impact on me." Her textiles have recently been released under the name Pandanah, a cross cultural collaborative with Cara Mancini-Geros, and she is the creative director of Blackandwhite Creative, a company fostering creative collaborations, such as a large timber installation called Marri Ngurang (large place) in the lobby of an affordable housing block in Eveleigh, Sydney. Nicole is currently designing two furniture ranges based on Indigenous knowledge around concepts of sustainability, cultural sensitivity, form and function which will be launched at the Australian Design Centre later this year.
More on Indigenous Design: Nicole Monks and Lucy Simpson
More on Lucy Simpson and Nicole Monks


This story was written by Penny Craswell and first published on her blog The Design Writer on 4 July. Penny is contributing editor of Architectural Review Asia Pacific and Mezzanine magazines, content producer / communications consultant for design studios including Koichi Takada Architects, Lahznimmo Architects and Bijl Architecture, and is currently completing a Masters of Design at USNW on design narratives. She is currently Writer in Residence at the Australian Design Centre.
Images:
Top: Lucy Simpson, Dhina, digital print scarf. Image: courtesy Lucy Simpson
Below: Nicole Monks, Walarnu (Boomerang) Chair designed by Nicole Monks for bseated. Image: bseated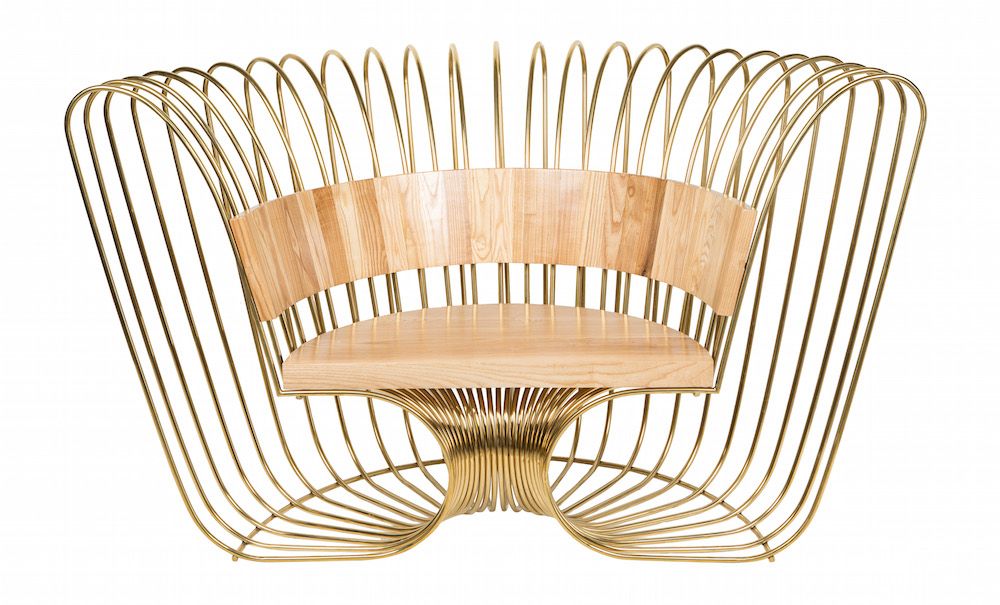 End of article.