On display in Object Space until 14 November is the exhibition Dorothy Filshie: Fish Out of Water. Fish Out of Water is an exhibition of the textile object work of NSW artist Dorothy Filshie. We spoke to Dorothy to find out more about her inspiration and making process. 
ADC: Dorothy, we currently have dozens of fish, star fish and barnacles on display in Object Space – how did you come to making fish and why?
Dorothy: Fish are relatively easy to make and I can experiment with different shapes, fabrics and features. Previously I made jugs from fabric, then started stiffening some of them with gesso, then I made a fish.  And another, and so on.
ADC: You say your work is dictated by your love of food, textiles and art – can you let us know more about the inspiration?
Dorothy: I've always loved textiles and food, and I was a Home Science teacher.  My early fish were made on the kitchen bench, but they can get messy and time consuming, so I was encouraged to work elsewhere.
ADC: Your fish are made from hessian, calico, duck and artists' canvas plastered with old-fashioned gesso made from rabbit skin glue and whiting powder. What attracts you to these materials and how did you come to use them? 
Dorothy: Most of the fish are made using hessian or other natural fabrics. I like to make them hollow and lightweight, so they can sway in the breeze.  I make a paper pattern, cut out the pieces in fabric, then sew them, shape th then coat them with gesso. I make the gesso using rabbit skin glue which is like gelatine. It is dissolved in water, whitening powder is added to make a smooth paste which is kept warm in a double boiler, then applied with a paintbrush. Usually two or three coats are needed. This procedure is similar to coating a wedding cake with old-fashioned royal icing, which uses egg white and icing sugar.
ADC:  What's next for your creative practice Dorothy?
Dorothy: What next?  I like to paint, sometimes preparing the canvas with gesso, a procedure I learned in an art class in Icon Painting. I like food related subjects, especially kitchen utensils, jugs, cutlery. Maybe I'll make a fish or two, or even a bird.
The works in the window are for sale. Fish prices: extra large $142, large $126, medium $79, small/fishbones/starfish/barnacles $47
For sales please contact us on: 02 9361 4555
Object Space is located in the window of the ADC Offices on William Street in Darlinghurst. The exhibition space has direct street frontage, is accessible to view 24 hours a day and is lit for viewing at night.
Explore the exhibitions in Object Space here.
Image: Dorothy Filshie at Work, Photo: Barry Flishie
Dorothy Filshie, Fish Out of Water installation (detail) 2018. Photo Rhiannon Hopley.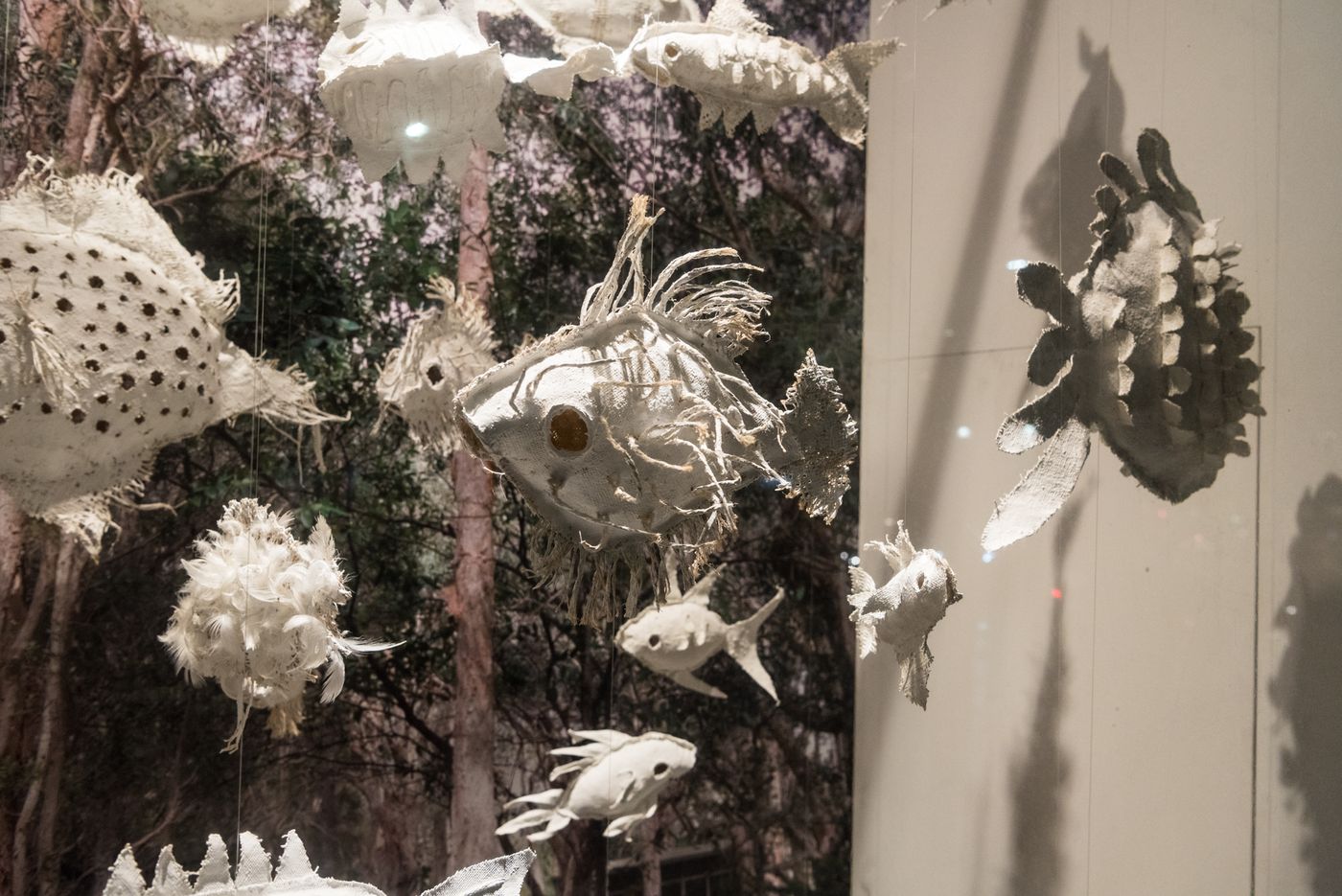 End of article.