Making is part of the human experience. In 2015 former ADC Director Steve Pozel and Lisa Cahill had the beginnings of a big idea to embark on an exhibition project to showcase the awe inspiring innovation and creativity of the maker. Here we share with you the insights from our research into the power of making.
Making is part of the human experience. At ADC we showcase the work of craftspeople and designers in our exhibitions, events, workshops and in our learning and digital programs. In 2015 former ADC Director Steve Pozel and Lisa Cahill had the beginnings of a big idea to embark on an exhibition project to showcase the awe inspiring innovation and creativity of the maker and at the same time focus on the fundamental human need to make. The foundations for this project are in that early thinking. Here we share with you the insights from our research into the power of making.
December 2015
In 2015 the Australian Design Centre successfully received funding from Visions of Australia, Australian Government Regional Exhibition Touring Program, to research and develop a new exhibition celebrating the power and role of making in Australia. This exhibition will form part of ADC's national touring program and has already confirmed interest from venues across the country.
This proposal took as its point of departure the 2011 exhibition "The Power of Making" at the Victoria & Albert Museum, London. Curated by Daniel Charny, this hugely popular exhibition was an eclectic 'cabinet of curiosities' that presented 100 different objects from across the world, made by amateurs and experts alike, to demonstrate the breadth and value of making in our lives today.
WHY THIS EXHIBITION IN AUSTRALIA NOW?
In 2014 the Australia Council for the Arts commissioned a report – Arts in Daily Life: Australian Participation in the Arts. It demonstrated the increasing levels of involvement and engagement that people have with the visual arts and craft. Did you know that nearly 50% (48% to be exact) of Australians in 2013 were creating art themselves – up from 41% in 2009? Or that one in three Australians are creating visual arts and craft – 30% of the population, up from 22% in 2009. Or did you know that more people attend cultural events that sporting events?
There has never been a time when Australians have been so engaged in making and learning about art, craft and design – why is that? ADC wanted to find out.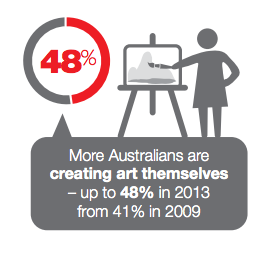 WHERE TO START?

March 2016
ADC hires Jo Higgins to undertake the curatorial research in addition to her role as Creative Strategy Manager. Research began with a wide cast of the net, asking some broad questions about the value of making; about what it is we mean when we say making; and what it is that making in Australia tell us about ourselves, our traditions and our future?
Early reading and research identified some important ideas, developments and issues to be considered. These included:
The rise of maker spaces, craft markets and platforms such as Etsy
The role of technology and the Internet in promoting innovation, learning and community building – think hacking, coding, 3D printing, Youtube demonstrations and online forums for knowledge exchange and purchasing
The ongoing discussions around sustainability; a cradle to grave lifespan for objects; the increasing market value of the handmade and the one-off; and the visibility of the hand of the maker in these objects
The increasing amount of scientific research being undertaken connecting health and wellbeing to making
The valuable lessons to be taken from Indigenous Australians' making traditions that connect making to country while celebrating materiality, sustainability, function, form, storytelling and continuous culture.
RESEARCH ROUNDTABLE NO.1 – Testing the waters
July 2016, Australian Design Centre
On 20 July, ADC held a roundtable to present the early, broad findings of this research. Participants included: Associate Professor Liz Williamson, Vivid Ideas Curator Jess Scully, designers Lyn & Tony, Adam Goodrum and Lucy Simpson, Penny Craswell from The Design Writer, Sophia Kouyoumdjian, Coordinator of Parramatta Artists Studios and Keinton Butler, Senior Curator of Design and Architecture at the Museum of Applied Arts and Sciences, Sydney.
The roundtable presented some very early findings around four broad themes, with the aim of testing participants' responses, identifying any issues or broader questions that needed to be addressed and determining a more focused next step.
These four themes were:
MAKING AS CONNECTING: craft and communities, making as social enterprise
TRADITIONS AND CONTEMPORARY MAKING: how traditions of making and within cultures are being continued and/or updated today
MAKING AND WELLBEING: the role of making in wellbeing as both an object and process
NECESSITY: sustainability, survival, functionality.
The conversations that followed were lively, opinionated and provocative. From such a broad overview it's unsurprising that multiple exhibition ideas were identified!
Perhaps the most valuable takeaway from the discussions concerned the need for a tight curatorial focus that wasn't afraid to stake a claim and demonstrate a clear opinion, experience or perspective on making, one that located the experiences of makers making as central to the discussion.
RESEARCH ROUNDTABLE NO.2 – Testing one idea
August 2016, JamFactory, Adelaide
On 17 August, to Adelaide for a second roundtable, this time with members of the curatorial team and several of the studio creative directors. This particular roundtable tested one exhibition theme (of a possible many!) - looking at sustainable design and role of materials. The JamFactory team was hugely generous with their thoughts and experiences and discussions focused on the increasing subtleties and complexities of sustainable practices within contemporary making. At the end of the roundtable it was decided that a focus on current debates around sustainability and making would be better suited to a research paper or public symposia and should not be the focus of the exhibition.

NEXT STEPS:
September / October 2016
Another angle: makers and their objects – motivations, materials and connections.The original research proposal identified a key outcome for the exhibition, and this was giving audiences a unique insight into the making process and how makers develop an interest in making and discover, develop and master skills across a broad range of materials and processes.
Throughout September and October, research focused on looking broadly at the work and practices of Australian makers. In particular it looked at those who've been recognized by awards such as the Rigg Prize and Australian Design Honours, and others whose work has been included in major exhibitions, publications and national collections, as well as those who have received significant international attention.
The intention with this stage of research was to try and establish if there was anything particularly uniquely Australian to the experiences of these makers and to test these ideas as another focus for the exhibition.
November 2016
In early November, ADC's Director Lisa Cahill and Creative Strategy Manager Jo Higgins travelled to London and Manchester to attend MAKE:SHIFT, the UK Craft Council's two-day innovation conference exploring the importance of craft and innovation to the future of making. Themes for the conference included:
Social innovation
Sustainability
Healthcare and wellbeing
Make:Shift is the Craft Council UK's biennial conference and its second iteration was held in Manchester on 10-11 November. The focus was, as Creative Director Annie Warburton noted, to "showcase an extraordinary array of disruptive innovation taking place throughout craft but also interrogating, to what end?"
The keynote addresses, panel discussions, presentations and conversations were focused around the impact of craft innovation in three spheres: social innovation, environmental sustainability and wellbeing. They joined makers and designers with scientists, technologists and academics because, as Warburton noted in her opening address, "community, connection and collaboration is what brings breakthrough" and it is vital to locate craft practice within 21st century innovations. "Traditional skills are just a different kind of technology and as important as high-end technology. Makers have always worked with new materials, transforming production processes along the way."
There were some excellent insights from this conference that have informed the direction of our curatorial research and approach to the development of this project.
January 2017
Having reflected on the research, discussions, makers, objects and experiences that we uncovered during our research, ADC is excited to announce that it's next major touring exhibition will draw on the work, ideas and experiences of 13 of Australia's most innovative and exciting makers to tell the stories of their expertise, obsessions and creative processes.
OBSESSED! Compelled to Make will feature works including textiles, ceramics, glass, furniture, silver, weaving and object design and these objects will be accompanied by specially commissioned digital content exploring the distinct and deeply personal creative processes of each maker, from the maker's perspective. The exhibition will also feature a local component at each regional venue, exploring how the themes of the exhibition relate to local makers and audiences.
March 2017
With confirmed interest from 13 venues across the country for what will be a four-year tour, ADC submits a Visions of Australia touring application to develop OBSESSED! Compelled to Make and take it on the road. Stay tuned!

READING LIST:
(Keep checking back as this will be updated regularly)

Grace Cochrane, The Arts Movement in Australia, 1992
Richard Sennett, The Craftsman, 2008
David Pye, The Nature and Art of Workmanship, 1968
David Gauntlett, Making is Connecting, 2011
Daniel Charny (ed.) Power of Making, 2011
Peter Dormer, The Art of the Maker: Skill and Its Meaning in Art, Craft and Design, 1994
Glenn Adamson (ed.) The Craft Reader, 2009
Michael Braungart & William McDonough, Cradle to Cradle: Re-making the way we make things, 2009
Cory Doctorow, Makers, 2009
Anna Ferriello & Paula Owen (eds) Objects and Meaning, 2004
Matthew B. Crawford, Shop Class as Soulcraft: An enquiry into the Value of Work, 2009
Garland Magazine - https://garlandmag.com/
Mapping the Australian Craft Sector, National Craft Initiative report, 2014 https://visualarts.net.au/media/uploads/files/Mapp...
Dale Dougherty, The Maker Mindset https://llk.media.mit.edu/courses/readings/maker-m...
Dale Dougherty, The Maker Movement, 2012
http://sinas-indonesia.org/wp-content/uploads/2013...

Image: Nadya van Ewyk, copperlove 2016.Photo: Courtesy of the artist.
End of article.