Kil.n.it Studios are an experimental ceramics studio based in Glebe. This interview meets Rachael McCallum the Technical Director to find out about this terrific accessible studio which is part of the vibrant ceramic community in Sydney as part of our exhibition Clay Intersections.
kil.n.it
Rachael McCallum - Technical Director
How would you describe kil.n.it?
Kil.n.it experimental ceramics studio is, to first impressions, a old 70's motel looking building on stilts with wonky pots on the balcony tucked away behind a community centre garden and library. But much more than this we have transformed what was once "Nurses Quarters" into artist spaces of creation with a bold freedom of expression and experimental ethos.

Kil.n.it welcome makers of all skill levels and backgrounds into our safe space of creation. We encourage invention and exploration of form, materials and methods relative to you and your abilities. Whether you come to be the master of your universe or just to have a good time, you are in control and can book the services you need online, when you need them.
Why is there a need for collective studios like kil.n.it?
The facilities that allow for a basic ceramic practice are expensive and often unattainable for the average individual. You need clay, time and a kiln, as well as somewhere to store the treasures once made. As a passionate maker of ceramic art, a recent graduate from art school, with no real money and parents with a garden-load of odd ceramic experiments, there only seemed one option: to share in a new space with as many others as possible.
It is communal spaces and collective studios which allow makers to find and emerge with their practices in a realistic way. I am lucky to have been able to help make kil.n.it a fun and casual not-for-profit place where not only can a makers practice be sustained, but be developed through experimentation.
With Sydney's living costs so high coupled with the closures of community facilities, closures of some beautifully equipped TAFE's and now the awkward Art School situation, art-making seems daunting to makers across many fields. Thankfully, The City of Sydney recognises this stress and has helped subsidise the space to make some positive changes, and even asked us to expand and create a classroom space in Glebe Town Hall.
I like to think that kil.n.it is part of a rebellion beginning towards the injustice of such creative institutional constraints, proving the interest and desire to create is more important than direct money making. Stick it to The Man!
What makes kil.n.it special?
Experimentation and accidents being "o.k" has been a real draw card for many makers with old and new curiosities about ceramics. We allow for unconventional approaches during the ceramic making process from clay forms to making glazes to firings.
The drop in Studio Workshop and Glaze Kitchen is set up with the classic equipment that might be found in a potters studio, and what we are hoping to create by facilitating traditional practices with an unconventional attitude is to encourage exploration and invention in whatever interests you as the maker.
Our Technician works hard to prepare for the worst and usually getting the best results by working with the artists on projects that are out of their comfort zone, giving technical advice and facilitating research where she can.
Clay is just a material that can be wielded, and if you don't know what the end result is going to be, how can it be a mistake? Sometimes the only way to know if it will work is to try!
Ceramics has come back into fashion in recent years and people are looking for training. Who are the people coming to kil.n.it?
It is interesting just how the fashion has boomed, I remember studying ceramics and loving the fact it was unfashionable!
These days we are finding a wide range of interested groups, from never tried ceramics before to old hands at the wheel; from emerging artists who have training in the material to experienced artists who are bravely branching into a new media to interrogate; to chefs who are exploring their "food-dreams" and people looking to find a relaxing way to recover from trauma.
We don't mind where you are from or what you are into, as long as you have a good time making things out of your day.
What's the strangest thing anyone has wanted to make at the studio?
Where do I Start!? We have had chairs on wheels, homemade sgraffito record covers, press molded chicken bones, slip cast wire armatures, black silicon carbide crater glazes and one crack-o-dawn morning at the 2dayFM radio station we helped ghost throwing with Rove McManus and Rob Mills for "Ghost, The Musical". That was memorable! Right now we are working to help an artist make a couple of 4 metre long bead installations for the Queensland Art Gallery and a touring show with maybe 4,000 beads... that is one crazy kiln pack!
Tell us what competitive approach or training you'll take at the Clay Throwing Challenge on 10 September.
If I told you, I'd have to kil.n.it you…. Wait and see the surprise!
Is there anything else you would like to add?
Our kil.n.it community of artists, students and makers alike are involved in many upcoming projects: keep an eye out for the #kil.n.it in affiliated social posts. One such upcoming event is "Stuck in the Mud" Exhibition @ Verge Gallery, August –September.
All studio workshop space bookings, firing services, glaze kitchen services, as well as skill based and recreational classes are available online www.kil-n-it.com
Follow our experiments and artists on instagram: @kil.n.it Contact us via email with questions : hello@kil-n-it.com
kil.n.it Studios are part of the Clay Intersections Community Mud Map. Link here for map.
They are also participating in The Creative Clay Challenge on 10 September. Book here
Read about the exhibition Clay Intersections here and all the events here.
Images courtesty of kil.n.it Studios. Photo credit: City of Sydney, 2016.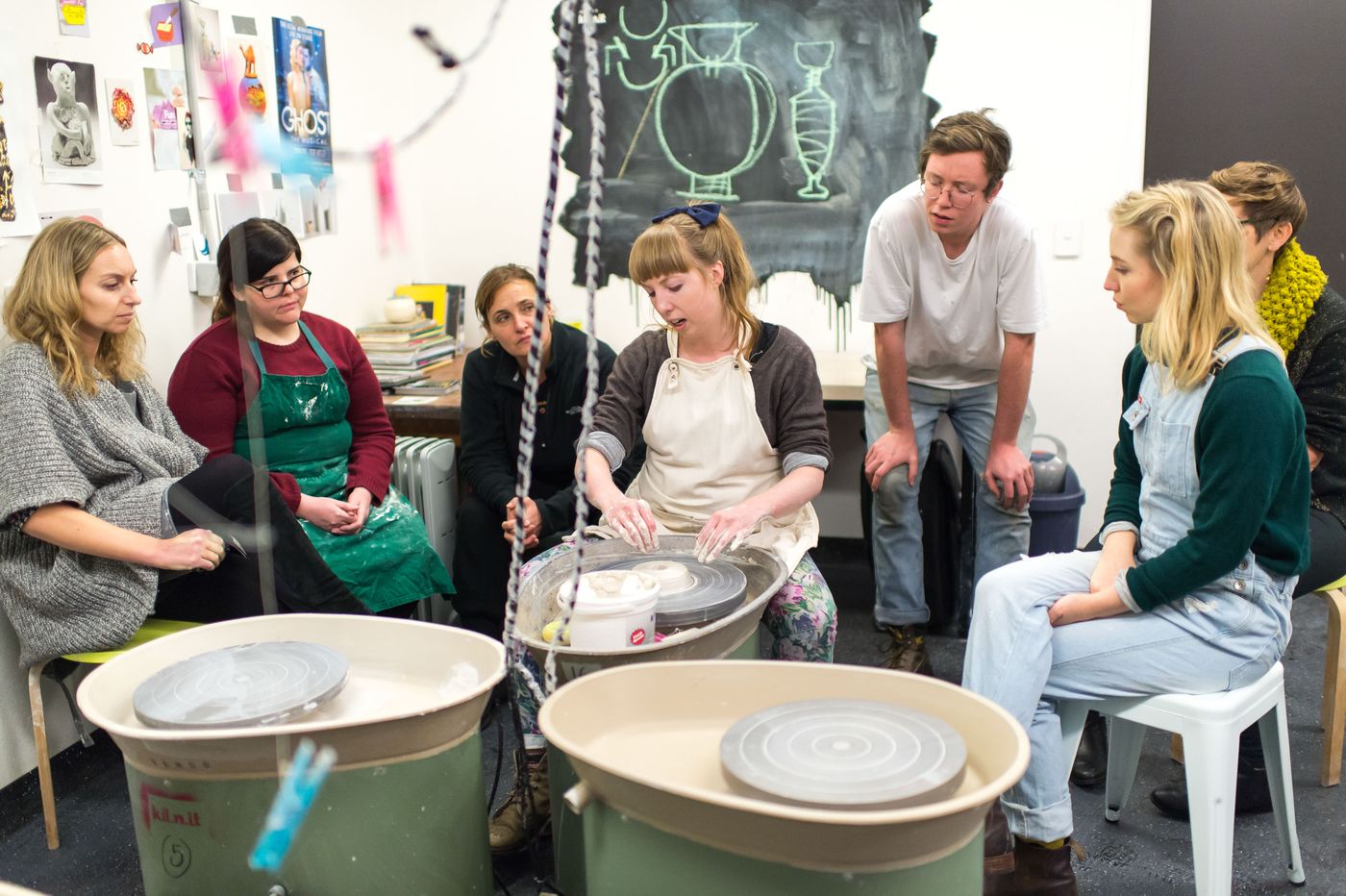 End of article.