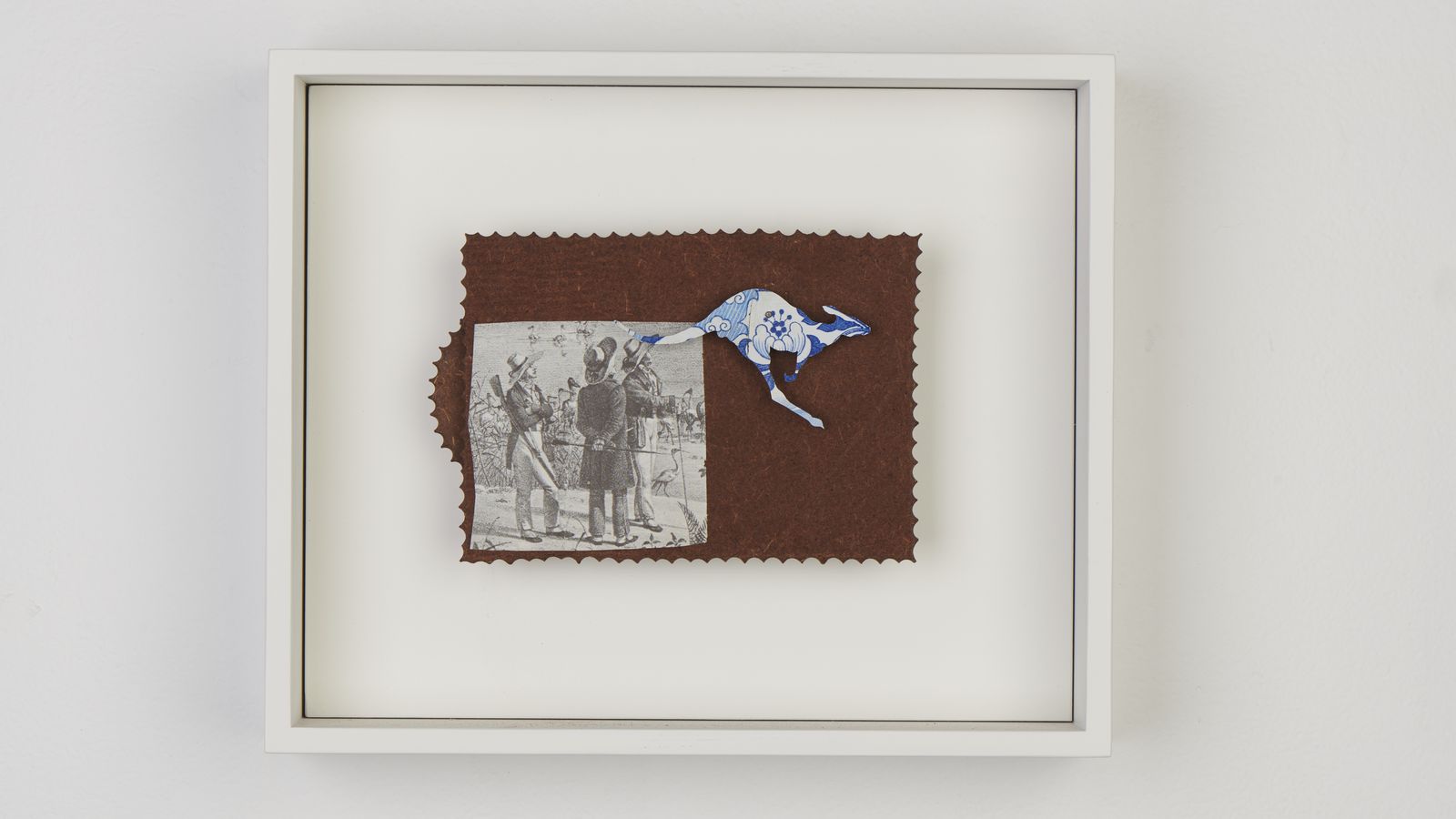 Anna Davern's body of work for Made/Worn: Australian Contemporary Jewellery is a fantastical retelling of a story of exploration and colonisation. Tapping into the mysteries of 'under the sea' and 'into the woods', it is a tongue-in-cheek perspective of a fictional 18th Century voyage of discovery and colonisation. The imagery features British and Australian references with an uncanny coalescing and hybridisation of characters and tableau that questions who is the victor and who the vanquished.
The dioramas illustrate the individual quests and pivotal episodes of this saga. Each one has mechanisms that enable characters to move and interact within the tableau and has physical elements that can be removed to be worn as jewellery.
The neckpieces are portraits of the major players in this journey of exploration and exploitation. The large size of the neckpieces references the idea of a breastplate bestowed upon worthy individuals in recognition of their contribution to the expedition. They are elaborately decorated and adorned with shells, beads and other accoutrements.
"My practice incorporates the technique of metal collage and assemblage to make jewellery and small dioramas that question long-held ideas about Australia's cultural identity. Issues of colonialism and multiculturalism are all tackled in a process of filtering, selecting, contrasting and reassembling images of Australiana found on old biscuit tins, tin trays and confectionary tins.
"The resulting narratives act as both cultural commentary and as humorous acknowledgement of the hybrid nature of contemporary Australian society."
Anna Davern completed her undergraduate degree in Jewellery and Object Design at Sydney College of the Arts in 1993. She gained her subsequent Masters degree in Gold and Silversmithing from RMIT in 2003.
In 20 years of practice, Anna has held three solo exhibitions at Craft Victoria and has been represented in numerous Australian and international solo and group exhibitions including a recent survey of Australian art at the Museum of Contemporary Art, Taipei. In 2011 she co-founded Northcity4, an ARI that provides professional and creative opportunities to the Australian contemporary jewellery community.
Anna has been the recipient of grants from the Australia Council, Arts Victoria and NAVA and she was awarded the Chairman's Prize for Innovation in the Victorian Craft Awards, 2017. In 2007 she undertook a residency at the Estonian Academy of Art. Anna has taught and lectured at universities and TAFEs in Australia and at the Estonian Academy of Art.
Anna Davern's practice straddles the visual arts, jewellery, fashion and education. She teaches, writes, curates and primarily makes jewellery and objects from the Northcity4 studios in Brunswick, Melbourne. Anna is a well-respected artist within the Australian contemporary jewellery and craft communities.
Image: Anna Davern, The New World, 2019. Photo: Fred Kroh.
The New World, 2019
Image cut from biscuit tin, paper on masonite with rotating dial mechanism (brass, silver).
Price: $1,500
In Our Image, 2019
Image cut from tin tray on masonite with found badge on brass swing mechanism.
Price: $1,500
The Commander, 2019
Image cut from tea tin, found souvenir, paper on masonite with rotating dial mechanism (Brass, plastic pulley, rubber band).
Price: $1,500
The Happy Couple, 2019
Image cut from biscuit tin, reworked glass paste accessories, plastic pearls on masonite with rotating dial mechanism (brass, copper, plastic pulleys, rubber bands).
Price: $1,500
The New World, 2019
Image cut from biscuit tin, paper on masonite with rotating dial mechanism (brass, silver).
Price: $1,500
Shirley and Dolores, 2019
Plywood, repurposed printed metal, plastic pearls, 18ct yellow gold, gemstone beads: sapphire (65.5ct), lapis lazuli (15ct), iolite (4.5ct) and coral.
Price: $2,050
Hettie, 2019
Plywood, repurposed printed metal, plastic pearls, 18ct yellow gold, gemstone beads: sapphire (4.5ct), tourmaline (18ct), ruby (15.5ct), opal (7.5ct), garnet (14.5ct), coral and pearls.
Price: $1,750