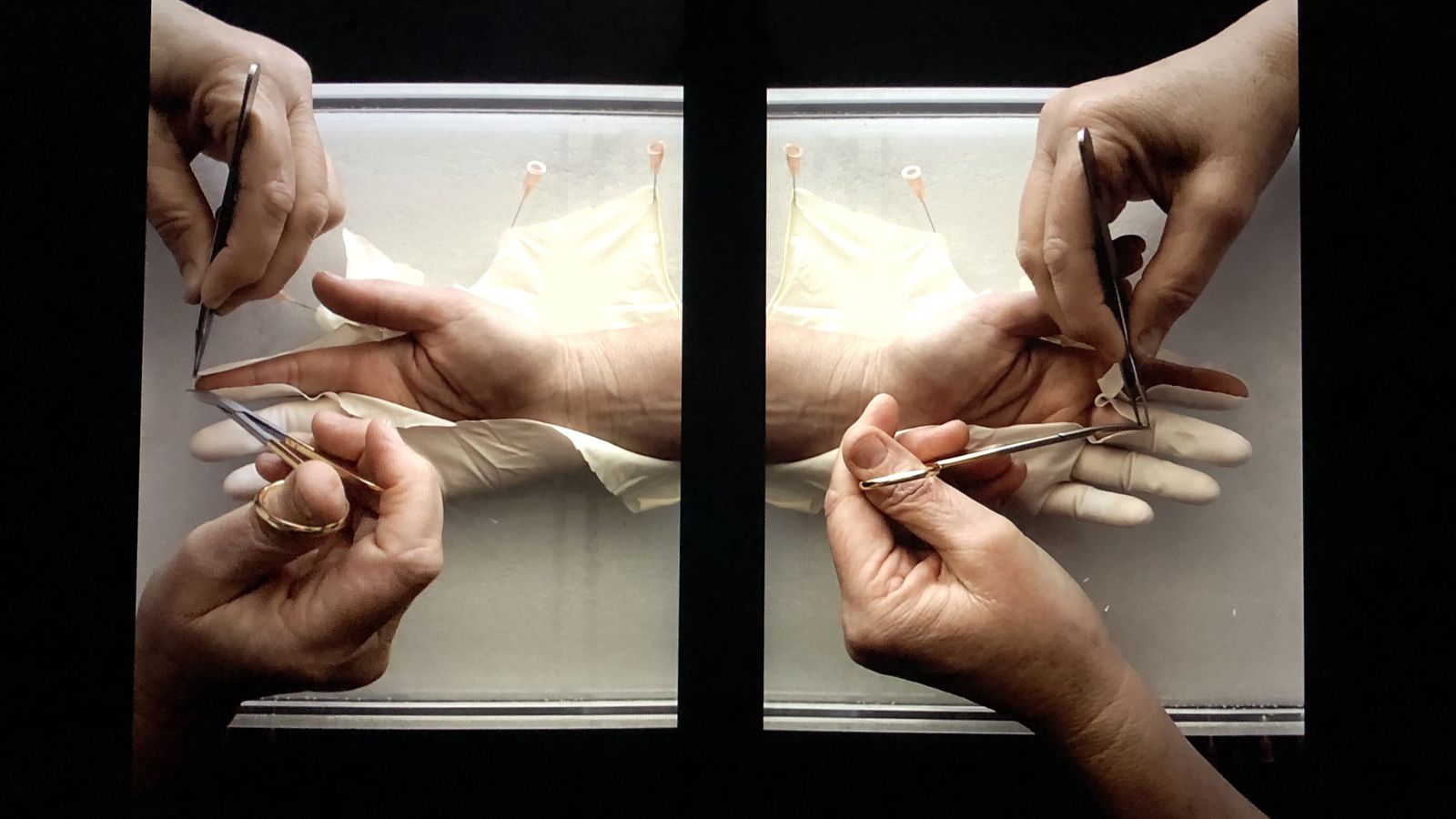 In Preparation for Seeing: glove dissection evolved from a spontaneous request that took place during Catherine Truman's ANAT Synapse residency at the School of Medicine, Flinders University, Adelaide in 2011. After observing many dissections by highly skilled senior technician, Pat Villimas in the Autonomic neurotransmission laboratory, Catherine asked if Pat would dissect a latex glove off Catherine's hand.
Pat prepared a special silicon-filled tray for Catherine's hand and deliberated on several plans of approach. The dissection was repeated a number of times and recorded over several days during August 2011. In October 2014, three years later, during a residency in the Microscopy Suite, where Pat was now working, the dissections were repeated to produce a more refined digital recording.
The resulting footage is testament to a rare evolution of cross disciplinary exchange – a relationship built upon professional and personal trust and respect. The final film was captured in one take with very little editing.
In this iteration, two identical versions of this film are played forward and in reverse, on continuous loop. While one glove is being dissected the other is being restored.
There is a level of intimacy here borne of Catherine's roots as a contemporary jeweller, a maker of objects for and about the human body.
The glove can be read as both a separate wearable object and as a skin covering the hand.
The 'skin' in this film is Catherine's skin, proffered as an intimate boundary – one that is both transgressed and restored at once.
In Preparation for Seeing: glove dissection is, in essence, an ongoing engagement with the human body, human exchange and the humanity of our work across the arts and sciences. It epitomises the intimate and transformative experiences possible of an open-ended collaboration.
"My practice is research based and focuses on the parallels between craft processes and science research methodologies. For many years now, I have had an avid interest in anatomy and have viewed the body as a rich and potent vehicle for the exploration of the personal and the political."
Catherine Truman is an established contemporary jeweller and object-maker working across the disciplines of art and science. She is co-founder of Gray Street Workshop, Adelaide where she currently lives and works.
From 2009 until 2012 she was artist in residence in the Autonomic Neurotransmission Laboratory and the Anatomy and Histology departments, Flinders University, Adelaide. In 2011 she was awarded an ANAT Synapse Residency to carry out a research project based at Flinders University focused on the role of touch and gesture in the communication of functional human anatomy to students of medical science in collaboration with Professor Ian Gibbins.
During 2013–14 Catherine Truman and Ian Gibbins led The Microscope Project that culminated in a major exhibition at Flinders University Art Museum City Gallery, Adelaide.
In 2015 Catherine undertook a residency in the Microscopy suite at Flinders University and the resulting works entitled In Preparation for Seeing is touring nationally and internationally with Gray Street Workshop's 30th anniversary exhibition Theatre of Detail during 2015–2016.
Catherine's practice is renowned for its diversity and incorporates contemporary jewellery, objects, digital image and film installation with a focus on the parallels between artistic process and scientific method.
Catherine Truman is the subject of a SALA monograph written by Melinda Rackham and her work was featured in a solo exhibition at the Art Gallery of South Australia in 2016. In 2017 the Jamfactory, Adelaide presented a major solo exhibition no surface holds, highlighting her art/science practice as part of their Icon program for 2017.This exhibition is currently touring nationally.
Catherine is a visiting scholar at the Flinders Centre for Ophthalmology, Eye and Vision Research, School of Medicine, Flinders University, undertaking a project titled The Visible Light Project: experiments in light and vision.
Catherine has travelled and exhibited widely both nationally and internationally and is represented in a number of major national and international collections including the Pinakothek Moderne, Munich; Coda-museum, Netherlands; Museum of Central Academy of Fine Arts, Beijing; Museum of Auckland; National Gallery of Australia, Canberra; National Gallery of Victoria, Melbourne; Queensland Art Gallery, Brisbane; Art Gallery of Western Australia, Perth; Powerhouse Museum, Sydney; the Art Gallery of South Australia, Adelaide and Artbank.
Image: Catherine Truman, In Preparation for Seeing: glove dissection, 2011 – ongoing. Photo: Catherine Truman.  
In Preparation For Seeing: Glove Dissection, 2011-ongoing
Single channel HD.
Price: $8,350

Dissector: Pat Villimas.
Editing: Ian Gibbins
Run time: 22:43