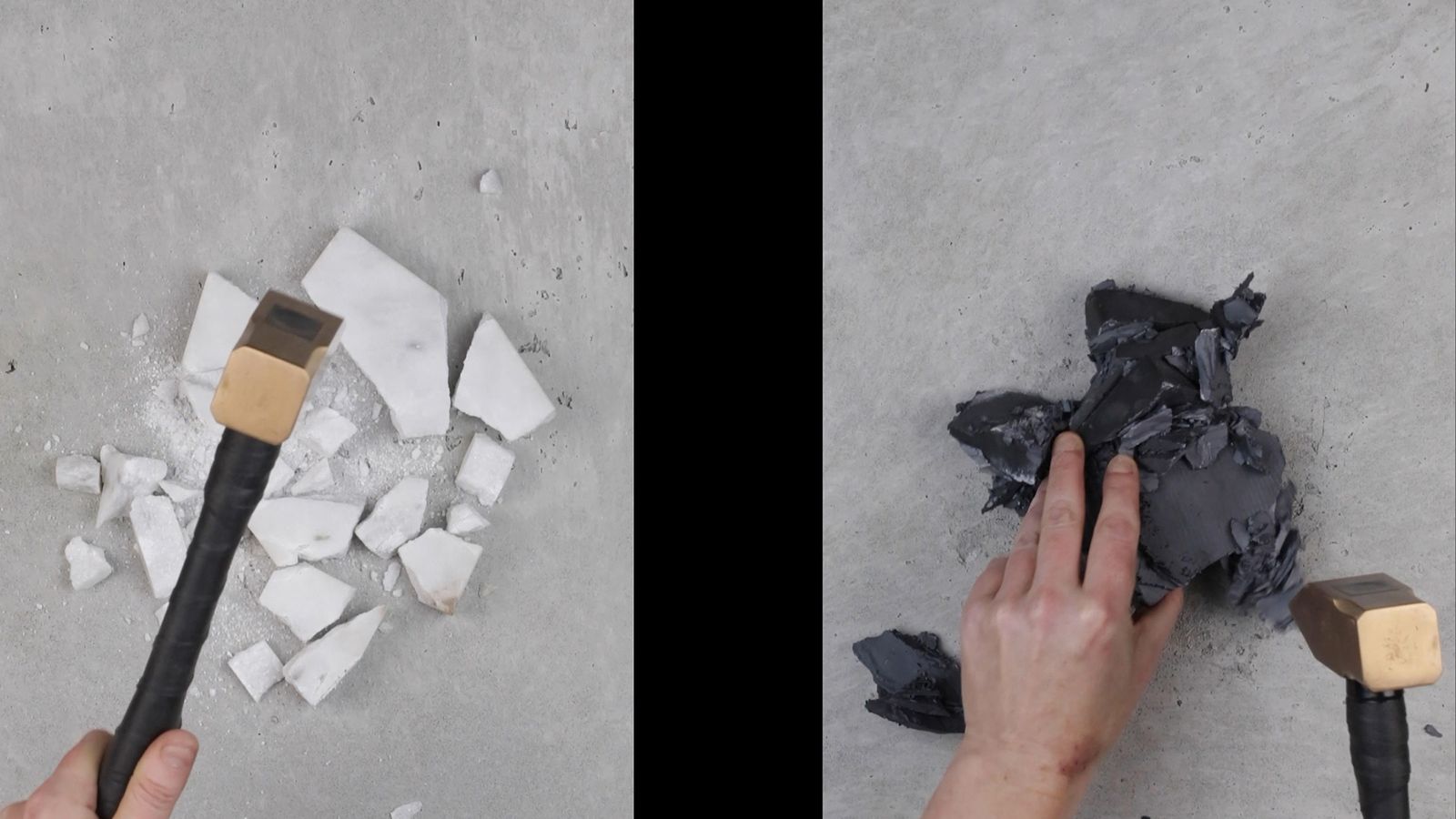 In her work, Emma Fielden often takes a material and breaks it. This is not so much an act of destruction, as it is an act of transformation and creation. In A Diminishing Force, Emma relentlessly hammers a block of marble and a block of magnet. She breaks them into small pieces, but one might also imagine her attempt to crush the materials to dust and even to their atoms, pushing and questioning the very nature of their materiality.
There is a distinct polarity between these two materials – one is industrially produced, the other extracted directly from the earth; one is hard, the other relatively soft; one is black and one is white. Though perhaps their most distinct polarity is brought to light when we think about the idea of force. While the magnet exhibits a very literal physical force with its magnetism, the marble possesses a historic force with its heavyweight status in art history.
"What is the nature of our universe? Why is there something rather than nothing? What's our human place in all this? These are some of the questions that form a backbone to my practice, and I explore such ideas through the materiality and conceptual framework of my artworks."
Emma Fielden's work focuses on ideas about infinity, the nature of matter, the universe and our human place in it. In her practice, these ideas take various forms – installation, sculpture, drawing and performance. Emma often draws upon science and poetics, and her work comes into being at the crossroads of materiality and action.
Emma studied Jewellery and Object Design, and Hand Engraving, at the Design Centre Enmore, TAFE NSW Sydney Institute, graduating in 2005. Her work has been regularly shown in solo and group exhibitions since then. She has received numerous awards including the Paramor Prize Mayoral Award (2017) and the National Contemporary Jewellery Award (2014), and has been a finalist in awards such as the NSW Visual Arts Emerging Fellowship (2017), Woollahra Small Sculpture Prize (2017) and The Blake Prize (2016). In 2018, Emma was awarded the Art Omi Australia Committee Fellowship, selected to represent Australia at the Art Omi artists residency in New York.
Image: Emma Fielden, A Diminishing Force, 2019. Image: Courtesy the artist and Dominik Mersch Gallery, Sydney.
A Diminishing Force, 2019
Two channel HD colour video with sound.
Run time 10:30
Price: $2,200