Essay: Material Investigations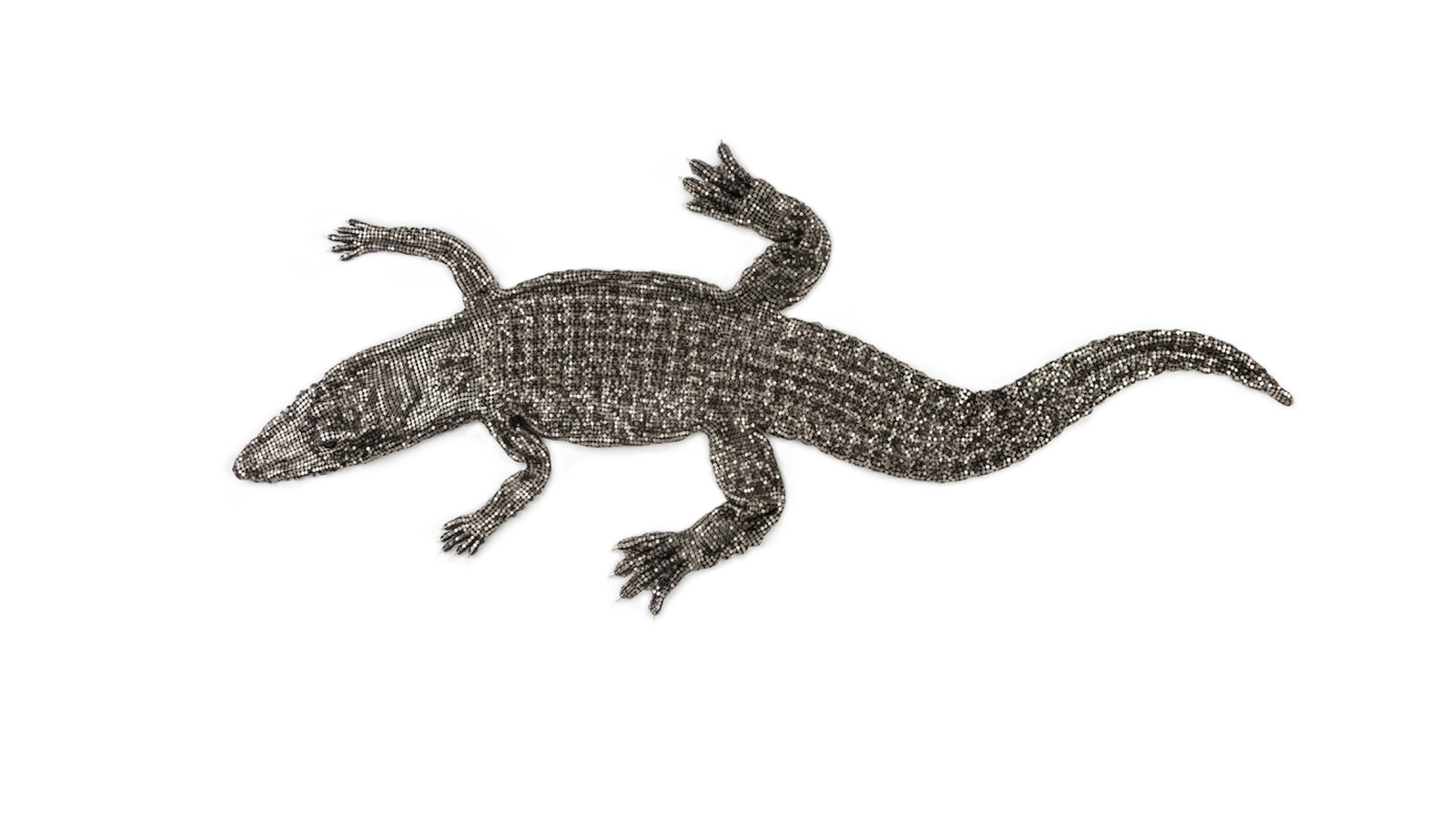 The artists in the exhibition Made/Worn: Australian Contemporary Jewellery explore materials in a variety of different ways, writes Penny Craswell from Australian Design Centre.
The artists in Made/Worn: Australian Contemporary Jewellery explore materiality in many unique ways. Their work reflects the evolution of contemporary jewellery to a practice whose concerns are primarily conceptual and whose materials are just as likely to be recycled waste plastic, 'ordinary' materials like paper or 3D-printed plastic as they are to be gold or silver.
Sian Edwards uses metal very differently to traditional jewellers. Metallic mesh is her material process – instead of sawing, filing, soldering and polishing gold or silver, Sian carefully constructs her works piece by piece using tweezers. Probably best known as Glomesh, a metallic mesh found on small handbags and purses, this method involves an interlocking of small metal pieces, built up as a mesh like medieval chain mail. Sian recycles Glomesh bags and garments to painstakingly sculpt three-dimensional objects. "As a material to work with, Glomesh offers an endless construction pattern which consists of two simple pieces," she says.1
While Sian's work in brass mesh began with smaller pieces, such as the feet and claws of birds, she has increasingly worked on a larger scale to create whole animals, including snakes and reptiles. Using inspiration drawn from the animals themselves as well as how they are historically represented, the works seem to capture the texture of bird and reptile skin, while also adding a metallic shimmer and reflectivity. Sian states: "I am interested in detail, pattern, and qualities of light (like colour, shimmer and shine), and with connective mechanisms, movement and texture."2
Sian's Crocodile (2020) is made from a singular brushed grey mesh with argentium claws and is inspired by the crocodile as a subject in jewellery, from ancient Egyptian amulets to María Félix's infamous Cartier commission. In creating the work, Edwards was keen to explore the texture of the skin of a crocodile and how the form reflects light. Without the usual indicators – the closed circle for necklace or bracelet, the hooks for earrings – this work on its own is not an obvious piece of jewellery. But it is designed to be a wearable piece, worn draped over the shoulder, as well as a sculptural object. The strength of Sian Edwards's work is in the combination of a concept – the crocodile and its depiction in adornment – with a material process – brash mesh.
For Manon van Kouswijk, the conceptual always comes first in her work. "I never go into my studio and think, 'let's make another necklace' or something, it's always finding a reason to actually make jewellery,"3 she says. For many years, her working methodology has examined the archetypal forms and motifs of jewellery through a range of different materials. One form that she returns to again and again is the beaded necklace. Like Sian Edwards, the repetition of a single form – in Sian Edwards' case a piece of brass mesh and in Manon van Kouswijk's case a bead – becomes a theme. Originally for van Kouswijk, the fascination was with a string of pearls – this being a complete departure from what she was taught in art school in the Netherlands. "I've made a lot of other works that were based on different archetypes; both jewellery and objects, but I always kept returning to the bead necklace."4
In Making Faces, van Kouswijk presents a series of beaded necklaces in both plastic and porcelain. These colourful objects contain traces of the making process, speaking to the imperfection of the handmade. An accompanying artist book, Making Faces - A Jewellery Playbook, is designed as a manual or 'how-to' instructing the audience to play with the beads to create faces and other shapes. By calling it a playbook, a name used in theatre or sports to instruct behaviour, the work provokes questions about how we handle jewellery and how we can manipulate it as an object.
For van Kouswijk, the materials are not valued for their preciousness as they might be in traditional jewellery, but in how they evoke tactile qualities in terms of colour, weight, sound and rhythm.
Zoë Veness also challenges the value of jewellery in her body of work by working with the everyday 'ordinary' material of paper. Instead of being intrinsically valuable, the jewellery is given value by the distinctive method of paper folding that she has developed through trial and error over many years. Like Sian Edwards, Zoë Veness also revels in the time-consuming, repetitive process required to make her works.
Zoë's neckpieces in this exhibition, Wreath and Double Loop, are partly formed in shape by the way the folded paper loops back on itself, while her brooches are formed by the intricacies of patterns created by the maker's choice about whether and when to fold large or small. "The process involves the calculation of measuring sequences for each strip and these sequences determine how the strips are folded," says Zoë. "They need to be precisely calculated in order to achieve a successful outcome. A small scalpel blade is used to plot the measurements on the strips which are then woven on to stainless steel wire or cable."5
Zoë cites one inspiration as the Dutch jeweller Nel Linssen who also uses paper to construct precision pieces that are both minimal but also texturally and sometimes colourfully complex. Zoë's work obtains a similar precision by her repetition of the same fold over and over again, sometimes adjusting the length of the fold, but, by contrast, finds harmony in an all-white expression.
The work of Blanche Tilden also finds strength and beauty in the repetition of a few key materials to create innovative forms. For Blanche, borosilicate (pyrex) glass is a major component in her work, reflecting her interest in the city, modernity and architecture. Her original fascination with glass grew while studying under iconic glass artist Klaus Moje at the ANU glass workshop, but when she undertook further study, it was in gold and silversmithing. She soon discovered that borosilicate glass, an industrial material, is particularly suited to jewellery, being strong, shiny and shock resistant.6
Blanche Tilden's work for Made/Worn: Australian Contemporary Jewellery includes four works, each of which repeat a shape in borosilicate glass connected with silver or titanium. In Arc and Circularity, the shape of each component – that of an arc and a circle respectively – suggests the name of the work, while in Flow, the shape is less regular, more of a slightly twisted tube.
Graded Palais, a string of square pieces of glass, is from a series inspired by the built environment, with this particular work relating to the Palais des Machines, which, along with the Eiffel Tower, was built for the International Exhibition, Paris in 1889. Here the repetition in the buildings and the material itself – glass – inform the work. "Most examples of the built environment can be broken down into combinations of simple elements such as squares and rectangles: a wall is made of bricks, a skyscraper is a repeated pattern of glass windows," says Blanche.7
Architecture and the built environment are also sources of inspiration for Melbourne jeweller Bin Dixon-Ward, whose works are preoccupied with the concept of the grid as a building block of the city. Inspired by the built environment, her jewellery is made using the same material and process as many architectural models – 3D printing.
Her three works for this exhibition each interrogate the grid in different ways – Blueprint is a piece that is inspired by the underlying structure of the city that is revealed when the buildings above are demolished. The name of the work 37 ̊49'52.96"S 144 ̊51'37.56"E refers to the location of an industrial ghost site, where the existing structure has been razed for redevelopment and the grid underneath shows layers of history and use. And BRICKS is a work that reflects on the use of bricks in history – those building blocks which Bin writes are perhaps the first grids.
Bin Dixon-Ward explores these concepts and forms with the newest material being exploited by jewellers – 3D printing. Creating her works on computer and printing them remotely has become Bin's jeweller's bench, without touching a single soldering iron or hammer. "The mouse in my hand becomes a part of me as I move the object in the screen as easily as if it is in my hand, or as I would use a hammer or a pencil. I know my material and tools so well that even though the finished object is printed remotely and I will not be able to touch and handle it for a week or more, I know what it will feel like, how big it will be and what it might sound like," she says.8
These examples from Made/Worn: Australian Contemporary Jewellery show how the creation of contemporary jewellery now involves a critical perspective on materials and their sources, the ability to engage in material investigations and the prioritising of the value of the work over the mere value of its materials – the whole is worth more than the sum of its parts.
Penny Craswell is Creative Strategy Associate at Australian Design Centre. She is also a writer on design, architecture and art.
Made/Worn: Australian Contemporary Jewellery is an Australian Design Centre exhibition that includes the work of 22 contemporary artists working in Australia now. Find out more here.
[1] Edwards, S., Pieces of Eight, piecesofeight.com.au/collections/sian-edwards, accessed 20 February 2020.
[2] Edwards, S., Interview with the artist, 2019.
[3] Manon van Kouswijk, Melbourne Now, NGV
[4] 'Hanging around with Manon', https://www.current-obsession.... December 4 2012. accessed 1 February 2020
[5] Veness, Z., Bridget Kennedy, https://bridgetkennedy.com.au/.... Accessed 4 March, 2020.
[6] Art Alliance for Contemporary Glass, 2017, https://contempglass.org/artis.... Accessed 4 March, 2020.
[7] Tilden, B., Art Jewelry Forum, https://artjewelryforum.org/bl.... Accessed 4 March 2020.
[8] Dixon, B. Adding Digital to the Jeweller's Bench, https://australiandesigncentre.... Accessed 4 March 2020.
Image: Sian Edwards, Crocodile, 2020. Photo: Pedro Ros Sogorb.