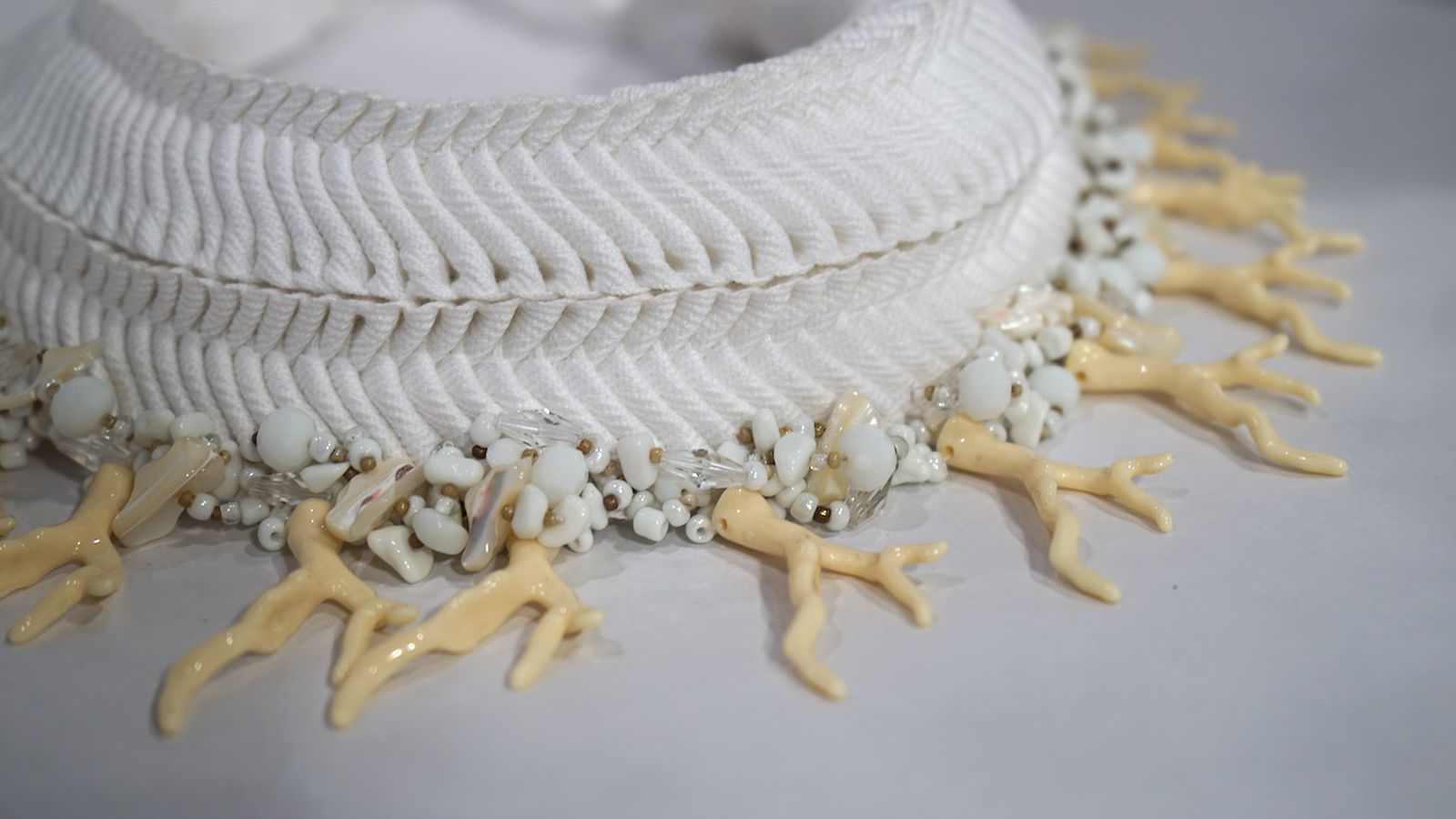 Grace Lillian Lee explores her diverse cultural heritage through fashion and adornment, working directly with Indigenous communities to create beautifully crafted works of wearable art. Her neckpieces for this exhibition are made with cotton tape, coral and beads woven using traditional Torres Strait Island techniques.
"My practice is based on the methodology of preservation. I am heavily involved in this process of reflecting on the past and my identity. I use my practice as that vehicle for me to connect and learn more about my Torres Strait Island Heritage.
"The Body is a huge part of my practice. I am about activating my creations through movement and the body. Embodying the pieces is about connecting and learning shared knowledge."
Brisbane-based Grace Lillian Lee's body adornments affirm the place of Indigenous design and craft in contemporary Australian fashion. Her Torres Strait Islander heritage informs the traditional techniques Grace uses in her adornments. Bright colours and non-traditional materials such as cotton tape adapt the processes into a contemporary fashion context.
Grace's practice is based on a philosophy of shared knowledge. She collaborates with communities across Australia to learn, teach, interpret and adapt traditional design techniques. Activating her designs and creations by performance, by creating a space for other Indigenous creatives to respond to the preservation of our heritage through the act of wearing, embodying and celebrating our culture.
Having lived most of her life with her lineage suppressed, Grace's dream is to explore the complex debate of identity, power, gender, cultural identity and fashion by probing into traditional practices from the Torres Strait Island. Grace pays homage to these vulnerable practices and extends these into the contemporary world. Her aim is to preserve techniques and innovate new ways to honestly celebrate her cultural identity.
Grace's work was included in the exhibition Shimmer at Tarnathi Festival in Adelaide in 2015, Art Now at Cairns Regional Gallery in 2017, Who's Afraid of Colour at the National Gallery of Victoria in 2018, Blak Matters at the Koorie Heritage Trust in Melbourne 2018 and at Dress Code at the Museum of Brisbane in 2018–19.
She has presented her work at the Darwin International Art Fair, the Commonwealth Games 2018 Gold Coast and Virgin Australia Fashion Festival Melbourne. And her work is held in the collections of: National Gallery of Australia, Canberra; National Gallery of Victoria, Melbourne; Gallery of South Australia, Adelaide and RMIT Gallery, Melbourne.
Image: Grace Lillian Lee, White + Corals: double beaded weave, 2019, assorted cotton webbing, assorted beads in a variety of materials, 1330 x 120 x 70mm. Photo: Felicity Brading.
Black + White: double beaded weave, 2019
assorted cotton webbing, assorted beads in a variety of materials
Price: $490
White + Corals: double beaded weave, 2019
assorted cotton webbing, assorted beads in a variety of materials
Price: $490
Green: single beaded weave, 2019
assorted cotton webbing, assorted beads in a variety of materials
Price: $390