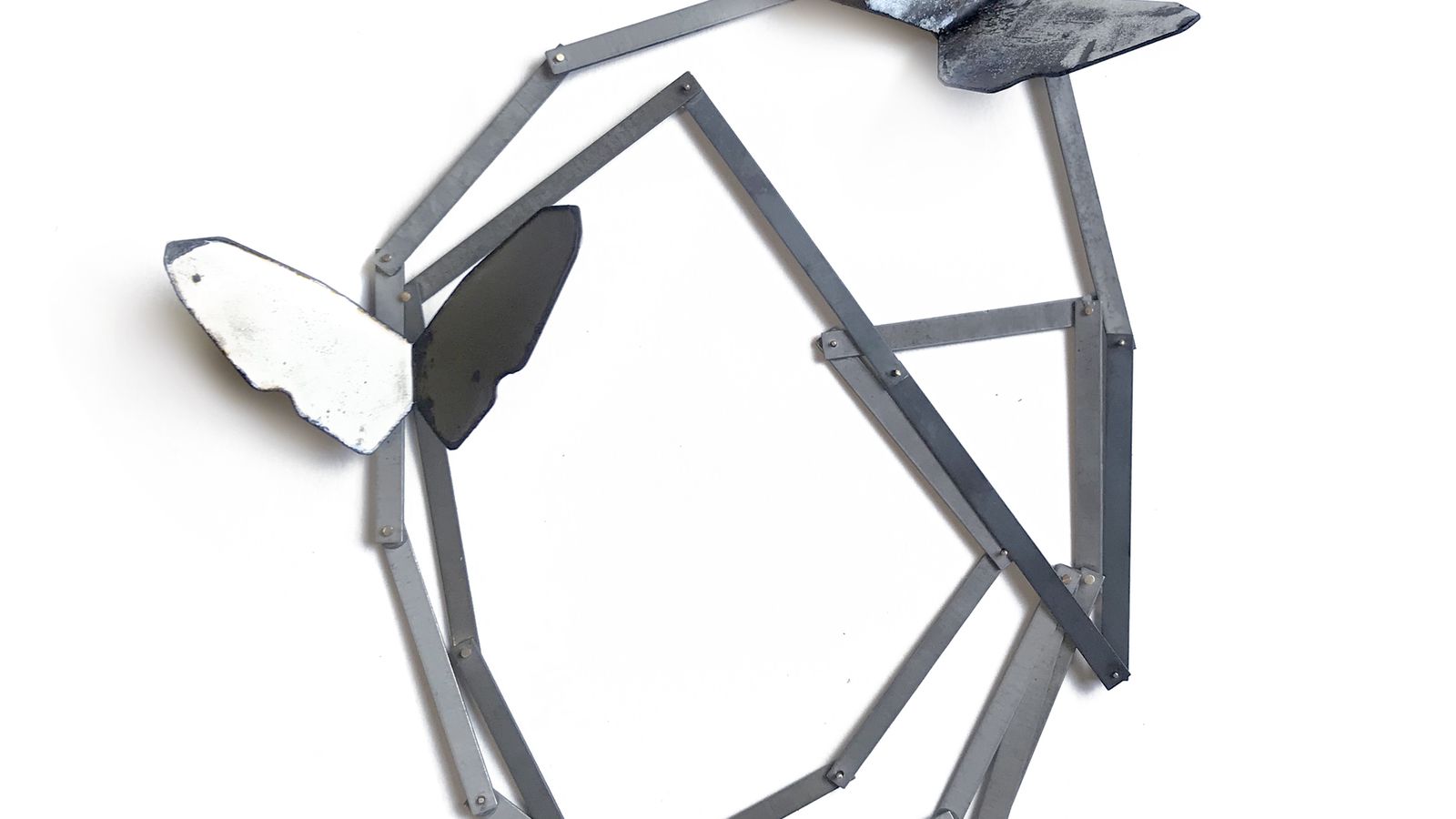 The Brunswick series of images and objects (2008–present) is an ongoing, evolving body of work. It stems from Inari Kiuru's decade-long ritual of daily walks around her neighbourhood, observing and interpreting changes in weather, noticing cracks in walls and footpaths, discarded furniture on the verges, old trees – small ordinary details that can gradually reveal a breathtaking beauty, and create a deep sense of place, of home, if examined with time and patience.
The jewellery in this collection is made of steel, glass and concrete, to echo the inner-city light and grit that inspired the pieces. Each piece is also designed to correspond with a particular photograph. This pairing will hopefully facilitate a dialogue beyond words between a place and a piece of wearable jewellery, also sparking a playful interaction between the artist, the work and the viewer: Can you spot which photograph has inspired which jewel?
"I'm continuously interested in, thinking about and documenting light, weather, landscapes (external and internal; emotion) and unnoticed details of beauty in our everyday environment.
"I tend to work with materials that are non-precious and widely available, often from the industrial realm (steel and concrete as examples). I'm attracted to the idea of democracy – availability and low cost of 'common' materials – in my making.
"Revealing the poetic qualities of materials most often interpreted as tough or coarse brings me endless pleasure also."
Inari Kiuru is a Melbourne-based artist and designer with a multidisciplinary practice encompassing jewellery, objects, images and installation. Born in Finland, she has a strong native relationship with the seasons. This informs her focus on drawing parallels between our external and internal landscapes by observing and portraying light, weather and changing atmospheres in the city. Inari works with materials integral to the urban settings (concrete, glass and steel for example), revealing the poetic qualities of non-precious, industrial ingredients – and the surprising beauty often hidden in the mundane and the unexpected.
Inari migrated to Australia in 1995 and worked as a graphic designer until graduating with Honours in Fine Art (Object Based Practice) from RMIT University in 2013. She has exhibited in curated group shows in Australia, New Zealand, USA and Europe and is represented by Gallery Funaki, Melbourne.
Image: Inari Kiuru, Street wings, 2020. Photo: Inari Kiuru. Image: Courtesy the artist and Gallery Funaki.
Brunswick, 2020
Images from Brunswick-series
Giclée print on archival stock.
Price: $120 each
These cycles of spring! 2020
Concrete, pigments, calcite, glass, mild steel.
NFS
A galaxy over the sleeping suburbs, 2020
Concrete, pigments, glass, paint, mild steel.
Price: $850
Winter sky in Brunswick, 2020
Concrete, pigments, mild steel.
Price: $650
Street wings, 2020
Mild steel, galvanised steel, 9ct gold, enamel, magnets.
Price: $1,200
A day for rain and balloons, 2020
Concrete, pigments, glass, mild steel, paint.
NFS
New tar, ancient sunlight, 2020
Concrete, pigments, iron, mild steel.
Price: $590
Morning ring (the Greek widow's garden), 2020
Glass, steel, brass.
Price: $350