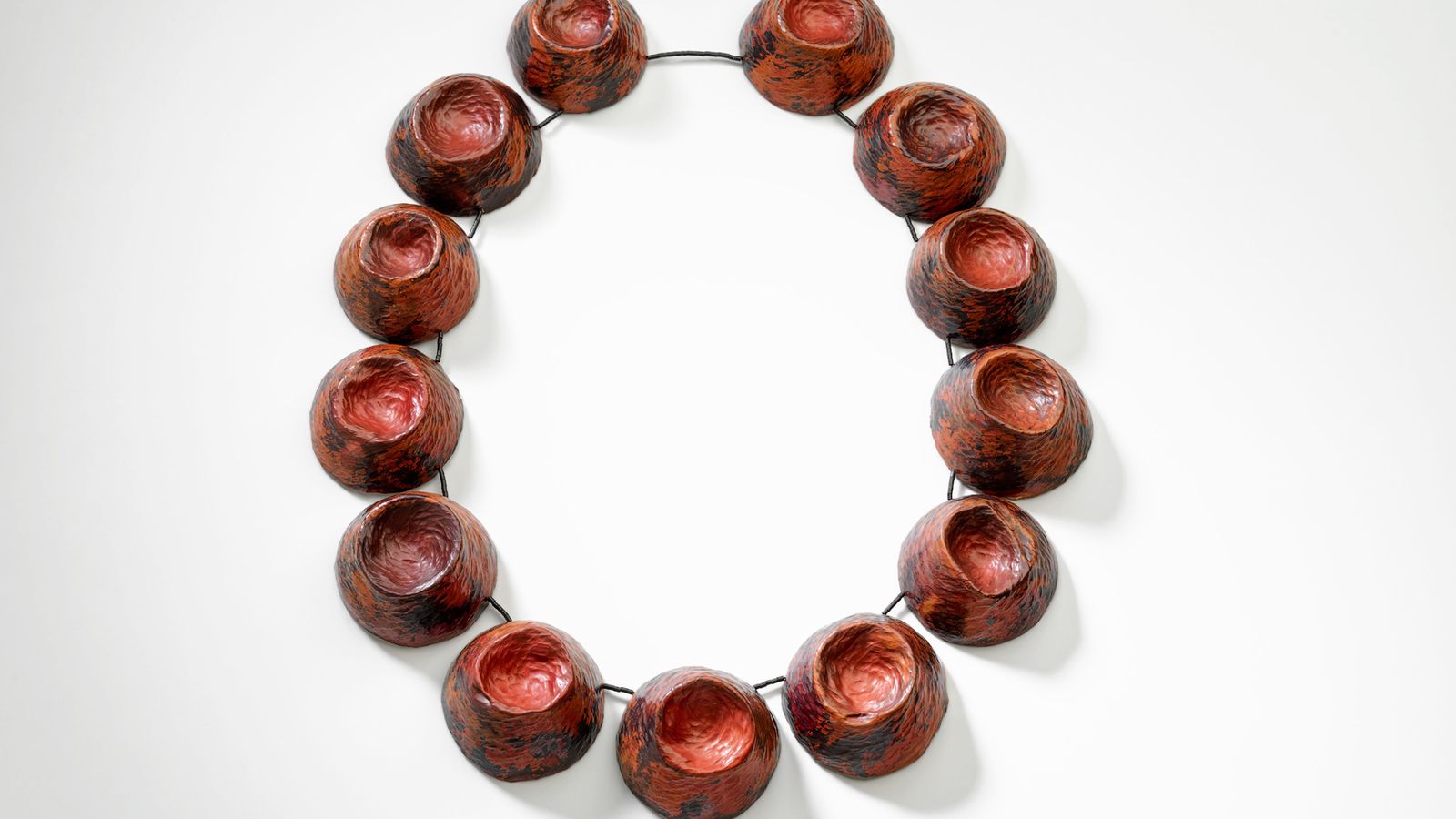 Julie Blyfield's immersion in the East and West MacDonnell Ranges around Alice Springs (Mparntwe) inspired this body of work. The Rock neckpiece (bi-metal of copper and sterling silver) reflects the rich iron oxide colours of the geology in the area. The single elements in the neckpiece are 'hand raised' from flat sheet into small domes through a repetitive process of hammering and annealing. It is a time-consuming process, reflecting the ancient and long history imbedded in the extraordinary landscape of central Australia. The Cassia brooch illustrates the blooms of golden yellow that flower in this part of Australia during Spring, contrasted with the rust and ochre colours of the rocks and sand. Fires and parched landscape are embodied by the blackened tubes of copper that link together in Stick neckpiece. The landscape and culture of Alice Springs is visually rich – the colours, textures and forms embody so much history and importance to the traditional owners, the Arrernte people, who have cared for this area and country for thousands of years. Julie Blyfield says: "I feel very fortunate to have spent time in this incredible place."
"My practice is defined by research into personal, family and Australian collections with a particular focus on flora and botanical collections, and the Australian landscape.
"I always start with new research – either by visiting a specific location or investigating a particular collection or point of interest, then I usually interpret my new ideas in metal. I enjoy using silver and the malleable qualities of the medium. I am not averse to using mixed materials but I seem to return to metal."
Julie Blyfield has worked for over 30 years at her crafts practice and currently works from her own independent studio overlooking her garden environment in Maylands, South Australia. Her jewellery and object work is inspired by research into botanical specimens, personal and historical silver collections, and the rich diversity of the Australian landscape, which she interprets predominately in precious silver using the technique of metal chasing and surface chiselling.
In 2007 Julie was a recipient of the prestigious South Australian Living Artists Award which celebrated her achievements with a major monograph about her life and work, Julie Blyfield, published by Wakefield Press. An Australia Council Creative Australia Award (2015–16) offered Julie the opportunity to create and exhibit Panorama, a significant body of new jewellery and objects for an international touring exhibition at Ruthin Crafts Centre, North Wales; The Scottish Gallery in Edinburgh and Bilk Gallery in Canberra in 2017.
Julie's jewellery and metalwork is held in Australian and international museum collections including the National Gallery of Australia in Canberra, the Musée des Arts Decoratifs in Paris and the Victoria and Albert Museum in London. Her work has been shown in International Art and Design Fairs by Galerie Ra at Collect, London and Chicago SOFA by Charon Kransen Arts in America. Throughout her career Julie has travelled, lectured and presented workshops in Australia, United States of America, New Zealand and the United Kingdom. As part of her practice she regularly mentors emerging jewellers, sharing her knowledge, skills and professional experience. Julie has won numerous prizes for her work including the Overall Winner of the South Australian Museum Natural History Art Prize where her work was acquired by the South Australian Museum collection. Julie is represented by Jam Factory, Adelaide; Gallery Funaki, Melbourne; Bilk Gallery, Canberra; Galerie Ra, Amsterdam; Adrian Sassoon, London and The National, Christchurch.
Image: Julie Blyfield, Rock Neckpiece, 2020. Photo: Grant Hancock
Rock Neckpiece, 2020
Bi-metal copper and sterling silver, oxidised copper, cable. Hand-raised domes from flat sheet to 3D forms.
Price: $5,500
Stick Neckpiece, 2020
Bi-metal- copper and sterling silver: cable, wax. Hand-chased, and fabricated tube.
Price: $3,300
Cassia Brooch, 2020
Bi-metal- copper and sterling silver, Bi-metal 22kt gold and sterling silver, wax. Hand-engraved and chased, heat coloured.
Price: $1,650