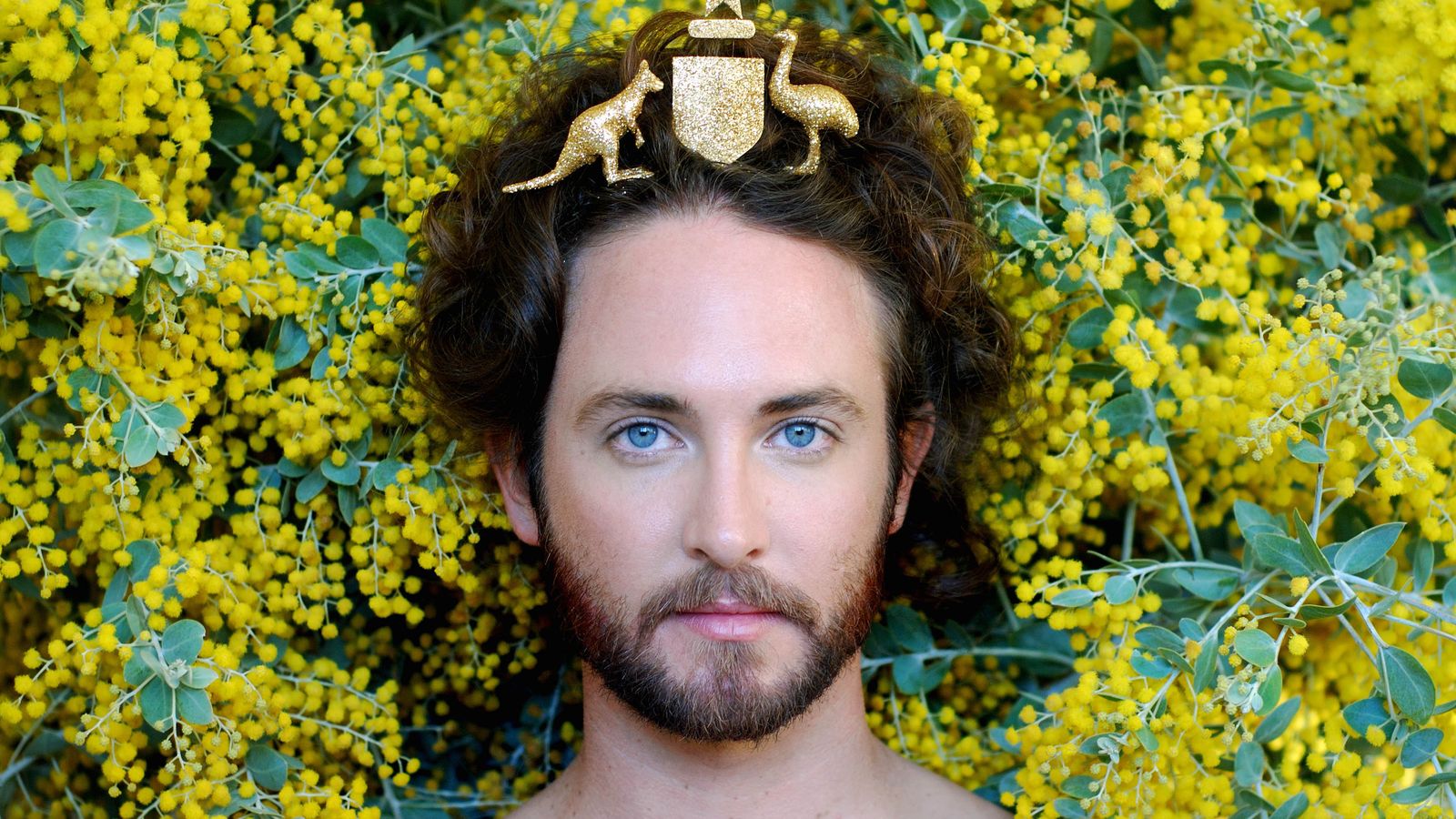 Liam Benson works with materials and a process of making connected to queer community to talk about how we share and interpret cultural knowledge and practice. The design of his R.E.S.P.E.C.T headdress is based on the costumes and wearable art handed down between drag queens, from performer to performers (drag mothers) – in particular the architectural head pieces made to replace or complement a wig. This cultural practice of sharing costumes and making techniques nurtures an innovative process and the respect inherent within a community.
Liam's Coat of Arms reimagines Australian national iconography through a camp lens as a sparkling tiara. The handmade coronet features the iconic shield, kangaroo and emu design constructed from humble children's toys and delicately flocked in gold glitter. As a wearable object, the performative interpretation simplifies and personalises the symbols – playfully reminding us that the ideas represented in the emblem are meant to be accessible, open to interpretation and shared within a broad cultural spectrum. Liam creates wearable work that traverses the terrain of contemporary art as adornment.
"There are several concepts and ideals that inform my work including community, identity, relationship to materials, performance and culture.
"What I create and how I create it is most often a response to where I see myself within my community, how I feel my environment is contributing to my identity, what memories and cultural associations my materials hold, and how the process of making contributes to the meaning of each piece."
Liam Benson is a multi-disciplinary artist whose practice incorporates performance, photography, video and textiles. Liam's work explores identity and culture as a living dualistic process that is both informed by and subverts tradition, entrenched ideologies, popular iconography, art and media. He works collaboratively with diverse communities through ongoing conversation about how culture, sub-culture and identity interrelate and evolve. Liam Benson's works are held in significant public and private collections including the Museum of Contemporary Art Australia, the Art Gallery of South Australia, Artbank and Western Sydney University.
Image: Liam Benson, Coat of Arms, 2009. Photo Steven Cook
Images: Courtesy the artist and Artereal Gallery.
Coat of Arms, 2009
Plastic toy Emu and Kangaroo, plastic shield, gold paint, gold glitter, hot glue, metal hair band, wire, adhesive.
NFS
R.E.S.P.E.C.T., 2013
Seed beads, bugle beads, sequins, diamantes, cotton, elastic, chandelier crystal, sequin fabric, organza, felt.
NFS