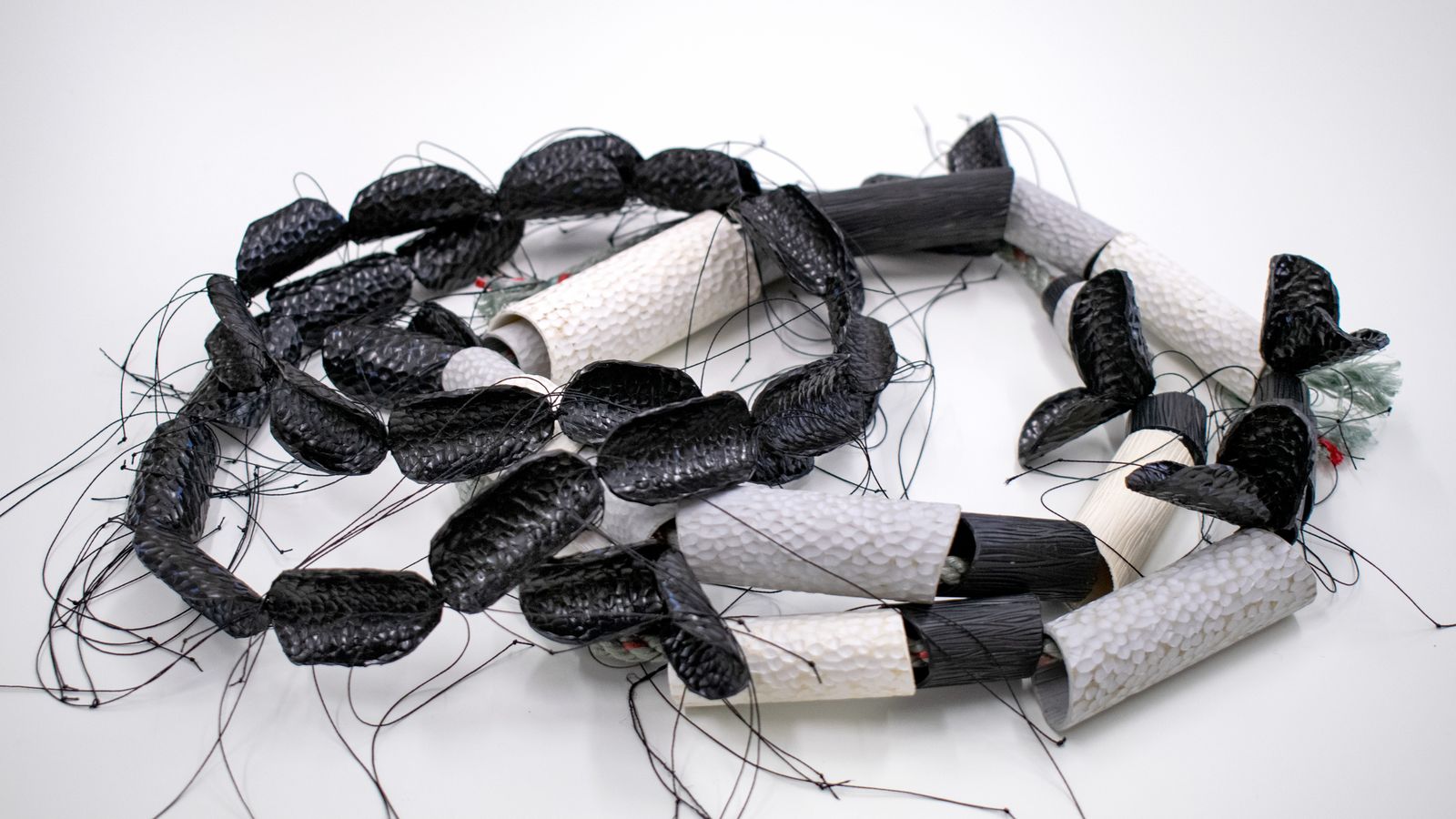 In her work, Pennie Jagiello aims to summarise the extremity of the lasting environmental impacts we impose upon the natural world. She collects that which we discard, and her way of processing these anxieties is through contemporary jewellery objects. Pennie only works with found and discarded human-made materials without the purchase of new resources. This way of working, which provides many challenges, has completely formed Pennie's practice for many years.
The works in the series Objected inheritance from the errors of the Anthropocene were made by employing cold joining techniques without heating materials and with non-powered hand tools to minimise further environmental footprints. Instead, Pennie uses plaiting, binding, knotting, sewing and carving; time-honoured techniques that are reliant only on the artist's two hands.
Pennie sees contemporary jewellery as offering a platform that engages historically, and yet can also provide dialogue positioning the here and now within a wearable medium. Contemporary jewellery questions pre-conceptions, expectations, value, worth, the past, present, future, and this medium is Pennie's way of negotiating her place within built and natural environs.
"What I make is completely informed by discarded materials. This provides a constant challenge as I am presented with a plethora of used and unwanted things that behave in different ways. A further challenge is to employ creative practices and techniques that endeavour to create no further waste.
"The importance of my work is placed within human-made debris as the discarded wearable heirlooms we pass on and leave behind us, in place of more traditional forms of jewellery. Diamonds are forever, so is anthropogenic debris which defines in our short existence the era and errors of the Anthropocene."
Pennie Jagiello is a Melbourne-based contemporary jeweller who recently completed a Masters in Art at RMIT, titled Remains to be seen, worn and heard: an inquiry into anthropogenic debris investigated through contemporary jewellery objects. For this project, a body of work was constructed entirely from anthropogenic debris collected from beaches and coastal environs across Victoria, New South Wales and the Pilbara, WA.
Pennie's ongoing research investigates the objects we use and discard, and the environmental consequences of unsustainable practices. Pennie was a finalist in the 2016 and 2017 Victorian Craft Award, and recently selected for a residency with Form Gallery in Western Australia, which enabled her to visit the Pilbara during 2014–16.
Her works have been exhibited nationally at selected craft and design galleries, as well as showing in alternative art spaces. Pennie was selected to exhibit her MFA works in the prestigious Galerie Marzee International Graduate 2018 Show in Nijmegen, Netherlands. She attended the opening in Nijmegen and discussed her research at the exhibition's artist symposium in August 2018. While there, she launched her latest collaborative project titled The Worn Debris Collective, which invites makers from around the globe to participate in an exchange of collected discarded human made debris, hosting a series of workshops and exhibitions across Australia and internationally, and debuted at the 2019 Radiant Pavilion Contemporary Jewellery and Object Biennial.
Pennie runs workshops, is a short course and studio lecturer in the School of Fashion and Textiles at RMIT, and is a guest lecturer in the School of Art.
Image: Pennie Jagiello, What we leave behind: heirlooms of the Anthropocene #4 and What we leave behind: heirlooms of the Anthropocene #5, 2019-20. Photo: Ruby Aitchison. Image editing: Bewley Shaylor.
Pot Bound History: Heirlooms of The Anthropocene #1, 2019-2020
Hand-carved discarded plastic plant pot.
Price: $1,470
Weed: Heirlooms of The Anthropocene #1, 2019-2020
Hand-carved discarded plastic container, lids, marine debris rope.
Price: $1,764
This Mess We're In: Heirlooms of The Anthropocene #1, 2019-2020
Hand-carved discarded plastic container, lids, pipe, hand-plaited discarded weed matting, marine debris rope.
Price: $1,820
What We Leave Behind: Heirlooms of The Anthropocene #4, 2019-2020
Hand-carved discarded plastic pipe and plant pot, marine debris rope, plaited industrial thread.
Price: $1,792
What We Leave Behind: Heirlooms of The Anthropocene #5, 2019-2020
Hand-carved discarded plastic pipe, vintage industrial thread.
Price: $1,694
Pot Bound History: Heirlooms of The Anthropocene #2
Hand-carved discarded plastic plant pot, hand-plaited discarded weed matting.
Price: $700