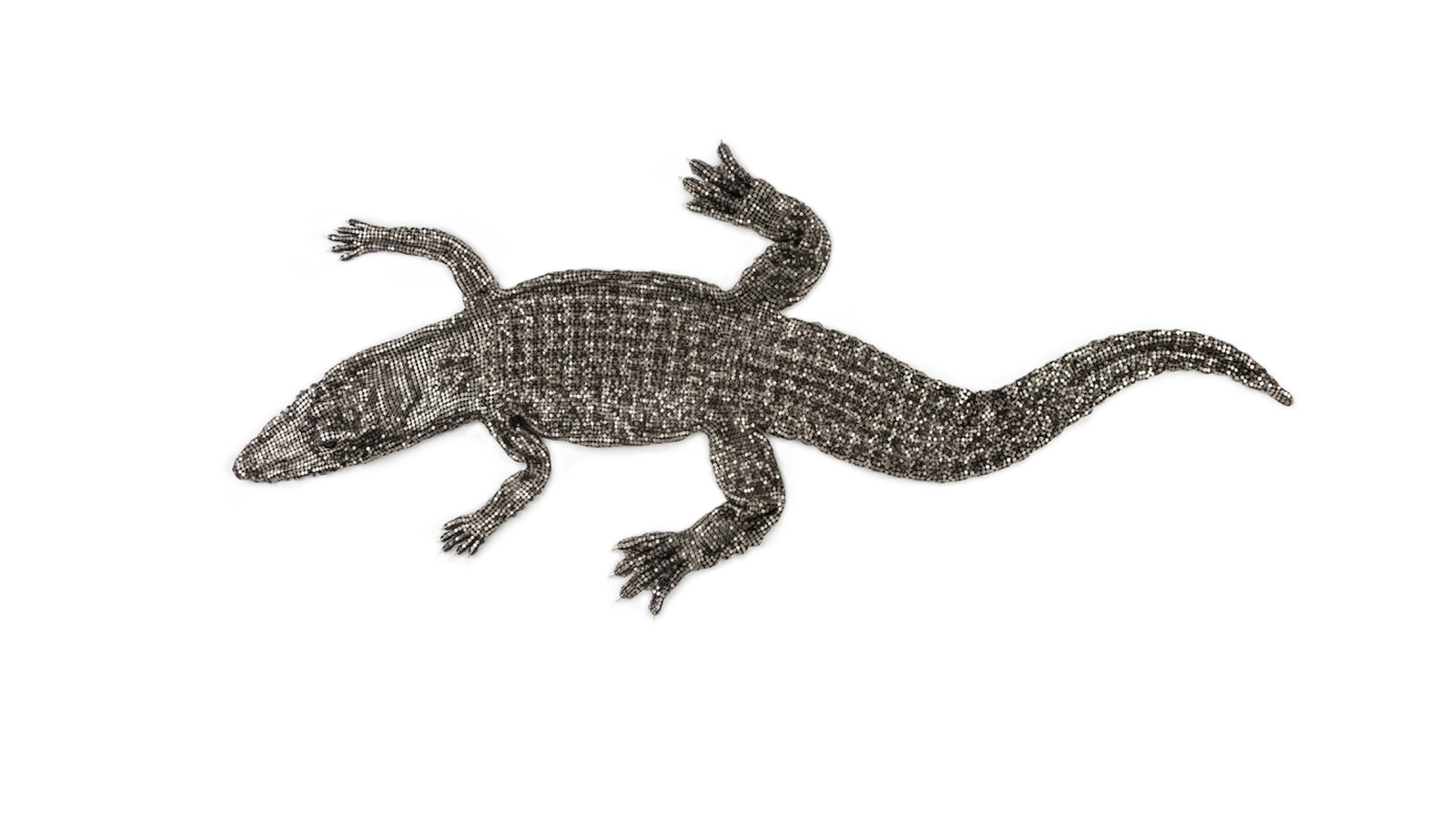 Inspired by the crocodile as a subject in jewellery, from ancient Egyptian amulets to María Félix's infamous Cartier commission, Crocodile is a continuation of Sian Edwards's investigation into using brass mesh to render animals. The piece is both a study of anatomy and an exploration of the material's potential to translate ideas.
Drawing inspiration from imagery of crocodiles resting in the water's surface, Sian was prompted to take a more subtle approach to her process. Choosing a singular brushed grey mesh, her aim was to create the textured skin through a quiet play between form and light, resulting in surface detail that seeks to capture the illusive image of a crocodile hidden in its environment.
"I define my practice by my approach to materials, my penchant for time-consuming and repetitive processes, my interest in detail, pattern, and qualities of light (like colour, shimmer and shine), my study of animals and my concern with connective mechanisms, movement and texture.
"I want to create pieces that act as lures to draw the viewer in for a closer look and attempt to convey the initial and illusive aesthetic experience I have when feeling inspired by a particular pattern or detail.
"As a whole, these pieces are part of my art practice and in turn, my identity as an artist but this identity is something that is continually evolving. As individual pieces, they will ultimately be more a part of someone else's identity than mine. They will shift in their meaning and context once they are owned and worn. People create their own way of reading and connecting to jewellery."
Sian Edwards is based in Sydney and makes intricate jewellery and objects. Taking inspiration from a multitude of sources, her work is defined by an interest in detail, repetition, pattern and light, in the form of colour, shimmer and shine. With a focus on animals, Sian's work references both the rich historical use of animals in adornment and the actual animals that share our world. Her work is playful, illustrative, and at times delves deeper undertaking anatomical material studies of her chosen subjects. Her approach to materials considers their relationship to the body through tactile qualities such as movement, by employing connective mechanisms, and texture, inspired by textile techniques like goldwork and zardozi.
Image: Sian Edwards, Crocodile, 2020. Photo: Pedro Ros Sogorb.
Crocodile, 2020
Brass mesh, argentium silver, onyx.
NFS