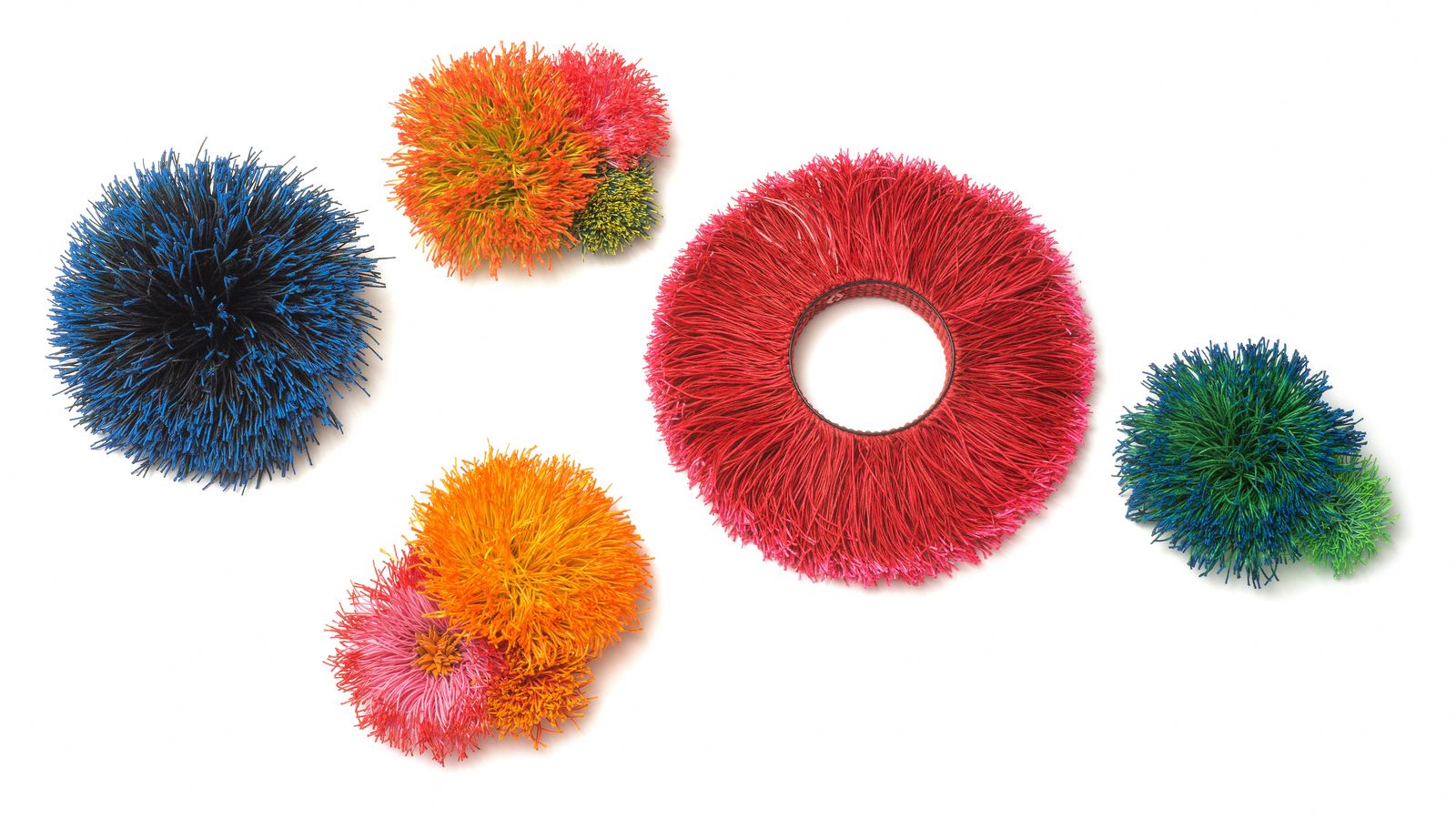 Inspired by the Australian indigenous plant species Acacia glaucoptera, (commonly known as the clay wattle or flat wattle), Vicki Mason's wattle works were developed in response to concerns regarding water use within residential gardens in Australia.
During research into water-wise plants suitable for gardens it was revealed that the diverse wattle species, a plant species prominent in arid Australia, has many that are suitable for use in domestic gardens. Wattles don't guzzle precious water after they have become established and they are relatively easy to grow.
These works address issues related to sustainability of resources while also advocating for the need to learn about how to belong to our place through adapting our gardens to Australia's climate, soils, levels of rainfall and variability.
"I'm interested in unpacking our relationship(s) with plants within the contemporary context. My purview is to build knowledge and raise awareness about the natural world through investigating the myriad of themes the study of plants opens me up to.
"Each conceptual investigation leads to discrete bodies of work. I create series of works that include one-of-a-kind works, limited edition works for exhibition as well as production work that comes out of these lines of study."
Vicki Mason is a Melbourne-based contemporary jeweller originally from New Zealand. She completed a Bachelor of Arts in Classical Studies at the University of Otago and a Diploma in Craft Design from Otago Polytechnic School of Art (Jewellery) before working at Fluxus workshop/gallery with renowned goldsmith Kobi Bosshard. She was awarded a Master of Philosophy degree (Research) in Gold and Silversmithing (ANU) in 2012. She runs production and exhibition practices and teaches. Vicki has been awarded many grants and awards including the prestigious Australia Council for the Arts Barcelona Studio residency in 2014. Her work is held in both public and private collections including the Shanghai Institute of Visual Arts, Shanghai; Powerhouse Museum, Sydney and the Art Gallery of South Australia, Adelaide. She interviews for Art Jewelry Forum, the international online platform for contemporary jewellery and is on the board of the World Crafts Council – Australia and the Australian Design Centre.
Image: Vicki Mason, Wattle flower series, 2020. Photo: Andrew Barcham.
Wattle Flower Series, 2020
Blistering Hot Hybrid Wattle Flower Cluster, 2020
Powder-coated brass, linen, cotton, leather, fabric pen.
Price: $820
When The Rain Comes Wattle Flower, 2020
Sterling silver, linen, cotton, fabric pen.
Price: $550
Budding Flower Wattle Stalks, 2020
Powder-coated brass, linen, cotton, fabric pen.
Price: $790
Long Dry Wattle Flower Cluster, 2020
Powder-coated brass, linen, cotton, leather, fabric pen.
Price: $740
Spring Wattle Flower Cluster, 2020
Powder-coated brass, linen, cotton, leather, fabric pen.
Price: $620