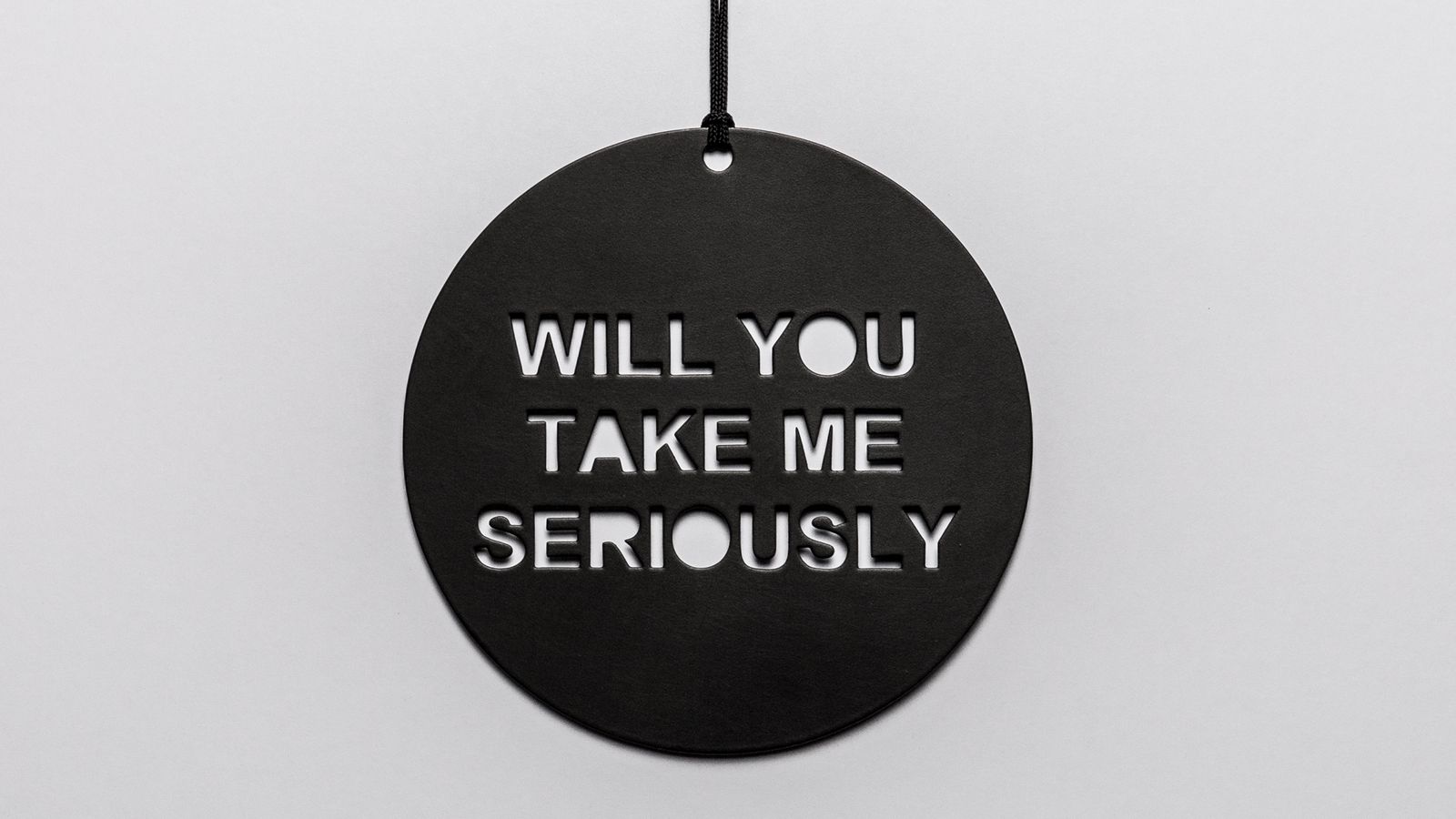 For her body of work TEXT WORK, Zoe Brand chooses phrases very specifically for how the meaning or understanding of the text changes when the work moves from wall to body, and back again. The work is driven by the chosen text. What it is presented on, pressed into, cut out of, is the vehicle/canvas for the words and is less (but not always) conceptually important.
The three text-based works shown in this exhibition are: YOU HAVE COME TO AN IRRELEVANT CONCLUSION, Will you take me seriously? and WHAT IS IT YOU ARE LOOKING FOR.
Zoe uses humour as a means of exploring cutting or politically-charged ideas, such as value, identity and consumerism. Her work makes use of the ambiguous nature of language to offer up various readings of a work that change when the context of the piece changes.
"I am concerned with finding language that can describe both the object or the idea of the object, as well as the person who might wear the piece. How the piece is read when it is hanging in a gallery or when it is worn out in public, and by whom, is paramount to my practice. I am interested in how a work is read both on and off the body."
Born in Brisbane, Australia in 1984, Zoe Brand completed an Advanced Diploma in Jewellery and Object Design at Design Centre, Enmore, TAFE NSW – Sydney Institute. In 2014 Zoe completed her Bachelor of Visual Arts majoring in Gold and Silversmithing at the Australian National University. In 2015 she finished her Bachelor of Visual Arts with First Class Honours at the same university. Zoe has exhibited in many group shows in Australia, New Zealand, Thailand, Germany, France and Estonia, and her works are held in a number of significant private collections. Zoe was also recently the Director of the Personal Space Project, a gallery located in her bedroom.
Image: Zoe Brand, Will You Take Me Seriously?, 2015. Photo: Courtesy of the artist.
Will You Take Me Seriously?, 2015
Sterling silver, paint, cord.
Price: $10,100
YOU HAVE COME TO AN IRRELEVANT CONCLUSION, 2014
Powder-coated aluminium, cord.
NFS
WHAT IS IT YOU ARE LOOKING FOR, 2020
Powder-coated aluminium, cord.
$429