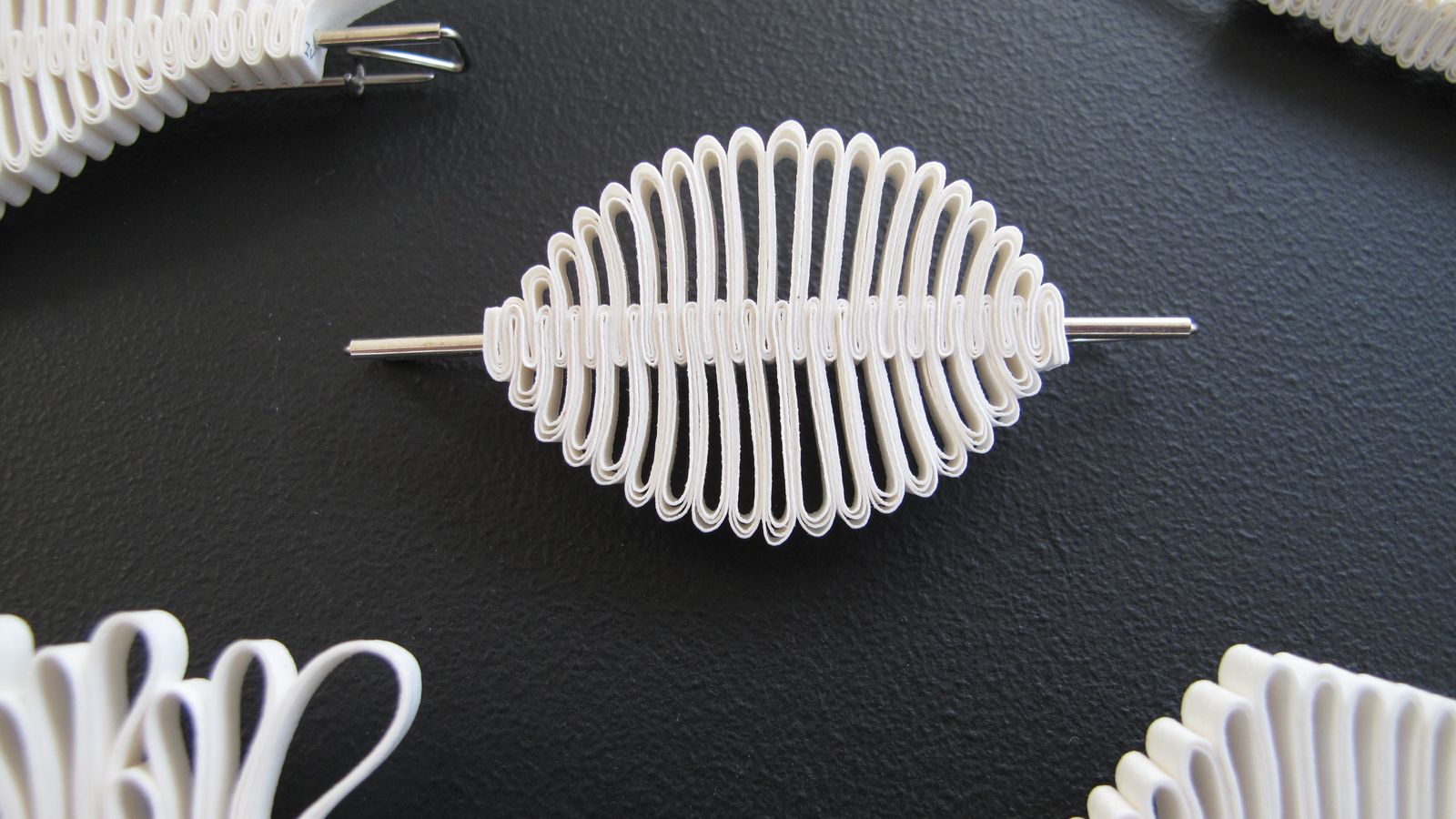 Zoë Veness's series of necklaces and brooches for this exhibition is made using an idiosyncratic method of paper folding that she has refined over many years of experimentation.
Although she is mostly interested in the systems that underpin the making of each work, the use of paper and intricate, time-consuming processes engages with material politics by placing value on craft skills over the monetary worth of the materials.
Paper is an uncommon material in contemporary jewellery however, Zoë is inspired by jewellery artists like Nel Linssen who built her practice around the use of paper, pushing the limits of the material to produce sculptural forms of tactile beauty.
"My jewellery practice is defined by two modes of making, one that explores sculptural form through a paper-folding method I've devised over many years. And the other that engages with place-based making via metal-smithing techniques.
"Fundamentally jewellery is a supplemental form requiring the body to support it in order to function. Can jewellery therefore function without the body? What happens when the body is absent, such as the case when on display in an exhibition? How does this impact on the sculptural 'presence' of the jewel? These are ongoing questions in my work."
Zoë Veness is a designer-maker and researcher working in the field of contemporary jewellery and object design. She makes jewellery-related objects, some that are not necessarily wearable, as a means to explore body-object relations, systems of material and cultural value, and place-based making.
Zoë initially studied dance at the Australian Ballet School in Melbourne prior to completing undergraduate and postgraduate design degrees at UNSW Art and Design including a PhD in 2014.
Her practice-based PhD research explored oscillations in her studio practice between jewellery and sculpture through a psychoanalytical framing of Donald Winnicott's transitional object.
She has had ten solo exhibitions including New Terrain in an Old World (2017) at Craft ACT, Canberra; To make an end is to make a beginning (2014) AD Space, UNSW Art and Design, Sydney; The Infinite Fold (2009) at JamFactory Contemporary Craft and Design, Adelaide; Transformations (2008) at Masterworks Gallery, Auckland; and Mathematical Beauty (2007) at the Australian Design Centre, Sydney.
Her work has been selected for exhibitions in Australia, New Zealand, Japan, Korea, Singapore, London, Scotland, Germany, and the USA, and is held is private and public collections including the National Gallery of Australia, Canberra and the Art Gallery of South Australia, Adelaide. In 2011 Zoë was awarded an Australian Postgraduate Award for PhD research, and Australia Council Visual Arts Grants for the development of new work in 2002, 2006 and 2017. She has undertaken artist residencies at the Edinburgh College of Art in Scotland in 2006, and at Bundanon in NSW Australia in 2010.
Zoë is a design lecturer and course convenor of Object Design at UNSW Art and Design for the new UNSW Bachelor of Design degree launched in 2019. Previously she was Studio Coordinator of 3D Design at the School of Creative Arts, University of Tasmania in Hobart.
Image: Zoë Veness, Return Loop: Double loop brooches, 2020.  Photo: Zoë Veness. 
The Return Loop, 2017/2020
Wreath Necklace, 2017/2020
Ingres paper, stainless steel cable, sterling silver.
Price: $2,500
Double Loop Necklace, 2013/2020
Ingres paper, stainless steel cable, sterling silver.
Price: $3,300
Ribbon Brooch, 2020
Ingres paper, stainless steel cable, sterling silver.
Price: $220
Lacy Brooch, 2020
Ingres paper, stainless steel cable, sterling silver.
Price: $220
Diamond Brooch, 2020
Ingres paper, stainless steel cable, sterling silver.
Price: $220
Eye Brooch, 2020
Ingres paper, stainless steel cable, sterling silver.
Price: $220
Arabesque Brooch, 2020
Ingres paper, stainless steel cable, sterling silver.
Price: $220
Rhomboid Brooch, 2020
Ingres paper, stainless steel cable, sterling silver.
Price: $220