Mutukaku Ngura: Motorcar Country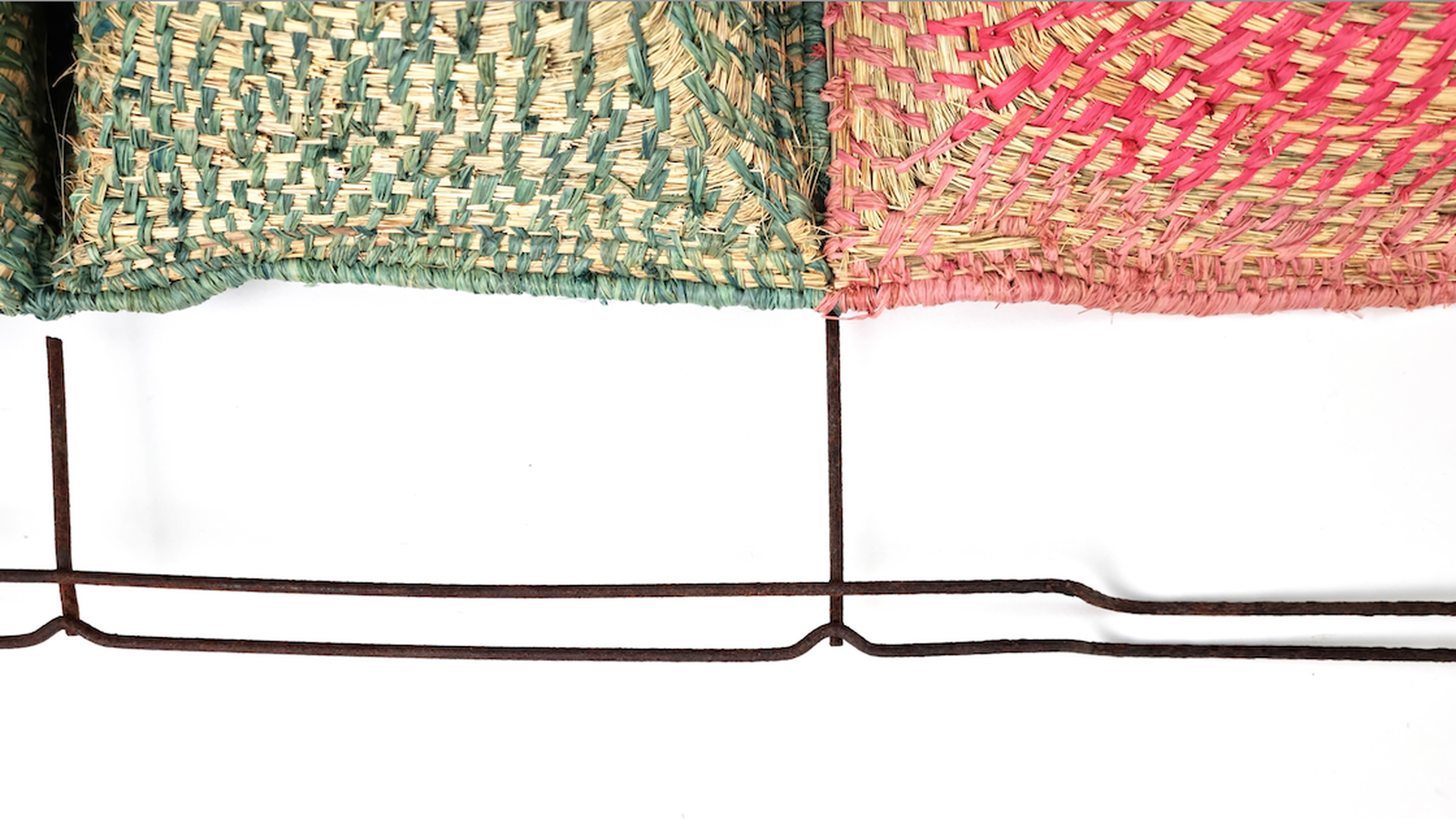 Nganaṉa ngurkantananyi Tjanpi nyangatja panya Yankunytjatjara tjuṯaku tjana palyantja. Paluṟu tjana nguraritja tjuṯa.
We recognise and acknowledge that this Tjanpi work was made by Yankunytjatjara people. We acknowledge that they are the traditional owners of the land upon which this work was made.

Across the Aṉangu Pitjantjatjara Yankunytjatjara (APY) Lands, old motorcars are laid to rest, twisted metallic and glass shards glittering under the endless sky. When a car is set alight, the plastic and upholstery disintegrate under the flames leaving behind sculptural wire skeletons and rusted bonnets and doors, reminiscent of dry desert scapes.
Tjanpi Desert Weavers gather, prepare and use 'tjanpi' (grass) to make spectacular contemporary fibre art, weaving beautiful baskets and sculptures that display endless creativity and inventiveness.
The works in this exhibition were created by the women salvaging the metal seat frames from these motorcar graveyards and using them as a type of contemporary free-form weaving frame. The sculptures take on the shape of the frames, slightly warped and undulating. The process of weaving softens the form and imbues the work with the colours and stories of Country and culture.
Artists in the exhibition include: Bridget Baker, Kathy Dodd, Kim Dodd, Fiona Dodd, Ngilan (Margaret) Dodd, Kayla Gayla, Collette Stewart, Pinuka (Margaret) Yai Yai and Amy Yilpi.
Tjanpi Desert Weavers is a social enterprise of the Ngaanyatjarra Pitjantjatjara Yankunytjatjara (NPY) Women's Council which encompasses the APY Lands. The Council enables women living in the remote Central and Western desert regions to earn an income from fibre art. Tjanpi represents over 400 Aboriginal artists from 26 remote communities on the NPY lands.
Working with fibre has become a fundamental part of Central and Western Desert culture. Tjanpi embodies the energies and rhythms of Country, culture and community. The shared stories, skills and experiences of this wide-reaching network of grandmothers, mothers, daughters, aunties and sisters form the bloodline of the desert weaving phenomenon and have fuelled Tjanpi's rich history of collaborative practice.
Australian Design Centre and Tjanpi Desert Weavers present this exhibition of new woven sculptures that apply cultural knowledge and skill with found materials discarded in the desert.

The exhibition works will be available for sale. Please contact the Centre for details.
In addition to the exhibition works, we have a selection of Tjanpi Desert Weavers fibre sculptures and baskets available for sale in the Centre in Object Shop.

ADC/Tjanpi Collaboration - Ngayulu Minyma Tjanpinya, I am a Tjanpi Woman
Tjanpi Desert Weaver's artist and senior Anangu woman, Tjunkaya Tapaya OAM , was part of the 2018 ADC On Tour exhibition Obsessed: Compelled to make.
For Obsessed: Compelled to make Tjunkaya Tapaya's work is a self-portrait titled Ngayulu Minyma Tjanpinya, I am a Tjanpi Woman. This work is now in the permanent collection of the National Portrait Gallery.
Presented by
Australian Design Centre block mono

Visit the website for Australian Design Centre block mono

Tjanpi Desert Weavers

Ngaanyatjarra Pitjantjatjara Yankunytjatjara (NPY) Women's Council