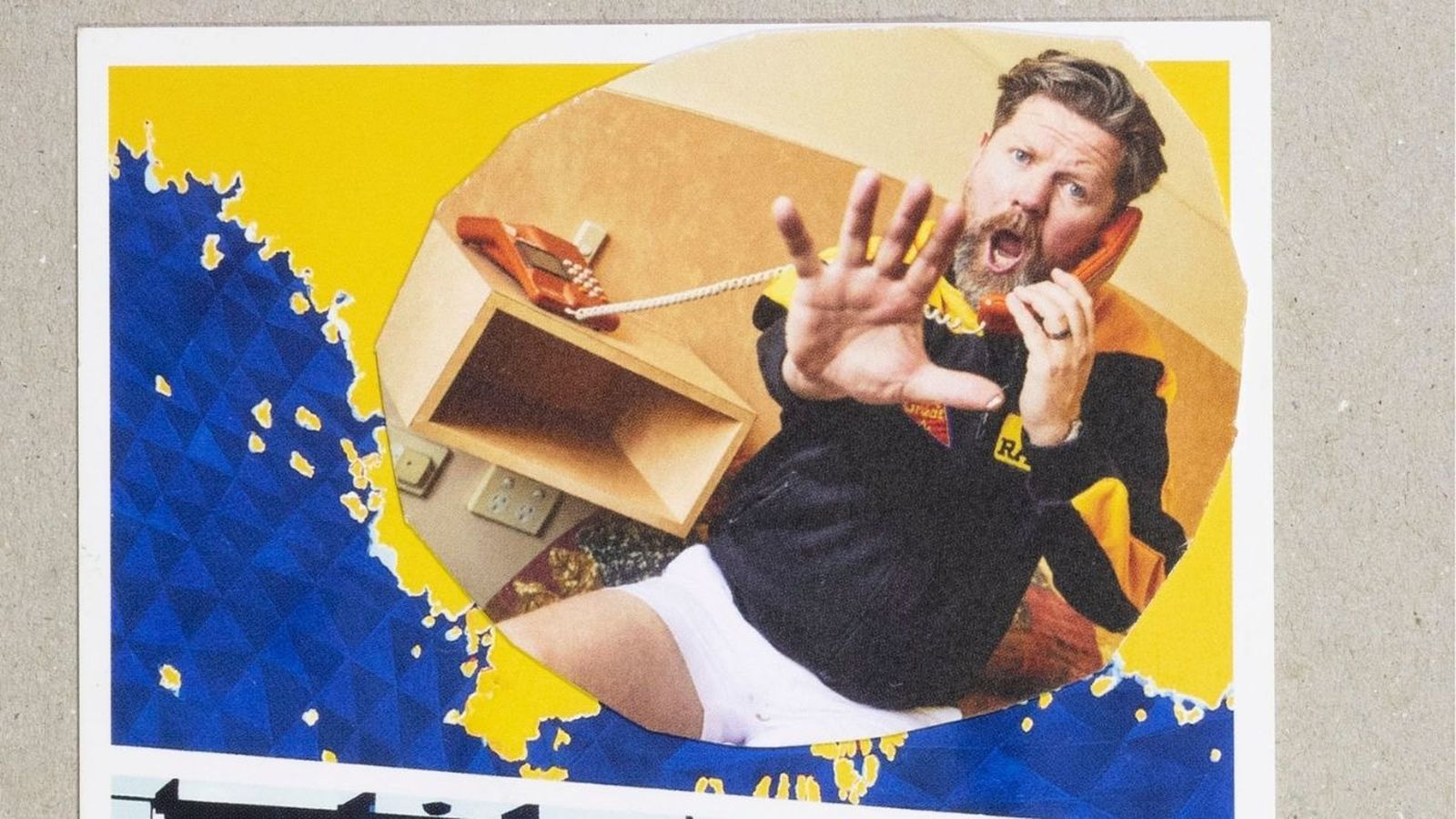 Tim Ross
Tim Ross is a well-known Sydney comedian with passion for architecture and design. The journal consists of extensive observations of Tim's life during lockdown. Combining text, dried leaves, and paper collages, he documented what he missed in the simpler times, especially when he could perform on stage and hug his friends.   
"COVID-19 has meant my work has changed to almost completely working and supplying content for others. I am lucky for that, but I miss doing my own thing. That's why making my new book is incredibly rewarding." 
We asked Tim three questions about his experience of isolation, completing this journal and his hope for the future. These are his responses: 
Describe the experience of the period of isolation for you. 
Right now, is seems like a blur in the rear-view mirror and while coming out of it I felt a strange sense of nostalgia for the simplicity of the time, now with Melbourne having been thrown back into it I find it impossible to romanticise the situation.   
What does your book represent and how did you approach the challenge?

I approached it like the zines I used to make in the 90s and in a sense it represents the arts and craft and cubby making time I had with my young boys during lockdown.  
What do you hope will change in Australia as a result of the pandemic?
I hope we will be reminded by the importance of the arts and that people will bake me better bread. 
 
He may be best known for his work on TV and radio (at different times hosting both the number one breakfast and drive shows in Sydney) but comedian Tim Ross has also always had a passion for architecture and design.Over the last six years, he has performed his live Man About the House show in architecturally significant buildings and homes all over the world, including seasons in Australia, United States, New Zealand, the Venice Biennale and the London Festival of Architecture (where it was included among the 'Must See' events by the New York Times). In 2018 they presented Man About the Sydney Opera House with special guest Kevin McCloud, the host of Grand Designs.
Tim also passionately supports important issues in Australian architecture and design. In 2018 Tim was awarded the National Trust Heritage Award for Advocacy, which recognised his activism in drawing attention to Australia's legacy of modernist architecture and promoting its conservation. In 2019 Tim was awarded the National President's Prize from the Australian Institute of Architects, to "recognise him for his advocacy, activism and outstanding contribution to the architecture profession".
He has written on architecture for various publications including Real Living, Habitus, The Saturday Paper, The Smith Journal and The Guardian. In 2017, Tim launched his second book, The Rumpus Room, capturing nostalgic short stories about life in Australia's suburbs in the 1960s, '70s and '80s.
Tim's two-part series on Australian architecture, Streets of Your Town, premiered on ABC TV in November 2016 to rave reviews, and quickly became the most watched arts program on the ABC for the year.
In 2018, Tim partnered with the Powerhouse Museum in Sydney to curate his first exhibition, Design Nation which led to a national touring talk. 
MOTEL is the latest live show by Tim Ross and Kit Warhurst. A nostalgic, thought provoking and funny exploration of Australian holidays of the past, the show uses storytelling and song to take the audience on a sentimental motel journey. Motel. Images of Australia on holidays is his new book inspired by the live show. 
View Tim Ross' journal here:
Image: Tim Ross, Design/Isolate Journal (detail), 2020.