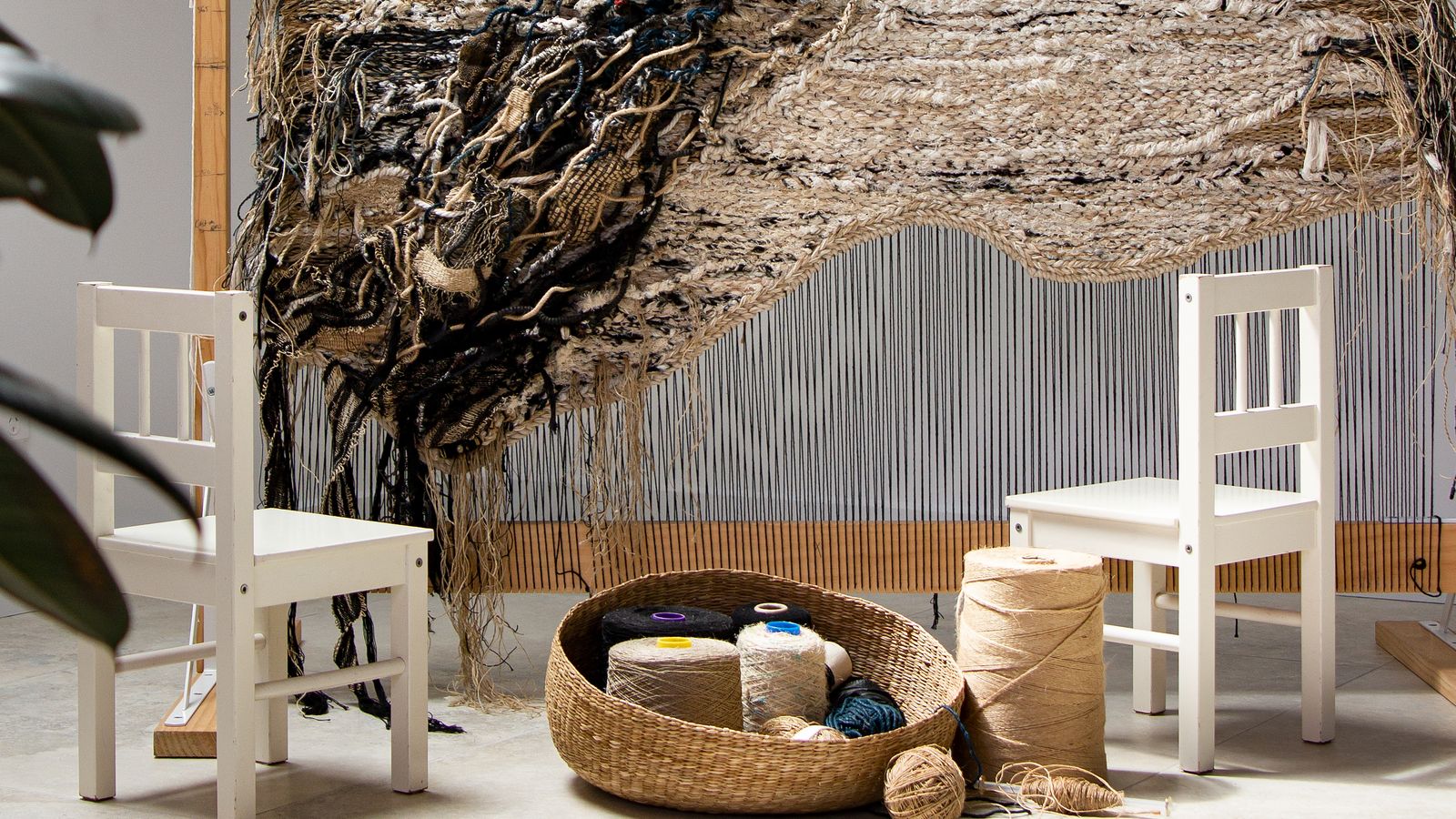 Isolate Make: Creative Resilience in a Pandemic explores how creative practice has adapted to isolation, associated restrictions and production challenges, or in response to the year's tragic global events. Through images, text, video and final work on exhibition Isolate Make gives a unique insight into a wide range of contemporary art, craft and design practice.
A key takeaway from this experience is how we prioritise our time and invest our energy in both our practice and the relationships we have. The act of creating can be healing. An opportunity to connect with others and with ourselves. Crossing Threads
IN CONVERSATION: 
Where do you work?
We are grateful to have dedicated studios located in each of our respective homes. Today we are working together in Lauren's home studio.
Describe your practice?
Our practice aims to inspire, evoke emotion and cultivate authentic connection. Each new day brings the opportunity to 'weave' your reality - whatever it may be. As our lives interconnect with others; each connection forms a unique thread that makes up the tapestry of life. We explore both the internal and external tapestries we each possess, with our woven art being fibrous pages from our personal diaries.
How has the coronavirus pandemic affected your practice and your ability to make a living?
Both of us have consciously chosen to work on Crossing Threads in a part-time capacity (one day a week). We work in our corporate professions four days a week in advertising and financial technology. As a result, this has somewhat relieved us from the financial pressure and remains a creative outlet that is needed more than ever.
At first during lockdown in March, there was a halt in business. However, as our clients spent more time at home, it was very optimistic to see both private collectors and design firms start to reconsider acquiring fibre art for their homes and projects. We have recently completed commissions for local and international clients and have a few booked to take us into the new year.
Our practice remains a solitary one, and the luxury of spending more time at home means that we have more bandwidth to create.
What are you making?
We have made a large frame-loom weaving measuring 150cm wide x 230cm height. This will be suspended from Tasmanian Oak Dowel.
What is the concept behind this work?
Titled 'UNDERTOW' this large-scale, sculptural tapestry explores the interplay of texture and restraint. Created under the confinement of the COVID lockdown, Crossing Threads® sisters Lauren and Kass Hernandez had to adapt to the restrictions imposed on their collaborative practice and physical proximity. Similar to a current of water below the surface, the sisters felt like they were pulled into different directions. With the abundance of time, this induced space of self-awareness magnified their competing priorities. 'UNDERTOW' is a fibrous confession of the imperfection and heaviness that lingers in their unique relationship. The imbalance of tension and release is explored via the complementing use of both frame loom and Saori reedless weaving. Similar to the removal of safety guardrails, the absence of the reed allows one to play with warp density which would otherwise be set and regulated. A fitting metaphor of the new reality and blurring of time during this pandemic. Elements of the piece were intuitively constructed in isolation and then woven together, forming a concentration of untamed vines that attach itself like a parasite to a host. Weathered roots are interspersed with new growth, along with the majority of the weaving completed while restrictions eased. The binding of jute and hemp onto wire and use of metal chains represent the many attempts to draw boundaries. Layers of history are bedded down amongst the expansive areas of neutral tabby weave, representing moments of healing and clarity. The artists take away an important lesson that in order to move forward, one must not ignore the value of co-existence.
What is the process of making this work?
Like many of our previous large-scale artworks, there is significant time and effort put into the preparation of the materials prior to casting onto the loom. For the sculptural elements, we used wire that has been bound by hand with hemp and jute to create these root-like claws. We created woven samples made out of a wire warp and jute weft. These mesh-like panels have been layered and intertwined with other woven elements that protrude from the body of the basic weave, graduating to a refined texture towards the top of the design.
Is this process the same or different to your usual process? If different, how has it changed?
Being partners, we've had to streamline our creative process so that we can work both independently and collaboratively. During the lockdown, we had to use different online tools such as Slack and Trello to assist with our communication. This allows us to be clear with what topics we were actioning and transparent with accountability for outstanding items. It has helped significantly bridge the gaps in communication that arise when we are physically not together and are still using these tools today despite restrictions easing.
Has your thought process changed? If so, how and has that affected your work?
To be honest, our creative process is still very similar to what it was prior to Covid-19. What we have learned is to be more compassionate with each other and our bodies that can get tired after many hours of weaving. Putting self-care is at the forefront to ensure a sustainable level of physical and mental health. Also, having a life away from the loom is important in stablising self-identity and recalibration.
What is the value of making art right now?
It is a vehicle to communicate our feelings and ensure that our stories are shared during these times of isolation. We definitely take for granted the opportunity to see artwork in person and how transformative the experience is. Ensuring that our art is shared via online engagement platforms definitely elevates the longevity of our work to transcend physical barriers.
How do you think your practice will change when we emerge from isolation?
A key takeaway from this experience is how we prioritise our time and invest our energy in both our practice and the relationships we have. The act of creating can be healing. an opportunity to connect with others and with ourselves. We are more cognisant of what projects we take on and in particular ones that garner connection; whether that is an exhibition space or collaborations.
ABOUT CROSSING THREADS
Crossing Threads® is the collaborative work of Lauren and Kass Hernandez, Australian-born sisters of Filipino heritage based in Sydney.These self-taught tapestry artists first explored the practice of weaving in early 2015 by attending a beginner's workshop.

Known for their large-scale and highly textural handwoven pieces, the Hernandez sisters seek to emulate the natural forms found in nature. Their carefully curated fibre selections include Australian Merino wool, plant-based fibres, up-cycled/dead-stock fabrics and other foraged items that aren't traditionally used in fibre art.
Image Top: Crossing Threads, work in progress, 2020. Photo: courtesy of the artists