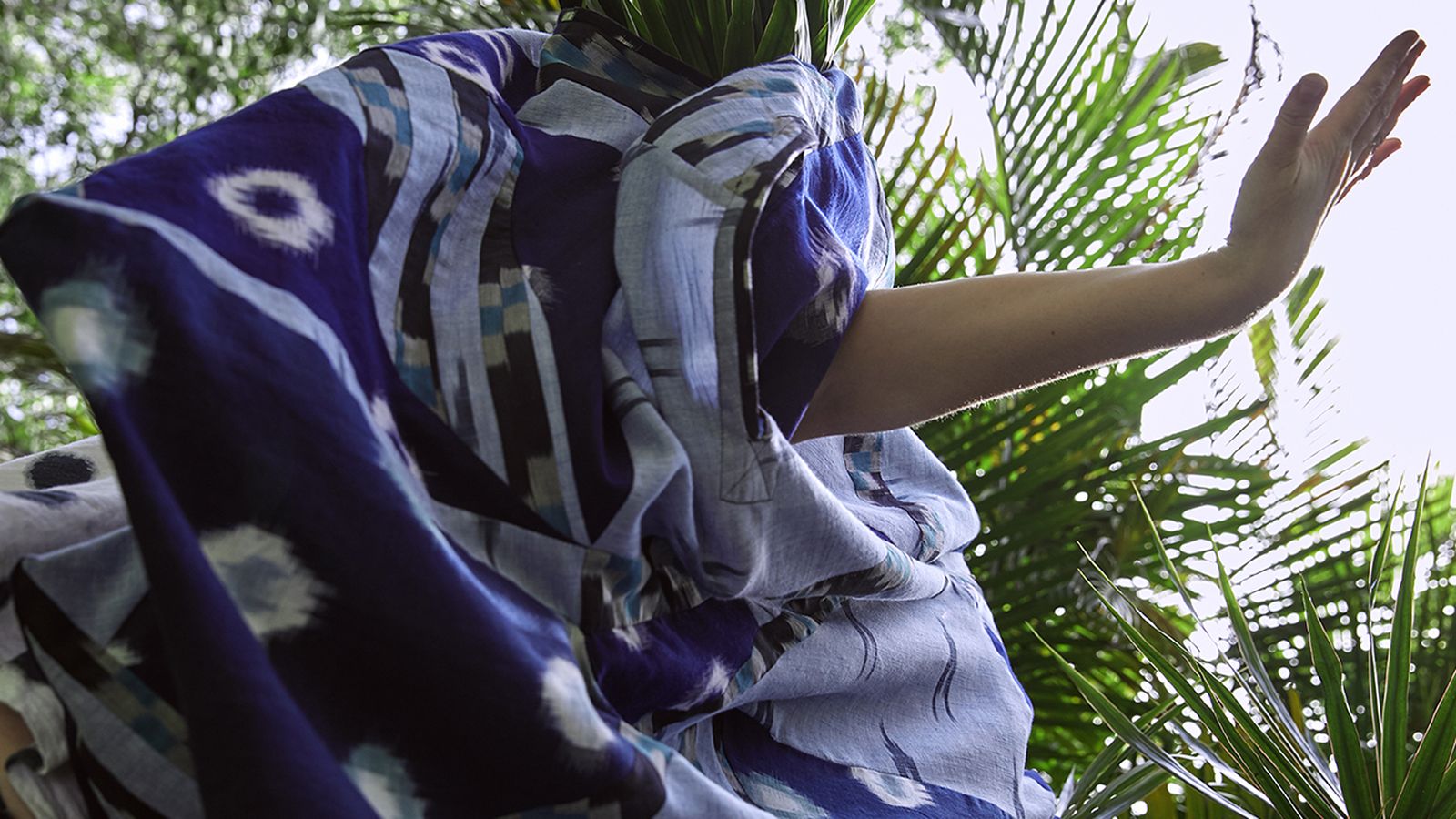 Isolate Make: Creative Resilience in a Pandemic explores how creative practice has adapted to isolation, associated restrictions and production challenges, or in response to the year's tragic global events. Through images, text, video and final work on exhibition Isolate Make gives a unique insight into a wide range of contemporary art, craft and design practice.
I think art, and by extension its relationship to design, is so important right now for many reasons. In my experience, it can help manage negative emotions and the feeling of not being in control of things in the world. It allows the imagination to flow and for us to explore expression with all of our senses. Especially since so much of our engagement is currently through screens - art and design enable connection with our bodies. Donna Sgro
IN CONVERSATION: 
Who are you?
I am a fashion and textile designer and academic.
Where do you work?
I work in the School of Design at the University of Technology Sydney. I teach fashion and textile design as well as undertake research through my creative practice in fashion design.
Describe your practice?
I make garments using experimental methods of creative pattern cutting. I explore cutting and making using textile design to challenge traditional methods of cutting garments. The fashion industry relies on reproducing classic garment styles and garment patterns. I am interested in cutting individual garments using exploratory cutting, artisanal methods and slow practice. In my practice, I'm inspired by developing garments which combine textiles design and cutting. I like to explore the creations of patterns and their iteration. I am inspired when making by hand to changes that occur during the making process, sometimes through mistakes, other times through the realisation of how to develop a method differently. When experimenting with a process and materials, something unexpected can emerge, which can lead to an interesting creative development. In my practice, I try to elevate these moments, and continuously evolve my methods.
How has the coronavirus pandemic affected your practice and your ability to make a living?
Luckily, I have fared well so far as I am in a full-time position and have been able to continue working. I have transitioned to online teaching, which has positives and negatives, considering I usually teach within a studio environment. The university sector is currently experiencing unprecedented disruption due to Covid-19-related budget shortfalls and government-initiated changes. It is a precarious situation now for many people, especially those in casual employment. It could be so much worse, and I feel grateful. My university has recently announced an intention to cut the number of staff positions. Going forward involves much uncertainty. Working mostly in isolation has reinvigorated my practice, as I have had time and space to develop a studio environment and alternate working times. I have found I have more time and energy by not travelling to and from campus every day. I have been able to spend time developing my drawing practice and integrating this into my working week.
What are you making?
I am making a number of garments which explore a creative method of cutting. I call this method Dynamic Cutting. Using textiles, I develop the garment design by cutting the surface and form of the garment at the same time. Each design evolves through cutting and restitching the fabrics together. Each time I undertake a new project, I try to develop my method of cutting through further experimentation with it. In this project, I will be making individual garments in collaboration with several women, to understand more about how I might collaborate virtually using this method of cutting.
What is the concept behind this work?
This year, I have been inspired by moving to the coastal area of Clovelly, where the vibrant qualities of light and colours in the environment feel invigorating, more especially since isolation during Covid-19. In this project, it is my sense of the beauty and energy in this environment that underpins the work I am doing. I have spent time developing a range of drawings which explore colour and pattern juxtapositions. These I understand as colour and cutting concepts. When creating my drawings, I attempt to translate the dynamism that, for me represents the energy of the coastal place I am in. I will aim to translate this thinking through to the resulting garments.
What is the process of making this work?
First, I have been developing drawings. These involve a slow process of colouring through which I explore rhythms and movement using geometries and repetition. I like to create patterns which are rhythmic and involve a slow, repetitive hand-practice. Next, I start to devise a way to translate these through to textile concepts. I have collected a range of ikat fabrics during my travels to India in previous years. These are cotton fabrics which have particular patterns which are first painted onto the threads before the threads are woven into cloth. I work to develop several textile concepts by cutting and recombining different fabrics into surface patterns, a bit like a patchwork. These will then be developed into whole garments by continuing this process three-dimensionally. I will be collaborating with different women to make the actual garments by responding to what each person would like and then interpret this further.
Is this process the same or different to your usual process? If different, how has it changed?
This process is different to how I have worked more recently. I have spent a lot of time this year drawing. Prior to Covid-19, I have always engaged with craft practices that involve repetition, such as crochet, knitting and embroidery. Working by hand in such a way allows me time to reflect, daydream, or simply just to keep my hands busy. I have realised this year that drawing has allowed me to contemplate ways to approach textile design and my cutting practice. As surface designs, my drawings represent my thinking about reforming textile surfaces using cutting techniques and material juxtapositions. I have realised that this can be developed using drawing as a practice. Collaborating with women to create individual garments is also something I have not engaged with recently. This represents a new process in my practice, and through this, I hope to understand how virtual collaboration might be facilitated.
Has your thought process changed? If so, how and has that affected your work?
My thought process has not changed significantly. However, I have spent time reconnecting with the slow hand-based practice of drawing. This practice enables me to reflect more deeply and spend time exploring colour. So, I guess it slows down my thought process and allows dwelling. It is the type of thinking that happens in my current environment when I visit the ocean, to sit, observe and think. I find this practice calming and contemplative. I like to think deeply about what I am doing, and through using my hands in such a way, I find this enables me to reflect on what is happening around me. Somehow this is a good antidote to the more challenging experience of working from home, as well as engaging with the current political and social fall-out which keeps unfolding in 2020.
What is the value of making art right now?
I think art, and by extension, its relationship to design is so important right now for many reasons. In my experience, it can help to manage negative emotions and the feeling of not being in control of things in the world. It allows the imagination to flow and for us to explore expression using all of our senses. Especially since so much of engagement is currently through screens, art and design enable connection through our bodies. Art can also connect communities and generate new ways to be in the world. It can reach those who may feel isolated or disconnected, as it creates shared experience and expression of different types of experiences. Importantly art and design are storytelling devices through which we can pose questions and raise issues that are important to us. Art can give a voice to those who don't always have one. It can entertain us and make us think and feel. It can also challenge us. Art and design are so integral to our experience in the world, our industries and economies. Encouraging critical thinking through such practices has never seemed more necessary.
How do you think your practice will change when we emerge from isolation?
I'm really not sure about this. Everything seems so uncertain. My practice will certainly continue to evolve, and I will continue to ask questions through it.
ABOUT DONNA SGRO
Donna is a fashion and textile design practitioner, and lecturer at the University of Technology Sydney (UTS), where she has taught in Fashion & Textiles Design and Interdisciplinary Design since 2010. She holds a PhD from RMIT University (2018) in the area of creative pattern cutting for fashion design practice.
Donna's practice focuses on developing experimental cutting techniques for fashion design which question more traditional pattern cutting methods. Her work is most well-known for the Morphotex Dress, a world-first in biomimicry for structural textile colour.
Image Top: Donna Sgro, Claire - blue colour way, 2020. Photo: Wayne Cheung