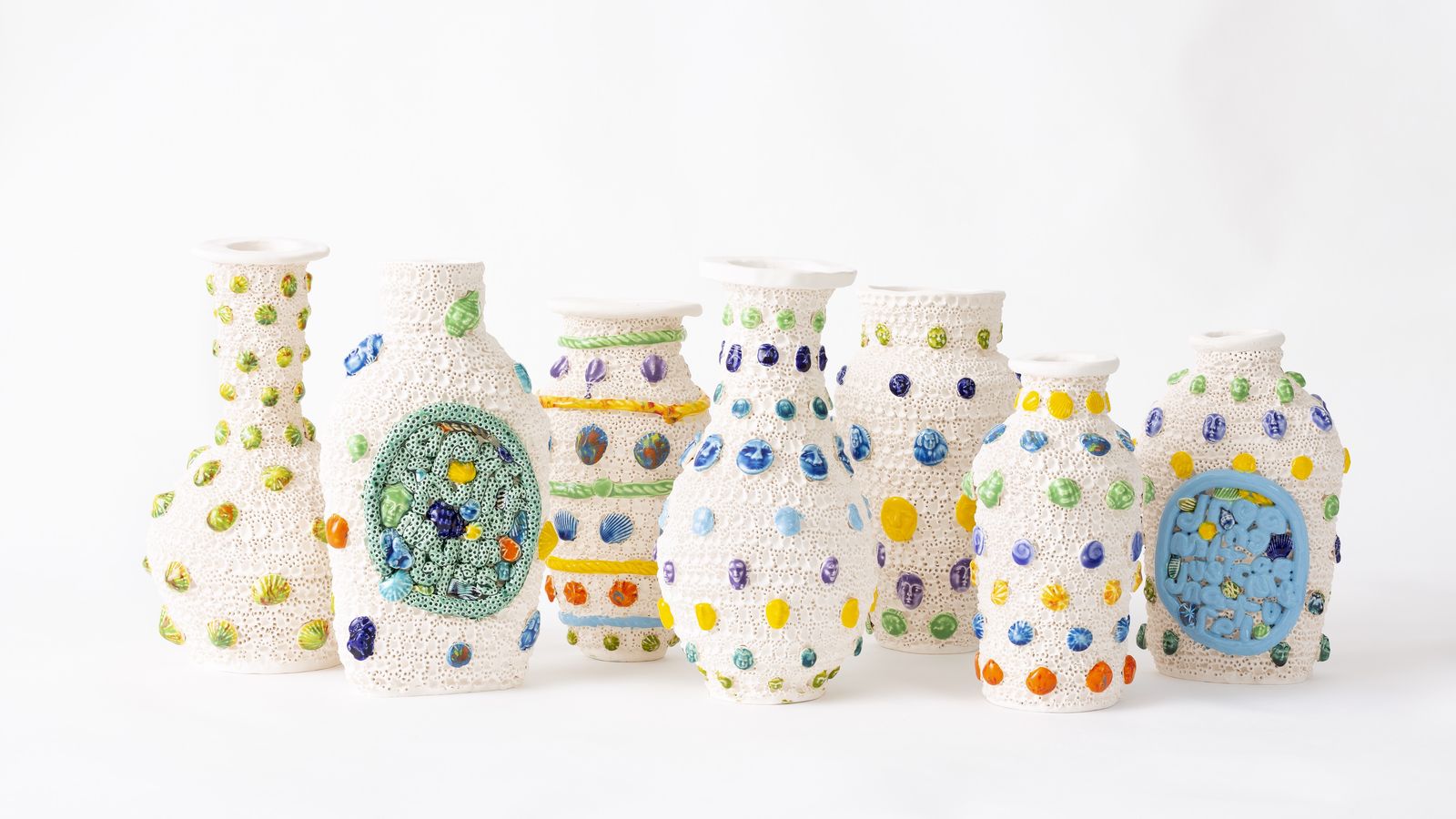 Isolate Make: Creative Resilience in a Pandemic explores how creative practice has adapted to isolation, associated restrictions and production challenges, or in response to the year's tragic global events. Through images, text, video and final work on exhibition Isolate Make gives a unique insight into a wide range of contemporary art, craft and design practice.
The works are not very big and I set out to complete one pot a day. I would start in the morning, do other things then come back to it in the afternoon. I made moulds out of old Star Wars figures I have had since I was a kid. Sometimes these characters' faces adorn the pots. Glenn Barkley
IN CONVERSATION: 
Who are you? 
My name is Glenn Barkley and I am an artist, writer and curator. 
Where do you work? 
I'm based in Sydney and Berry, NSW, South Coast.
Describe your practice?
I am predominantly a ceramicist, but I also make collages and paintings
How has the coronavirus pandemic affected your practice and your ability to make a living?
I actually came out of the lockdowns better than I came in, as audiences and buyers pivoted to online sales. I had a solo show at Sullivan and Strumpf in Sydney at the beginning of the lockdown that went really well as audiences pivoted online. We also developed a lot of inline offerings like short videos and insta-stories.
What are you making?  
I am always making something. I'm currently completing a body of works for an exhibition at Shoalhaven Regional Gallery Wonder + Dread: Art in the Land of Weather Extremes.
What is the concept behind this work? 
This work was made at home during lock down. I had the goal of making one work a day. It had to be something I could easily eventually carry to my studio at Kilnit in Glebe. The works use patterns I made using simple press moulds I made from things around the house – shells, souvenirs and vintage Star Wars figures.
Three of the works have text – 'a pocketful of mumbles' from the song The Boxer by Paul Simon – a great New York song; 'Dreaming just comes natural' from the song Donald and Lydia by John Prine and 'That's no way to say goodbye' from the song of the same name performed by Roberta Flack. John Prine sadly passed away early in the pandemic as it raged across America as did Bucky Pizzarelli who plays masterful guitar on the Roberta Flack tune – I think those lyrics (penned by Leonard Cohen) is my way of remembering the loves lost and the trauma of those who had to go through losing someone to covid especially in place like America where the scale of the tragedy could have been avoided.
What is the process of making this work? 
I made this work on the deck of my house in Camperdown using ceramic hand building techniques as I listened to kids playing in the back lane and smelling food coming from cooking in the flats nearby.
Is this process the same or different to your usual process? If different, how has it changed?  
It's different as I don't really work with clay at home!!! Hence their tight and compact size. 
Has your thought process changed? If so, how and has that affected your work?  
I certainly like that scale and have made a few things recently after revisiting making them earlier in the year.
What is the value of making art right now?  
Art and in particular ceramics are a good way of memorialising and acknowledging broader political, cultural and political events. My work marks a time that has been extremely traumatic for others. I acknowledge that my privilege as well as being a maker of objects rather than say a performer has helped me, to this point a least, ride out the more difficult parts of the pandemic.
How do you think your practice will change when we emerge from isolation? 
I don't think it will…there have been great things about isolation – less travel, less pollution, people being generally nicer to each other – but once it's over I worry we'll just go back to the old destructive ways.
ABOUT GLENN BARKLEY
Glenn Barkley is an artist, writer, curator and gardener based in Sydney and Berry NSW, Australia. His work operates in the space between these interests drawing upon the history of ceramics, popular song, the garden and conversations about art and the internet.
Glenn was previously senior curator at the Museum of Contemporary Art Australia (2008–14) and curator of the University of Wollongong Art Collection (1996–2007). He is co-founder and co-director of The Curators Department, Sydney and of kil.n.it experimental ceramics studio Glebe, Sydney.
Image Top: Glenn Barkley, dreamingjustcomesnatural - Lockdown Potz, 2020. Photo: Simon Hewson