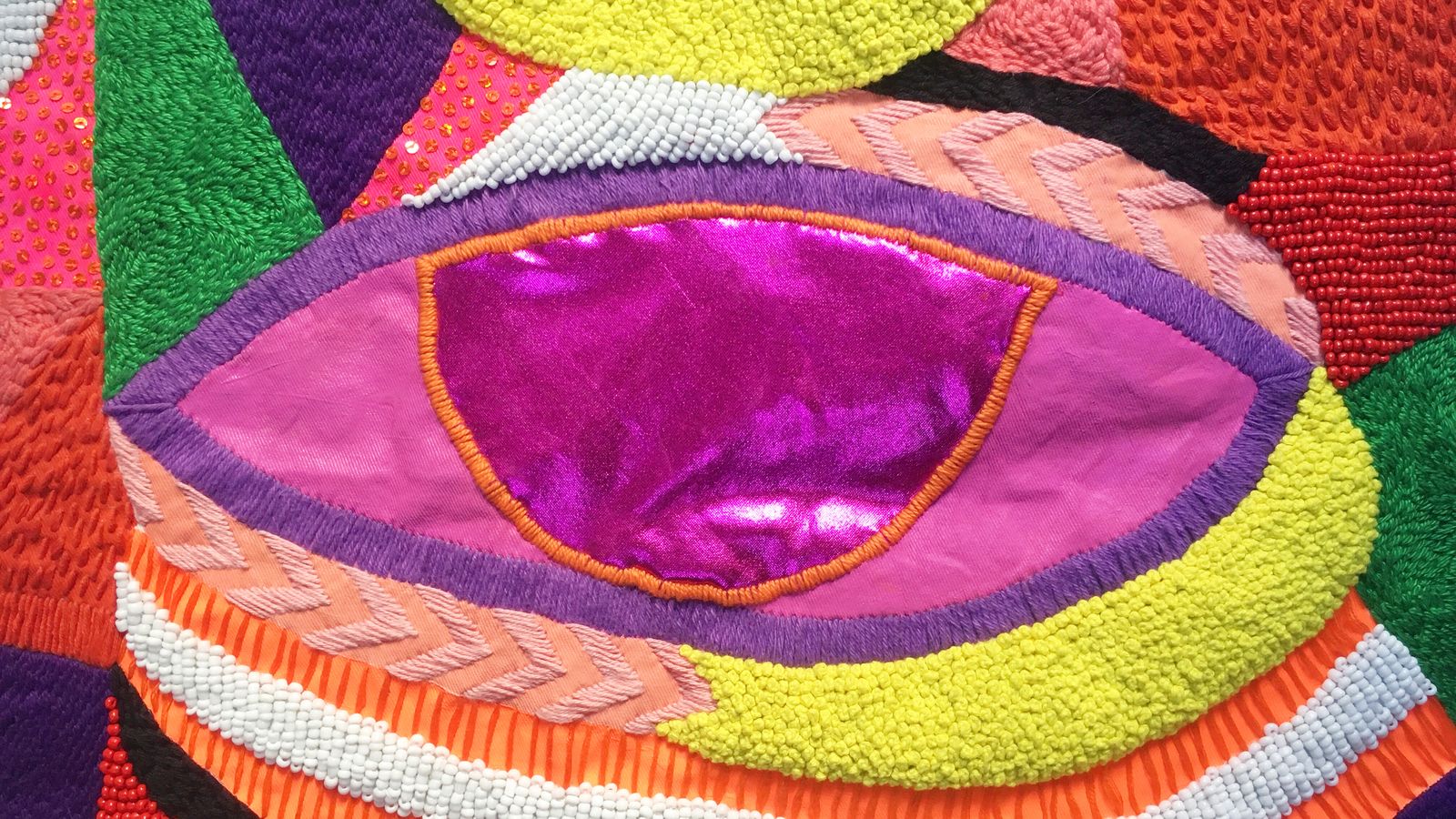 Isolate Make: Creative Resilience in a Pandemic explores how creative practice has adapted to isolation, associated restrictions and production challenges, or in response to the year's tragic global events. Through images, text, video and final work on exhibition Isolate Make gives a unique insight into a wide range of contemporary art, craft and design practice.
Throughout the coronavirus pandemic I have been forced to look at my practice, how I work, and what I really want to convey. The eye can symbolise vision in all its ways - tapping into our intuition, seeing into the future and looking beyond at what we are currently facing. Liz Payne
IN CONVERSATION: 
Who are you?
My name is Liz and I am an artist living and working in the inner city of Sydney
Where do you work?
Lately I have been sharing my time between working from home and a studio space that's fortunately only a short stroll from home. 
Describe your practice
My work is incorporates a lot of different material and ranges from paintings on canvas to textile artworks to wearable art. A lot of the time my work is an accumulation of all of these mediums - I like to think of my work as a sum of all my parts, a personal reflection of where I have been, where I am, where I am going. I have always been fascinated with textiles from around the world and always thought they deserved to be treated as the art they are. The majority of my practice is incorporating painting with textiles in producing very colourful, textural and intricate textile artworks. Using embellishments like embroidery and beading, I aim to turn decorative into narrative in the storytelling of colour whilst I'm always aiming for the unexpected and unconventional. 
How was the coronavirus pandemic affected your practice and your ability to make a living?
Much of my work practice hasn't changed a lot since the coronavirus pandemic, like many artists I spend a lot of time predominately by myself working. One change I did see though due to more time at home, was more time to experiment without constraints or the pressure of "what is it for". Instead I felt like I could create for the sake of it and I could pursue ideas that previously had to be pushed aside for "when there was more time".  Once we weren't going out as often through isolation, it felt like through consuming less, more could be accomplished, and through this time I have been able to act on these urges and branch out to other creative pursuits.
What are you making?
Using the symbolic 'eye' as my inspiration I have a collection of different pieces of work that explores the eye in different ways - a textile artwork that uses a lot of hand embroidery and beading. Paintings on canvas and paper are being shown alongside the work. Without going out and acquiring new materials through the pandemic, I found myself using more materials of what I already had at home and in the studio and a soft sculpture was made, a chair quite literally taken from underneath the dining table. 
What is the concept behind this work?
Using the symbolic eye has been a reoccurring theme in my work, it can represent honesty, clairvoyancy and a gateway to the soul. Throughout the pandemic I found new ways to look at my work, exploring further possibilities, even pulling out a chair to work on from under the dining table whilst days were spent working from home. 
It seemed an appropriate point of focus to use the eye as a motif across these works. I aimed to explore its symbolic representation of vision in all its ways, tapping into our intuition, seeing into the future and looking beyond at what we are currently facing. 
What is the process of making this work?
I always start out with sketches - in my notebook, on the iPad, or anywhere - which turn into drawings and paintings - some of these will become larger acrylic paintings, something I am trying to incorporate more frequently into my practice. One of these drawings will be the inspiration for a textile artwork, one I can envisage will translate well with the addition of texture. Creating a textile artwork is such a lengthy process, sometimes taking months to complete a work and a lot of thought and energy is put into this process. I find as I'm working on one of those pieces and I'm constantly enveloped in the thoughts behind the work, more ideas are spawned through that process and my mind conjures up other possibilities that could derive from the ideas and subject themes of the work.  
Is the process the same or different to your usual practice, if different how has it changed?
The actual process of creating my work has not changed through this time, except I have found my methods expanding into other areas, for example the soft sculpture and chair that I have been wanting to do for the longest time. However, I find that no matter what medium my work takes, I am in a constant pursuit of blending tradition with innovation, and using colour and its endless combinations of colour as a fundamental method in provoking emotion.
Has your thought process changed? If so how was that affected your work?
Through more time at home, I feel like I had the time to explore other ideas I've always had sketched on the "to do" list. In a way there was less pressure have my work in a particular way and more time to just create, expand on ideas and see what is possible.
What is the value of making art right now?
I feel with a lot more people staying at home, there has never been a better time to surround yourself with things that make you happy. Making art is an imperative outlet to lose yourself too which there is probably no better time than now for a little escapism! 
How do you think your practice will change when we emerge from isolation?
I hope it will continue to grow and experiment and be able to be enjoyed by more people as we all venture outside again! I am really keen to pursue the new mediums my work could venture into.
ABOUT LIZ PAYNE
Liz is an artist living and working in the inner city of Sydney Australia. Her vibrant and distinctive work explores abstraction through colour, shape and form and is a combination of mediums including painting, embroidery, beading and sequins. Fascinated with textiles from around the world, Liz urges us to rethink the notions of craft vs art and likens her work to being a sum of all her parts, a personal reflection of past, present and future. 
Colour is a dominant feature in Liz's work, the bold use of colour appears to be treated instinctively, yet upon closer inspection it's evident there is careful consideration to its meaning and purpose, "in my work I strive to explore the combinations of colour and its effects of its counterparts when combined, whist creating harmony and symmetry through shape and form".  
Symmetry, symbolism and the power of pattern are occurring themes and points of exploration, where the use of colour and shape aim to take place of word in the portrayal of emotion whilst there is always a pursuit of aiming for the unexpected and unconventional. 
Image Top: Liz Payne, The Eye, 2020. Photo: courtesy of the artist