Emilio Frank Design
Greeting Cards
Artist and designer Shana Danon of Emilio Frank Design, creates vibrant paintings, prints and patterns from her Bondi studio. Inspired by a passion for Mid Century modernism, Shana's work celebrates form, function and colour with a touch of whimsy - intending to evoke joyful memory and happy spaces. Emilio Frank Design creates conversational pieces for those who love to live colourfully. 
The business is named in honour of her grandfathers, Emil and Frank - with family folklore of Schnitzel the dachshund inspiring a collectible range of homewares and stationery. 
Shana endeavours to create locally and ethically made, eco-friendly products using sustainable materials, with recent collections licensed for wallpaper, textiles, beauty and public art.

Image: Emilio Frank Design card collection. Photo courtesy of the artist; Shana Danon and Emilio Frank Design products. Photo courtesy of the artist.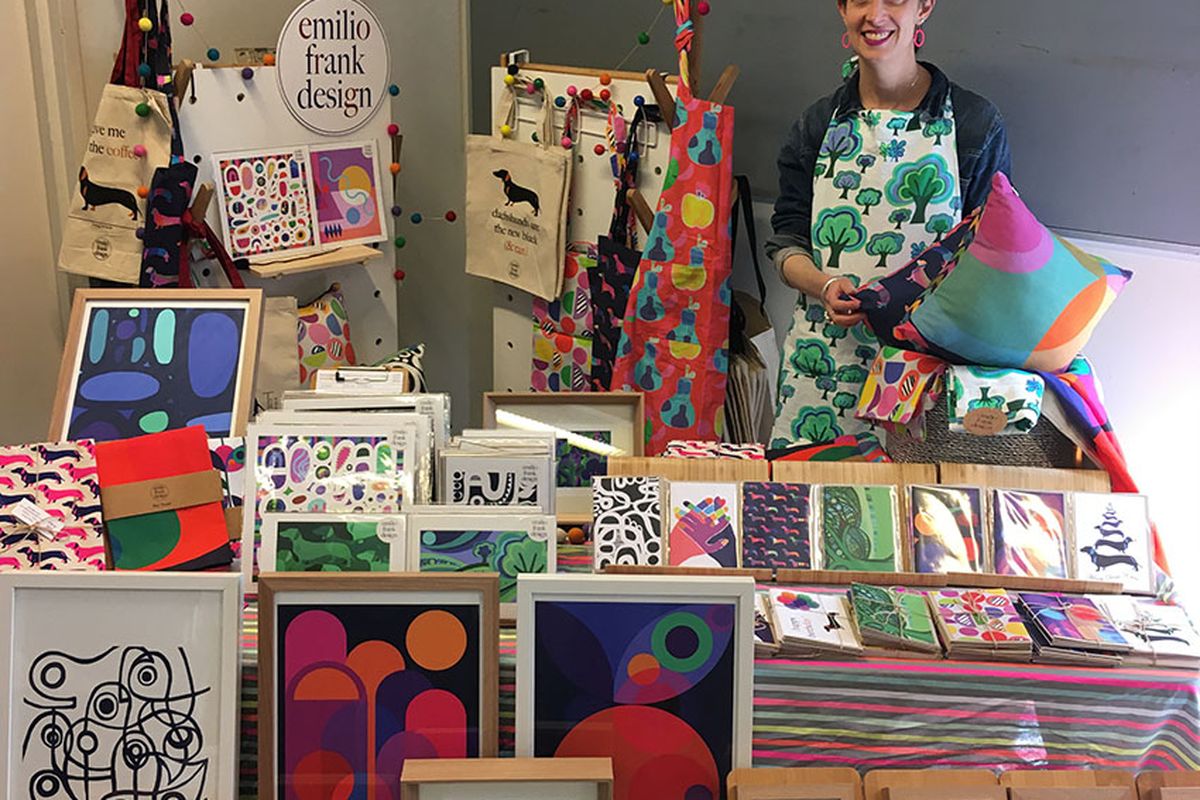 OBJECT SHOP MAKER Q&A

What is your 'origin story'?! Where did it all start?
Originally my maker journey started with my family. My grandfathers were timber merchants and artists (Emil + Frank), my grandmother a professional seamstress. My mother is a painter / fibre artist who always encouraged me. After working with interiors for years as a professional organiser I returned to study -  colour and design. My passion for surface design and visual arts was reignited and I haven't looked back!
Describe the last thing you made?
Laser cut bamboo pendants and earrings, engraved with my artwork.

What part of the making process do you enjoy the most?
All of it - from the beginning sketches to the final artwork - choosing the media for the artwork - will the artwork be used on fabric, greeting cards or other media?

Who should we be following on Instagram? Who are your favourite local makers?
There are so many wonderful local makers who inspire me, including @lovewalkingwithsnow, @thearlostudio, @kirralee_and_co, @katesale, @heidihelyard, @denzandco, @bush.magic.metal

What's next on the horizon for you?
I am so excited about what's ahead for Emilio Frank Design. I'm currently finalising a few collaborations with other local makers (big reveal soon), and have plans for the next artwork collection -original acrylic paintings + limited edition fine art prints. I'm enjoying working with other media such as bamboo and birch, and creating new designs for jewellery, fabric and the home.