Tara Lofhelm is a contemporary jewellery designer. Working from her Melbourne studio, Tara explores textural repetition and contrast through primitive processes such as stamping and embellishment
Tara Lofhelm is a jewellery designer and maker based in Melbourne, who has a serious passion for promoting and participating in the handmade contemporary jewellery movement. She holds a Bachelor of Creative Arts and an Advanced Diploma of Engineering Technology (Jewellery). Working from her Melbourne studio, Tara explores textural repetition and contrast through primitive processes such as stamping and embellishment. Constantly shifting and evolving, her pieces are meticulously crafted and focus on bold design and wearability. Tara's shapes form as a reaction to the making process; every strike of the hammer ensuring a unique outcome that illustrates the hand of their maker. Reflecting on ancient civilisations, Tara Lofhelm's jewellery aims to modernise time-honoured jewellery techniques and, in doing so, create a cultural artefact that preserves today's definitive moment in time.

www.taralofhelm.com

Images: Tara Lofhelm Photo courtesy of the artist; Tara Lofhelm, Studio portrait. Photo courtesy of the artist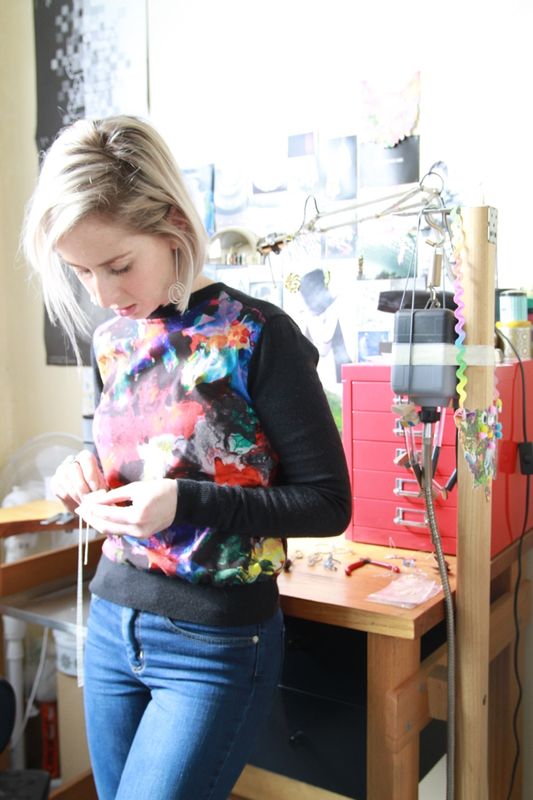 OBJECT SHOP MAKER Q&A 

What is your 'origin story'?! Where did it all start?
I always planned on becoming a writer, but got to the end of my degree and had lost my unwavering passion for writing. I knew I still wanted to do something creative, and realised jewellery seemed to be a good fit, as I've always been dangerously obsessed with it. I did a short course to test the waters before I decided to commit to the 2 year TAFE course. It turned out to be a couple of the best years of my life! And I haven't looked back.

Describe the last thing you made?
I made a special brooch for an exhibition here in Melbourne, for a show that is all about exploring place and belonging in the Australian landscape. It's the silhouette of the Victorian alps, a place that is very special to me and greatly informed my childhood. I decided not to sell it, as I think it is destined to become a family heirloom now, to commemorate the special times we spent there.

What part of the making process do you enjoy the most?
To be honest, I love every single aspect of the making process - even the mistakes and the hard bits. Being able to physically craft something precious with my hands, that prior to that moment was only a gesture or a thought in my mind, still amazes me. To sit back and think someone else is going to take this piece on a journey, and imbue it with their histories, is a pretty special feeling. There's so much soul that goes into a handmade product, and that's why every step is a joyful expression of my true self.

Who should we be following on Instagram? Who are your favourite local makers?
Ooh this is tough - we have SO many incredible makers on our shores! Tessa Blazey is a firm favourite in the contemporary jewellery scene, as is Susan Ewington; both make incredible, unique, precious jewellery. I'm also a huge fan of Anna Vlahos (beautifully_sprued) and Lauren Trojkovic. There are just as many makers who I love who are not on social media too!

What's next on the horizon for you?
I want to keep growing my jewellery brand, as I've had a very positive, successful year, so would like to keep the wheels in motion!