Treahna Hamm
Ganbina (awake), Wanagaga galnya (bush beautiful kit) & Yakapna biganga (family possum cloak), 2017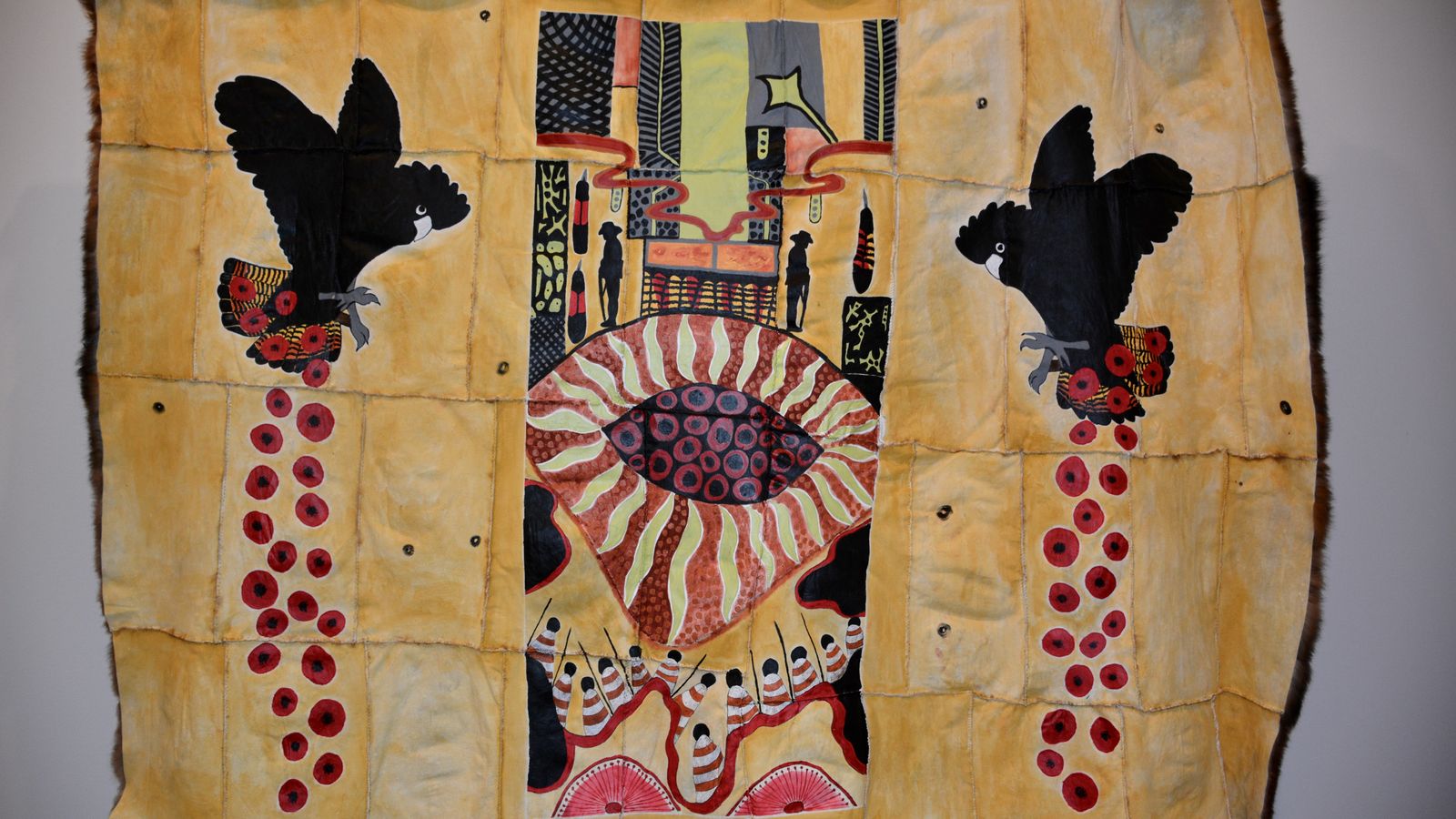 Creativity has been a constant factor in my life from a very young age, after I was disconnected from my Aboriginal mother at birth. Art has since been as integral to my identity as my DNA. My experiments with many cultural and contemporary techniques and processes have given me multidimensional and multicontextual perspectives on life and Aboriginal culture that provide a unique and respected entry point to my creative endeavours.
In this exhibition, I have used both contemporary and traditional materials – such as possum pelts, paperbark and tree ink – to weave, sculpt, sew and paint artworks that highlight stories of family cultural experiences. 
The bush beauty kit explores stories from the 1940s told by my mission aunties, who, having little money, made their own beauty products or aids from various discarded or readily available items, such as hair curlers fashioned from chicken wire. 
The possum-skin cloak was inspired by my great- great-grandfather and his two nephews, who served as Aboriginal soldiers during World War I.
Traditionally, Aboriginal people were wrapped in such a cloak for burial, and this work personifies, symbolises and pays homage to the nephews who were buried in France and not 'on country'. One of my family's totems, the red-tailed black cockatoo, hovers as a spiritual sign of protection. Poppies fall from the red tail feathers, like 'sorry rain' that comes about as tears from the sky when someone important in the Koori community passes on.
The dress was inspired by an organic dyeing process introduced to me by an aunty who taught me many bush techniques. I found that by forming and creating the patterns in wire, I could achieve a very tactile and textual – almost landscape – quality.
My role as an artist is to share the teachings of my Elders, and to ensure that Aboriginal people's stories about their lives and their art continue to have a central place in Australian society. 
Dr Treahna Hamm has been working across multiple arts disciplines for over 30 years. The impetus to create cultural textile objects began in 2001, when she was among a number of artists mentored and taught to weave by a group of Victorian Indigenous Aunties. From that time, Treahna began sculptural weaving, initially with reeds. She progressed to creating multi-medium art forms using resources found in the bushland along the Murray River. Her textiles, which have been collected nationally and internationally, include possum-skin cloaks, which were regenerated in 1999 as a symbol of the continuation of Aboriginal tradition in Southeast Australia. 
Image: Yakapna biganga (family possum cloak), 2017 Ochre, acrylic paint, synthetic string, possum pelts, Photo: Jules Boag