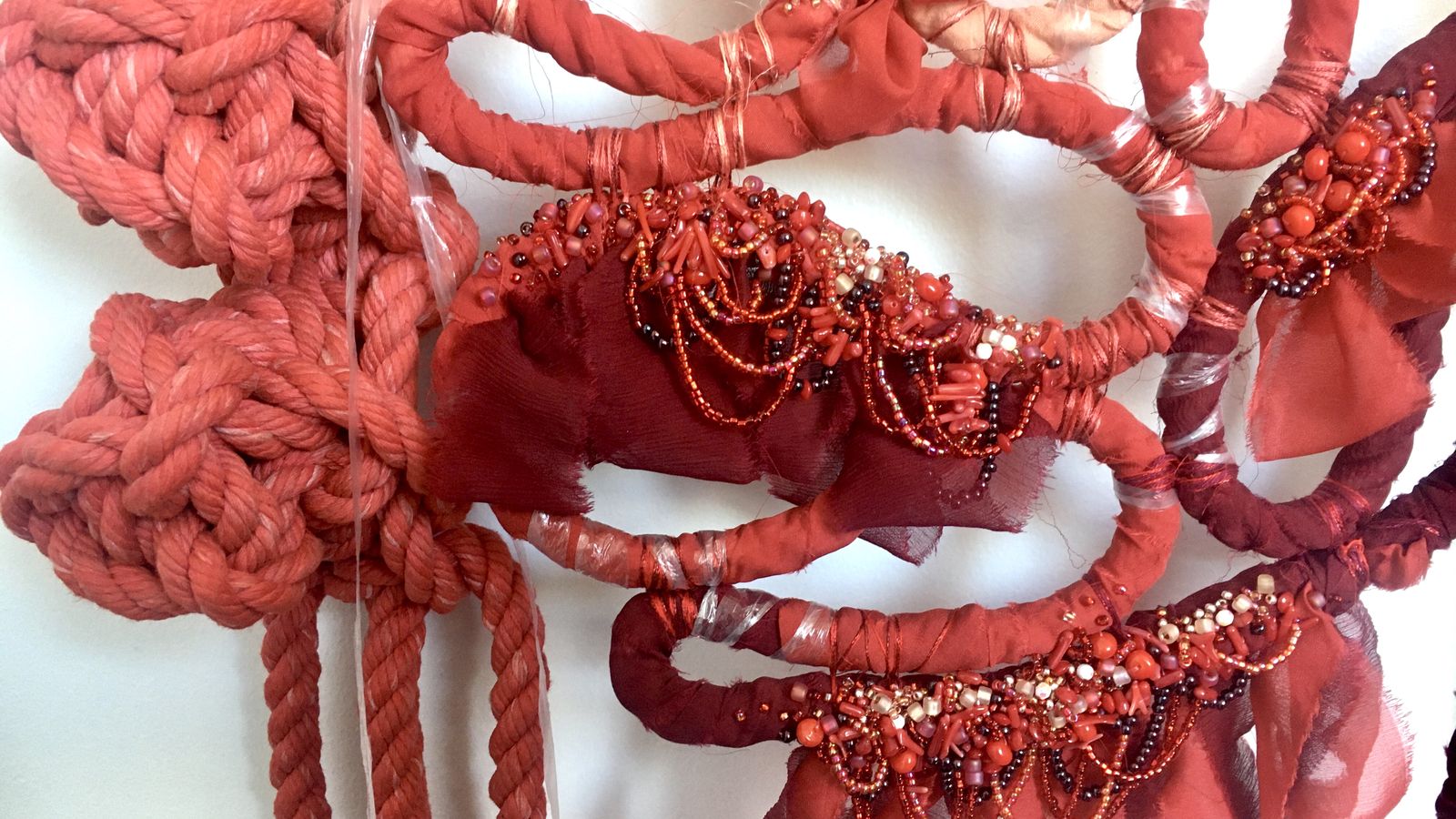 Gutsy, references digestion in a playful and tactile manner, exploring classification and recognition. 
This work considers the concept that anything can disrupt classification and for sufferers of digestive disorders even wholesome foods may be harmful. Drawing upon known associations between digestive problems and mental health, suggests that classification ambiguity creates a heightened sense of anxiety for the sufferer. Many people are aware of gluten sensitivities or intolerances, but unaware of intolerances to certain fruits and vegetables, which are generally considered 'healthy foods'.
Gutsy is a vivid and playful representation of the digestive system, adorned with glass and coral beads, delicate silk and metallic thread. The work references the knotting sensation of digestive upset experienced by people who have consumed food that is 'bad' for them in the knotting technique used. The cord is vegetable dyed using avocado and onion skin as they are foods that often cause digestive upset in people with food sensitivities.
Regina has always had an interest in nutrition and alternative medicine and studied naturopathy in her youth. Having recently experienced ill health due to food sensitivity lead Regina to explore the subject of 'digestion' within her work.
Regina Krawets is based in Sydney and currently enjoys two careers as an interior designer and artist. Creating jewellery, textiles and wearable art jewellery, Regina has won awards for her beaded artworks. In 2017 she returned to study to hone her skills in design and pursue her passion for making contemporary jewellery and textiles. She is currently undertaking a Bachelor of Design at UNSW, Sydney.
Image: Regina Krawets, Gutsy, detail, 2019 Photo: Courtesy of the artist