Suzanne Davey
Taking Flight and Promised Land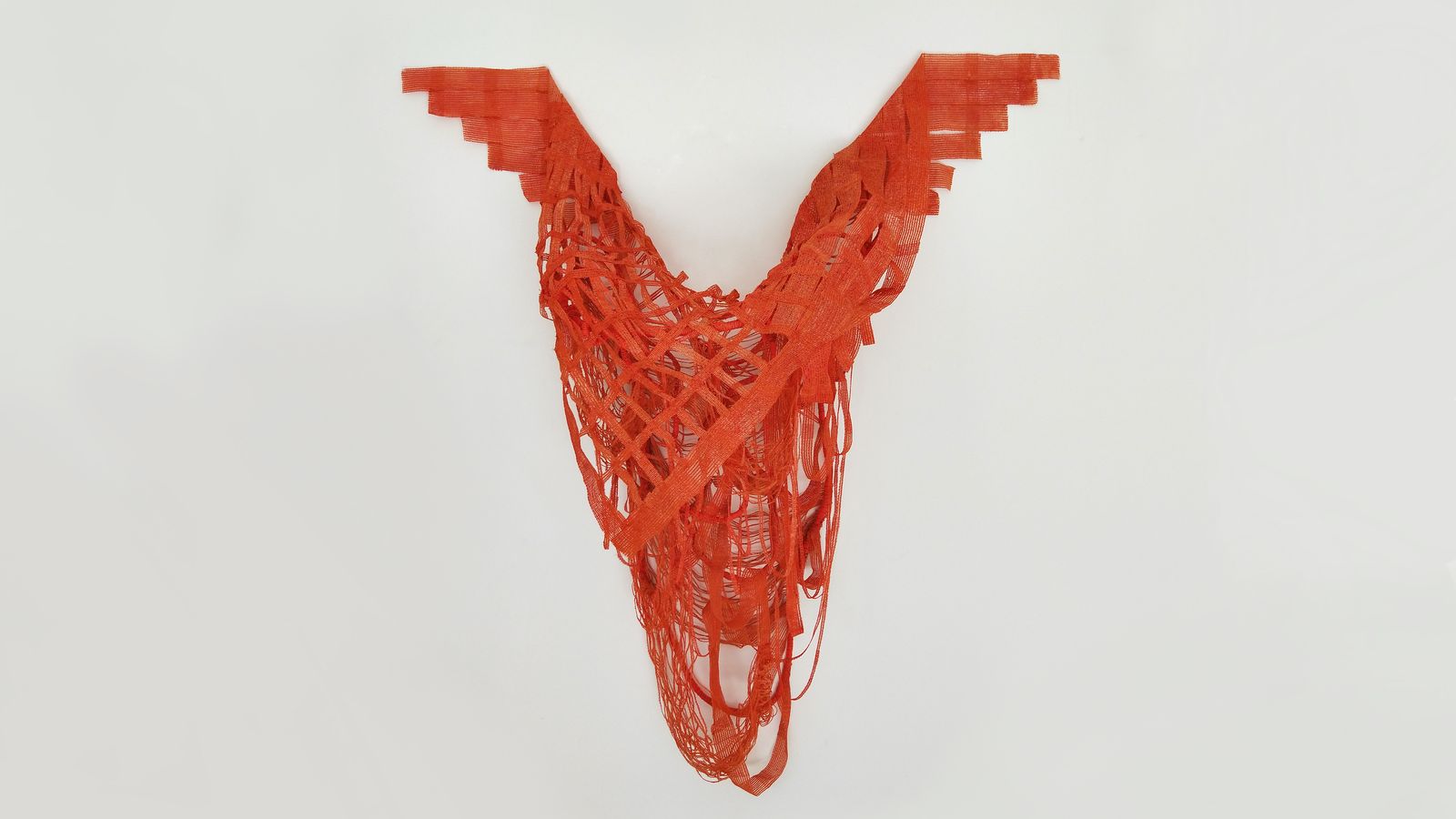 Taking Flight, grapples with the tension between our impulse to shape our world and our inability to do so. It reflects upon the fragility of humans in the face of natural forces beyond our control.
The piece was created with metres of safety barrier that had been blown from a cliff during a storm and gotten entangled amongst the rocks and waves below. This textile is ubiquitous in urban landscapes in it's attempt to control behaviours for our protection. In reality, it is emblematic theatre, with its soft malleability and limited capacity to truly keep us safe. 
Promised Land, explores the human predisposition to seek order in chaos, specifically in nature.
In gardens lie tangles of plants in constant flux between order and disorder. In relation, we grapple with the tension between our impulse to shape our world and our inability to do so. Our neurological predisposition is to seek and create patterns to produce order in chaos. It's the way we make sense of our surroundings, human behaviour and deciphering knowledge in an information age. 
Creating patterns by bending, weaving and interlacing roots, plants and textiles, Promised Land, mirrors broader cultural impulses to create order through systematic containment as we search for the promised land.
Suzanne Davey is a contemporary artist based in Sydney, Australia. She works principally in mixed media installation and sculpture and has exhibited widely in gallery, public and natural spaces. Suzanne's professional background includes arts public programs, arts administration, design, art education and arts project coordination with a focus on fostering community participation and connections through creativity.  
By creating spatial ensembles from textiles, ceramics, natural and everyday materials she aims to examine fragility in natural systems, social struggles and relationships between people and spaces they co-inhabit. Plants and patterns of human behaviours are a key focus of her creative exploration.
(Top) Image: Suzanne Davey, Taking Flight, 2020 Photo: Courtesy of the artist
Image: Suzanne Davey, Promised Land, 2020 Photo: Courtesy of the artist