Catherine Lees
Cardiacus, 2020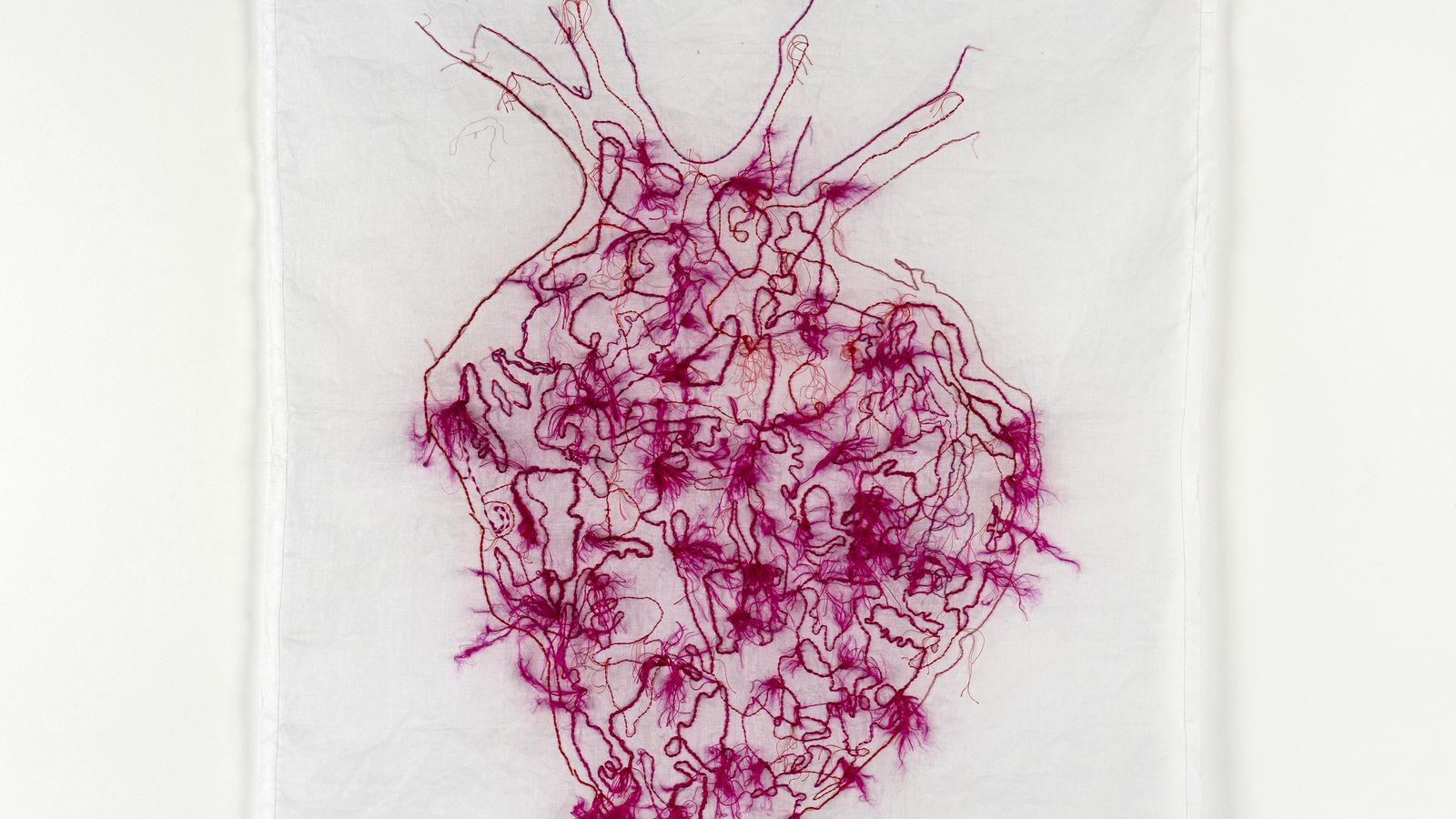 Cardiacus, 2020
Materials and techniques: Cotton, silk, polyester, hand embroidery
(h) 1050 x (w) 750 x (d) 50mm
$950

Our hearts provide an essential expression of who we are, both through powering our physical selves, and as a symbolic expression of our emotional responses. These are unique for everyone.
Particularly unique is the way that our individuality also comes from the vibration of our heart beats – our 'cardiac signature' that cannot be altered or disguised, and is a miniscule movement in our bodies that can be detected from afar. Essentially, this is another kind of signature that we all produce.
In this work, I have combined cotton voile with a raw silk fibre unravelled from a handwoven shot silk taffeta, and with threads. The silk is simply stitched tightly against the background and also floats – expressing our heartfelt strength and delicacy.
About Catherine
Catherine is a contemporary textile and mixed media artist whose work reflects a lifelong interest in expression of ideas through creativity and design. The tactile quality of textile art inspires her, especially when combined with non-traditional materials such as metal, metallic threads and fabrics, and organic materials – and how each evokes different emotional responses.
Catherine appreciates the contradiction between textile delicacy and strength. She enjoys exploring how these materials can be formed into both structured and fluid artistic pieces, reflecting both modern simplicity and abstract sensations. Frequently Catherine's work explores the building blocks of life and celebrates tiny details that together combine to provide meaning in our everyday lives.
Apart from growing up in Sydney, Catherine has been fortunate to live in the United States, United Kingdom and Hong Kong and be inspired by these international arts communities.
Image: Catherine Lees, Cardiacus, 2020. Photo: Janet Tavener