Cathie Griffith
Bowerbird for Red, 2020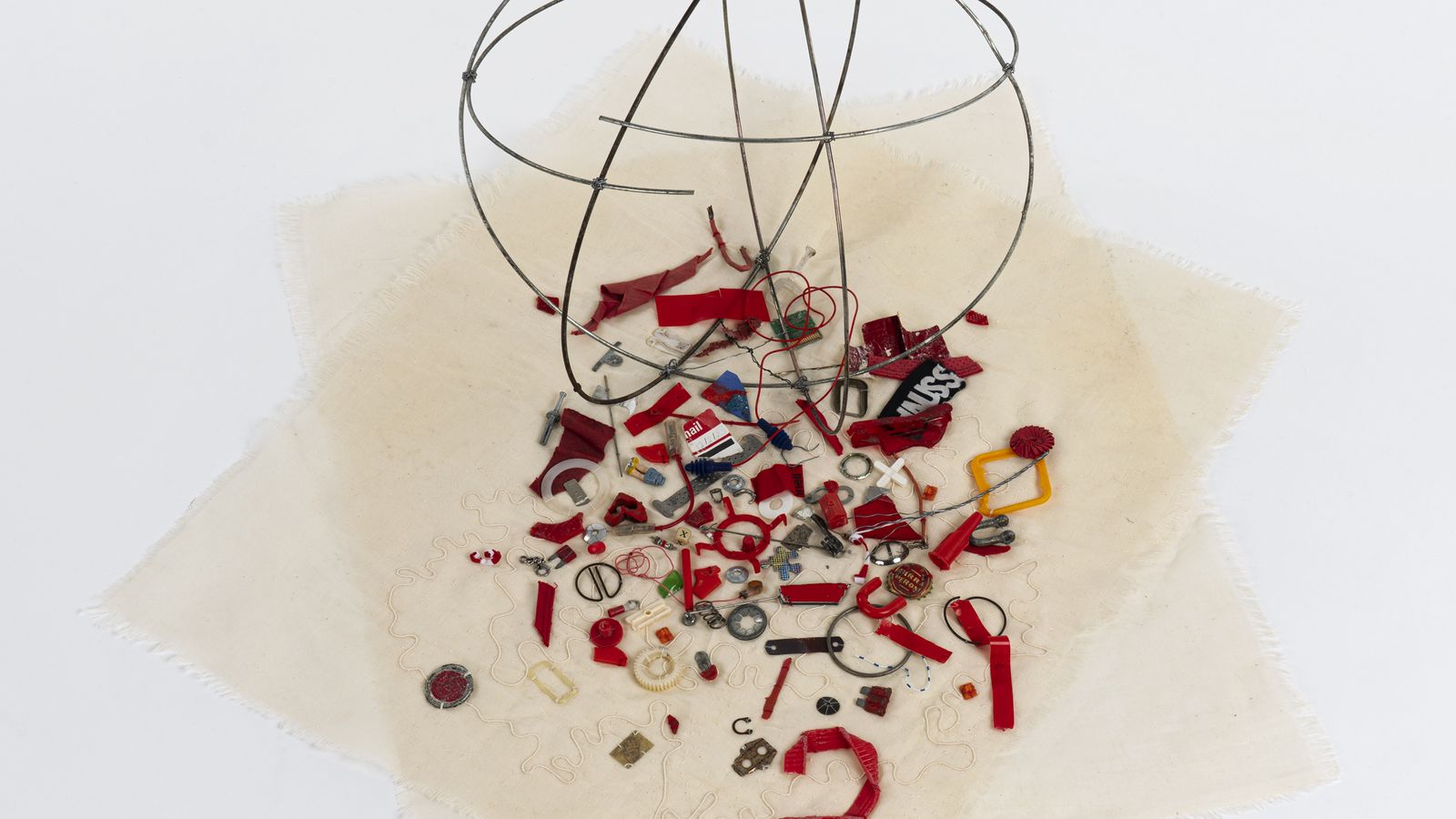 Bowerbird for Red, 2020
Materials and techniques: Recycled fabric, found objects, gimp, thread, wire, hand stitching, wire wrapping
380 x 800 x 800mm
$1,150

I've always been a bit of a bowerbird, with one eye on the ground as I stroll along. Walking around the industrial streets near my studio, I am often attracted by flashes of red or shiny objects that have been discarded or lost by workers nearby and quickly pop the treasures into a pocket for later.
I see the varied shapes and textures of the abandoned objects and like a bowerbird, attracted to red rather than blue, I have gathered the objects and placed them carefully under a 'bower' of found wire circles. I enjoy incorporating recycled fabrics and found objects into my art works, giving them a second life. I see their past, their stories and weave them into a new story that is a part of me.
About Cathie
Cathie is a fibre and mixed media artist and sees herself as a storyteller, chronicler and narrator. Her art practise focuses on experiences interacting with the world, people she meets and their stories. Initially, Cathie's art works may have had origins in her own personal history, but she hopes others will look into the work and find a story of their own.
With a love of design, Cathie's art works explore line, pattern, texture and colour. Although she often works with fibres, she frequently includes other media in her artworks. Integrating paint with stitch is a current favourite combination. As a dedicated recycler of materials, Cathie looks to include items that others discard. She sees value in these cast-off objects where others may not, and they often become an integral part of, or become containers for her art works. Cathie enjoys exploring the tactile nature and often intricate designs of these rejected materials.
Cathie is currently exploring the theme of history, both personal history and history of the materials used in her work. The landscape around her, both natural and built, continually influences her work.
Image: Cathie Griffith, Bowerbird for Red, 2020. Photo: Janet Tavener.