Denise Lithgow
Looking With-In, 2020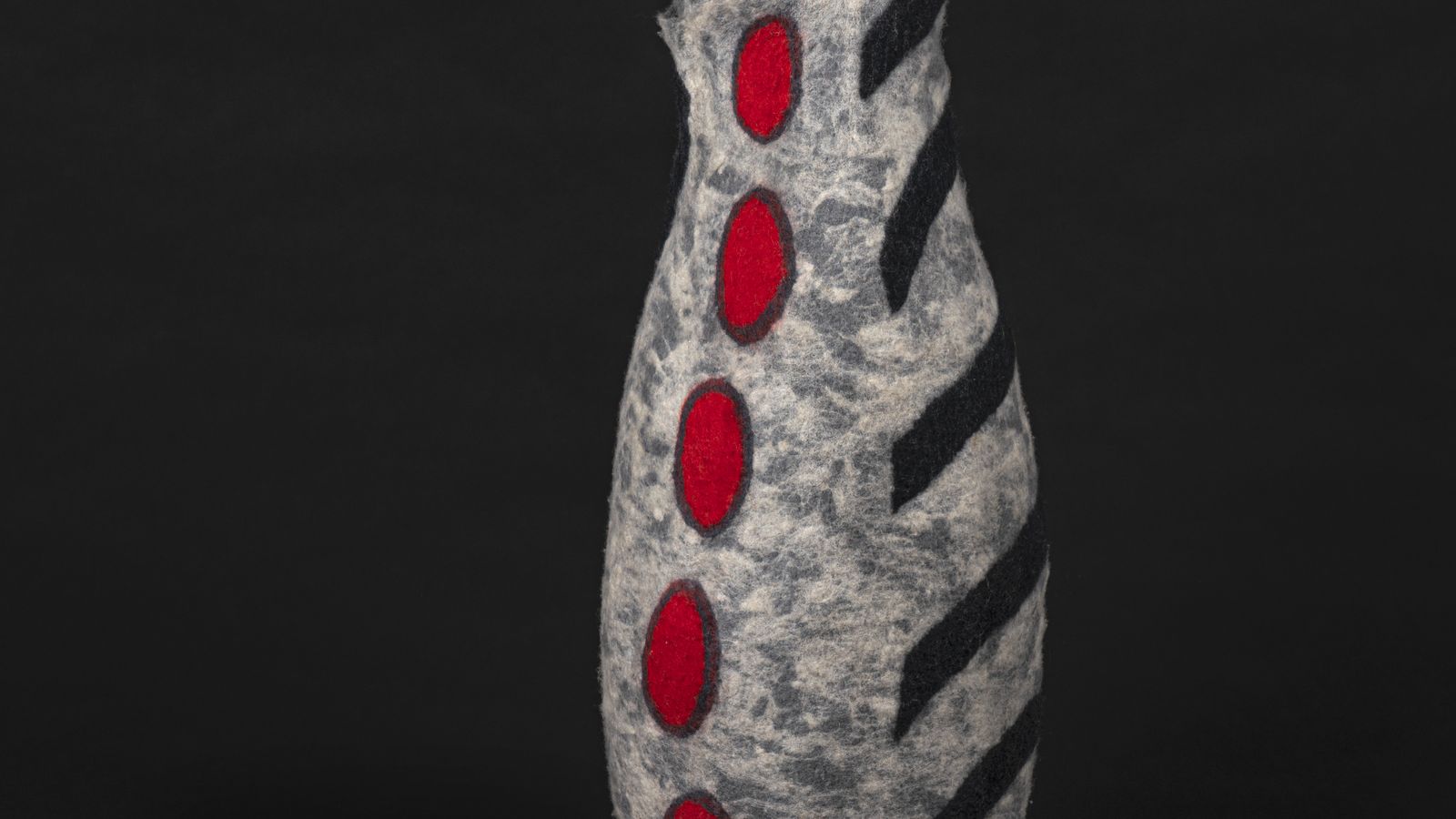 Looking With-In, 2020
Materials and techniques: Merino wool fibre, matt varnish, felting
(h) 850 x (w) 470 x (d) 300mm
$1,500

'Looking within' represents my inner self, physically and emotionally and how I show myself to the world. The micro workings, represented by the red dots, could be seen as cross-sectioning of blood vessels and the black lines could be skeletal body structures. By using these colours, grey, black, white and a touch of red I denote my signature for the external aspect of what I wear.
About Denise
Denise is a textile artist, creating 2D & 3D felt objects and machine embroidery wall works. She says "growing up on a sheep property in South Australia has inspired her love of working with Merino wool." She works with vivid and tonal colours and her inspiration comes from the landscape. She uses felt as it is an ecological, sustainable textile and her 2D works are fabrics which are eco dyed and upcycled.
Denise exhibits her work widely in Australia and Internationally and her works have been selected for the biannual, World of Threads exhibition in Canada, Biennial Exhibition of Contemporary Mini Textile Art, Ukraine and recently a finalist in Australian Textile Art Awards. In 2019 her 2D machine embroidery pieces were selected for a travelling exhibition throughout Europe and Australia and she participated in a group exhibition in Buren, The Netherlands and at Chateau De Gizeux in France. She was also invited as the guest artist for the 44th Annual Camden Art Prize.
The Link sculpture has been published in the Worldwide Colours of Felt book, Netherlands and her work is included in the Dimensional Cloth, Sculpture by Contemporary Textile Artists book by Andra Stanton USA, and Australian Textile Art Award 2020 by Artwear Publications and many art magazines.
Denise's work is held in both private and public collections.

Learn more about Denise and her work here
Image: Denise Lithgow, Looking With-In, 2020. Photo: Janet Tavener.