Fiona Hammond
Syncopation, 2020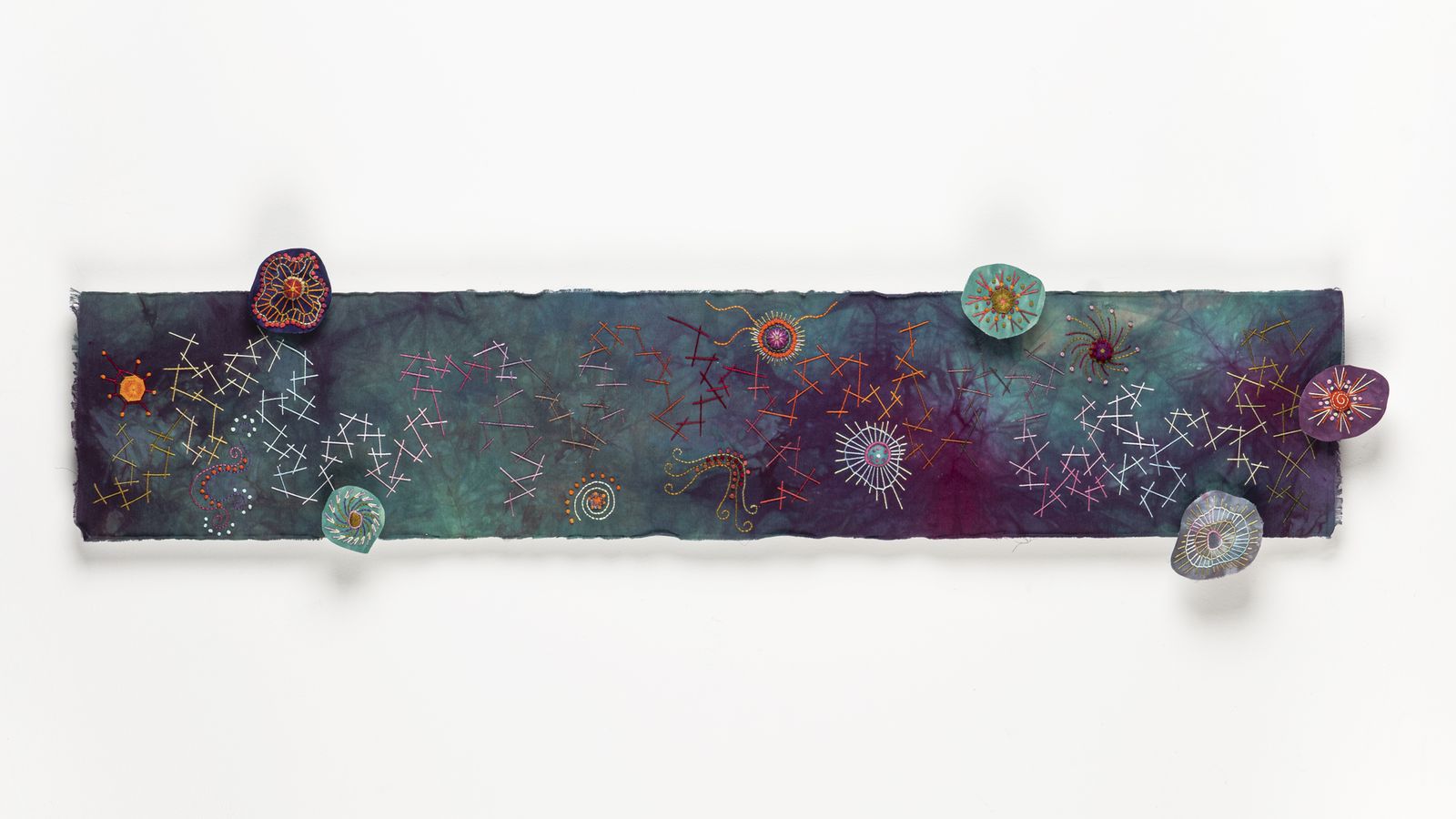 Syncopation, 2020
Materials and techniques: Cotton fabric, embroidery threads, non-woven interfacing, felt, hand stitching
220 x 960 x 20 mm
NFS

I have always loved music, and life without it would be barren indeed. For as long as I can remember, the music that most spoke to my inner being was more likely to have unusual time signatures, and a greater complexity – both rhythmically and melodically – than your average pop tune or regular classical piece.
My particular love is for music with syncopated rhythms. For me this adds a tantalising extra layer of the unexpected and surprising – even when I know that piece of music extremely well.
I have used a variety of stitches to represent my love of music which has, at least in part, some elements of syncopation. From the angular stitches which flow across the background, to the little pops of stitch appearing here and there, I hope to convey the utter joy that my preferred music always brings to me, no matter how often I hear it.
About Fiona
Fiona's work is usually self-referential, often stemming from her responses to personal life experiences or external stimuli that hold some interest for her. The world around Fiona – particularly colours, patterns and textures – provides a constant stream of inspiration when it comes to formulating designs for artworks.
Hand stitching, embroidery, coiling (with coloured yarns), Kumihimo braiding and beadwork (with needle and thread) are the main techniques that Fiona dips into time and again. Fiona's attachment to working in fibre of many kinds speaks of her lifelong love of all things textile.
Concepts involving mystery, hidden aspects or unusual stories combine with Fiona's emotional responses to underpin her artworks, be they intensely personal or driven by curiosity about the external world.
Find out more about Fiona here or Instagram

Image: Fiona Hammond, Syncopation, 2020. Photo: Janet Tavener.