Helen MacRitchie
Lifting the Spirit, 2020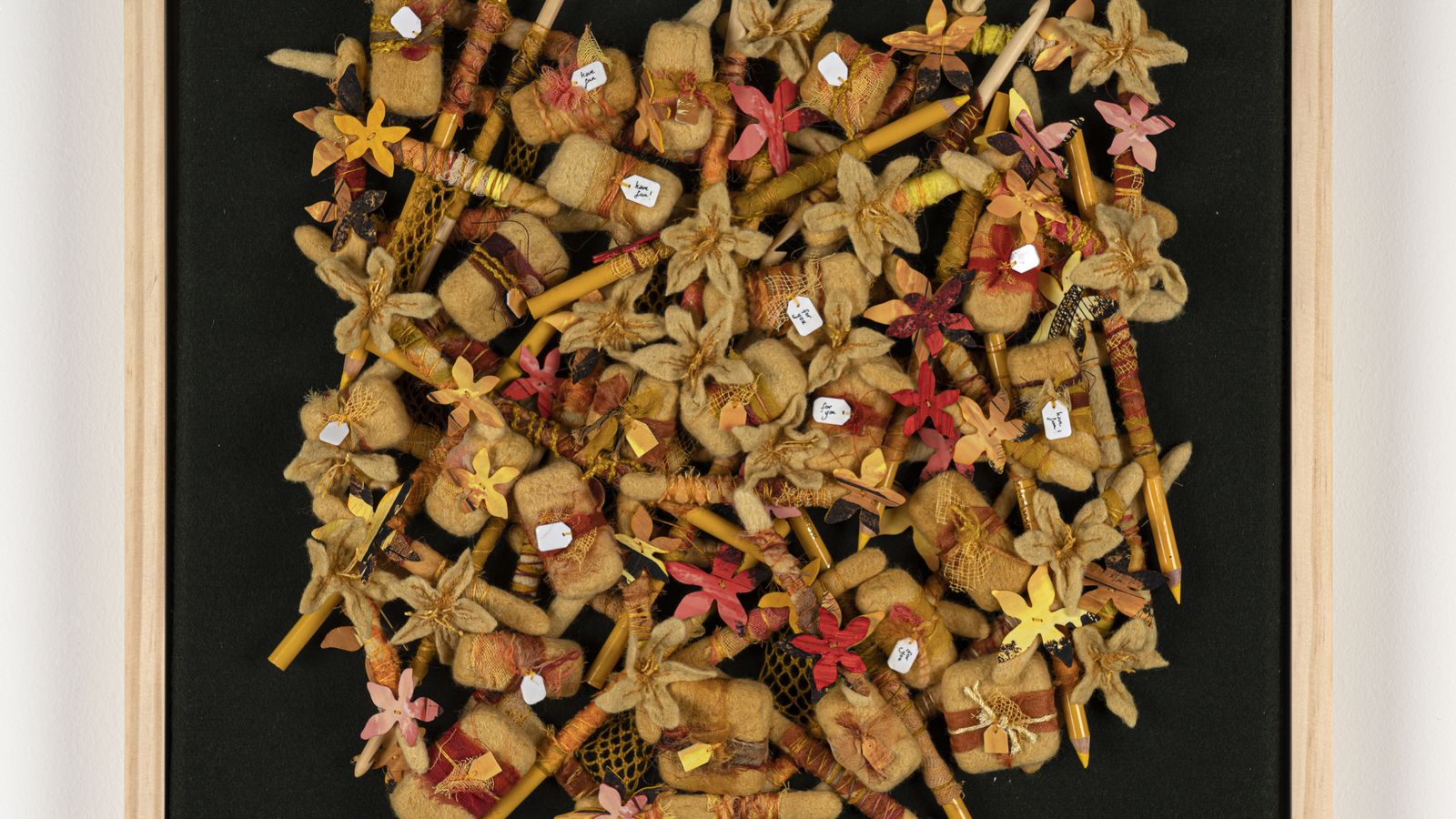 Lifting the Spirit, 2020
Materials and techniques: Merino wool, silk, yarn, plastic, pencils, embroidery thread, wet felting, knotting, digital printing
440 x 440 x 50mm
$900

The Doctrine of Signatures was the medieval concept that the key to humanity's medicinal use of plants was indicated by the form or colour of the plant. St. John's Wort (Hypericum perforatum), was and is taken to this day to alleviate the symptoms of depression or seasonal affective disorder (SAD). It has yellow flowers like the sun, grows best in warm sunny conditions and has tiny perforations on the leaf's surface that glow with light when held up in the sunshine.
I have chosen here in similar colours to lift my own spirits with an interweaving of items that personally bring me joy – felting, art, textiles, the exchanging of gifts and of course home, whether it is Sydney or Oxford, glimpsed in those flower petals.
About Helen
Helen focuses upon the detail found in nature and science, often drawing upon her years of research in the pharmaceutical industry for inspiration. Helen's design work is abstract in nature but recurring marks and motifs tend to develop from plant foliage and living organisms. Helen employs texture and colour with delicacy and sharpness of detail, conveying significant impressions and emotions to interact with the audience.
Helen generally bases her work on wet felted wool, adding other fabrics and free machine embroidery to create layered textural surfaces with focal interest. The organic transformation by hand of wool fibre to felt is an important aspect of Helen's work process as it connects her emotionally to the completed work, and thereby to the audience through self-expression.
Explore more of Helen's work on her website or instagram
Image: Helen MacRitchie, Lifting the Spirit, 2020. Photo: Janet Tavener.