Jennifer Florey
Flayed, 2020
Skinned, 2020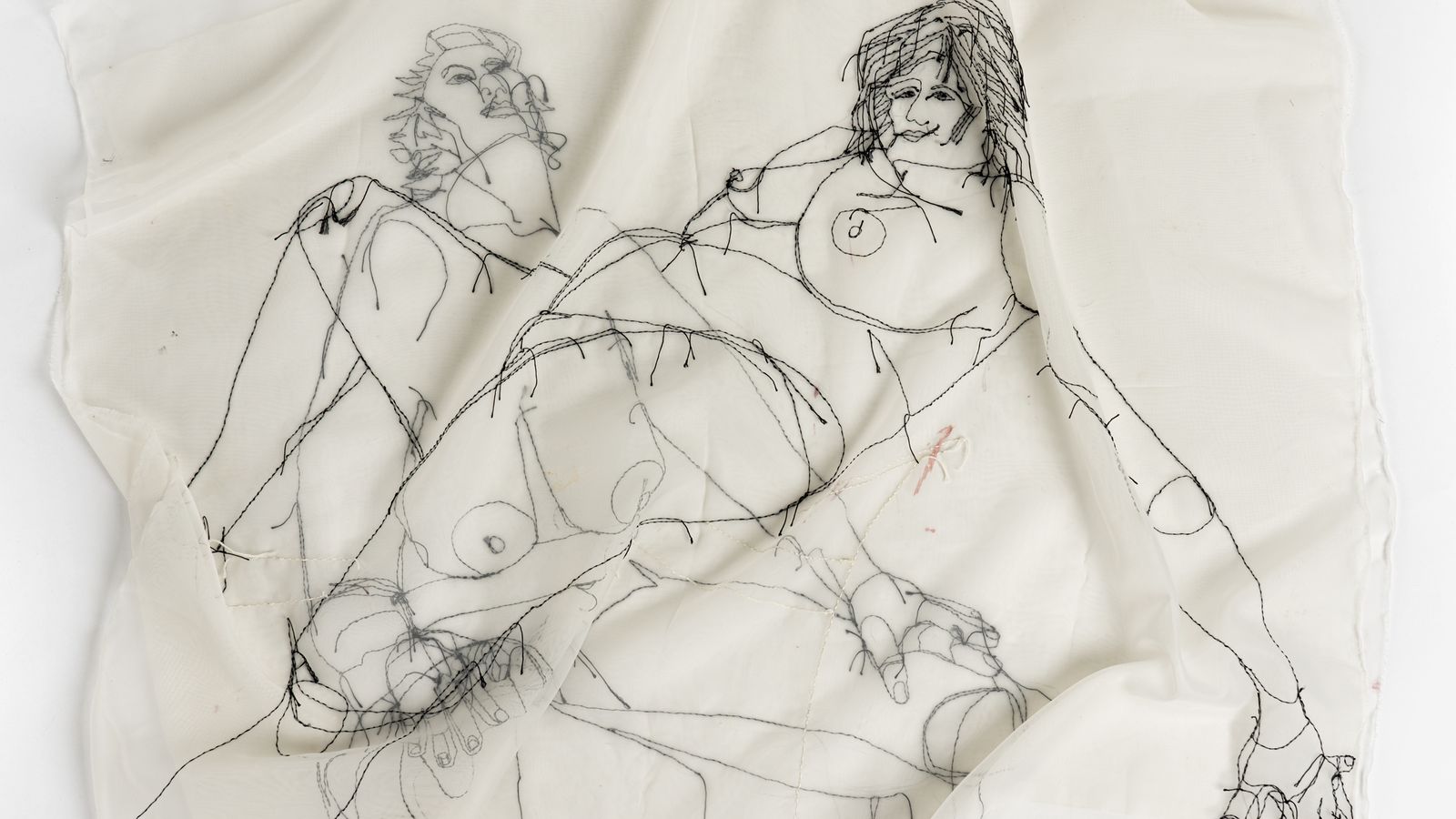 Flayed, 2020
Materials and techniques: Board, interfacing, ink, thread, painting, drawing, hand stitching
800 x 1100mm
NFS
Ageing is a process of shedding the skins of our previous selves. Sometimes a layer is flayed from our self, forcing us into transformation. John Berger said "To be naked is to be oneself. To be nude is to be seen by others..." To age is to become increasingly naked, shedding the outer skins to reveal the truth of oneself.
Skinned, 2020
Materials and techniques: Found polyester curtaining, thread, hand stitching
940 x 1160 x 60mm
NFS

Laying crumpled on the floor like discarded skins, to view her nakedness from all sides, to peer beneath the surface of the first layer to the shadow portrait below. The bodies recline in traditional poses familiar to the canon of the reclining nude. However, these bodies are big breasted, broad hipped, their size challenging this tradition of western male connoisseurship and social media expectation replacing it with a brazen plus size reality.
About Jennifer
Jennifer uses her artworks to tell stories of people she knows, particularly those of woman. They are often about the ways in which lives of ordinary people are caught up in and reflect the bigger social and emotional issues that touch all humanity. Purposely using both the domestic mediums of stitch and cloth, coupled with the artistic mediums of paper, ink and paint, the works ask the viewer to consider the narrative from both the aesthetic and personal perspectives.
Literature, the places we live and the land we live on, along with the artworks of other artists and cultures are perennial influences on Jennifer's subject matter and the concepts that underpin the works. Language and research underpin her practice and are her starting point. Jennifer enjoys using visual and word puns in both titling and in juxtaposition of imagery. Susan Mitchell's anthology 'Icons, Saints and Divas'; Alain de Botton's 'The Art of Travel'; Elizabeth Wayland Barber's 'Women's Work: The First 20,000 Years' and Peter Gay's 'Why Romantics Matter' are all texts that currently inform Jennifer's thinking.
Jennifer has a strong preference for working on themes over a long period of time, sometimes returning to a concept many years after the gestation of the concept.

Find out more about Jennifer here
Image: Jennifer Florey, Skinned, 2020. Photo: Janet Tavener.