Leon Curtis
Herringbone Tall Boy, 2020
Click on images for full view.
Herringbone Tall Boy, 2020
Woven American oak, ebony, Italian leather
1800h x 890w x 760d mm
$10,500
The Herringbone cabinet was developed whilst prototyping solutions for a cabinet that served multiple purposes. Leon wanted to utilise a traditional Japanese marquetry technique of weaving veneers of timber to create a textured door panel, with a new and innovative pattern not commonly used in Japanese practice.
The design combined an ancient Egyptian herringbone pattern, known for its durability, with a traditional Japanese joinery technique, known for its aesthetic appearance. The process required prototyping a range of hand-woven timber veneer patterns in different widths and thicknesses. By machining the veneers to a thickness of 3mm Leon was able to weave a solid herringbone panel. The cabinets aesthetic combines traditional furniture production with a Japanese and Scandinavian twist.
The cabinet carcass is joined with hand cut dovetail joints for strength. The door frames are held together by a bridal joint and dovetail stretcher rails, with a frame and panel cabinet back for added strength. The 2.5mm woven Oak door panels were finished with a combination of Scandinavian oil and wax. A hand cut oak drawer with brown Italian leather lining, brass hardware and ebony door pulls completes the piece. This design is made to order.
Herringbone Tall Boy is shortlisted for this year's digital edition ofWORKSHOPPED21: New Australian Furniture, Lighting and Object Design.
For more about this designer please visit - @leon.curtis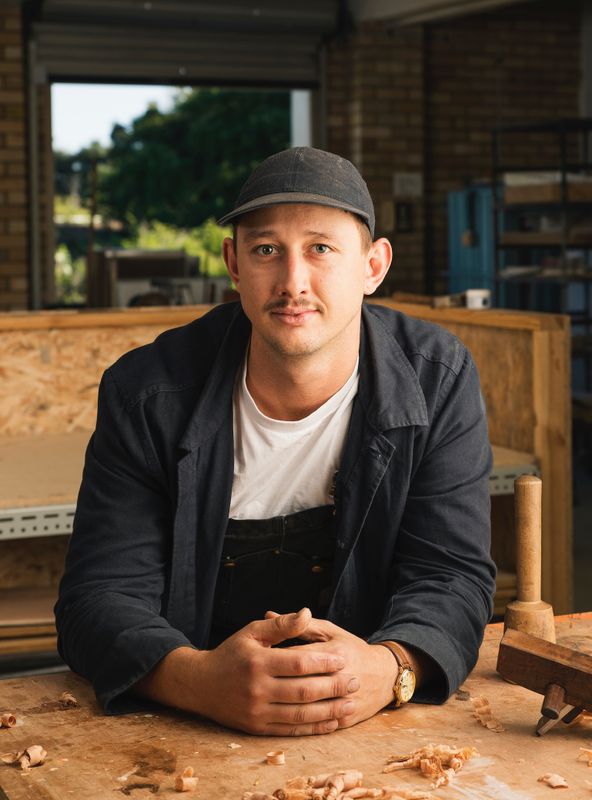 Leon Curtis is an industrial designer and fine furniture maker. He has undertaken an Advanced Diploma in Industrial Design at Enmore Design Centre, a Certificate IV in Fine Furniture Fabrication & Design at the Sturt School of Wood and a Certificate III in Cabinet Making.
He has a strong passion for innovative and contemporary design processes that combine emerging technologies and traditional handcrafted techniques.