Kirsten Haydon
Ice Shadows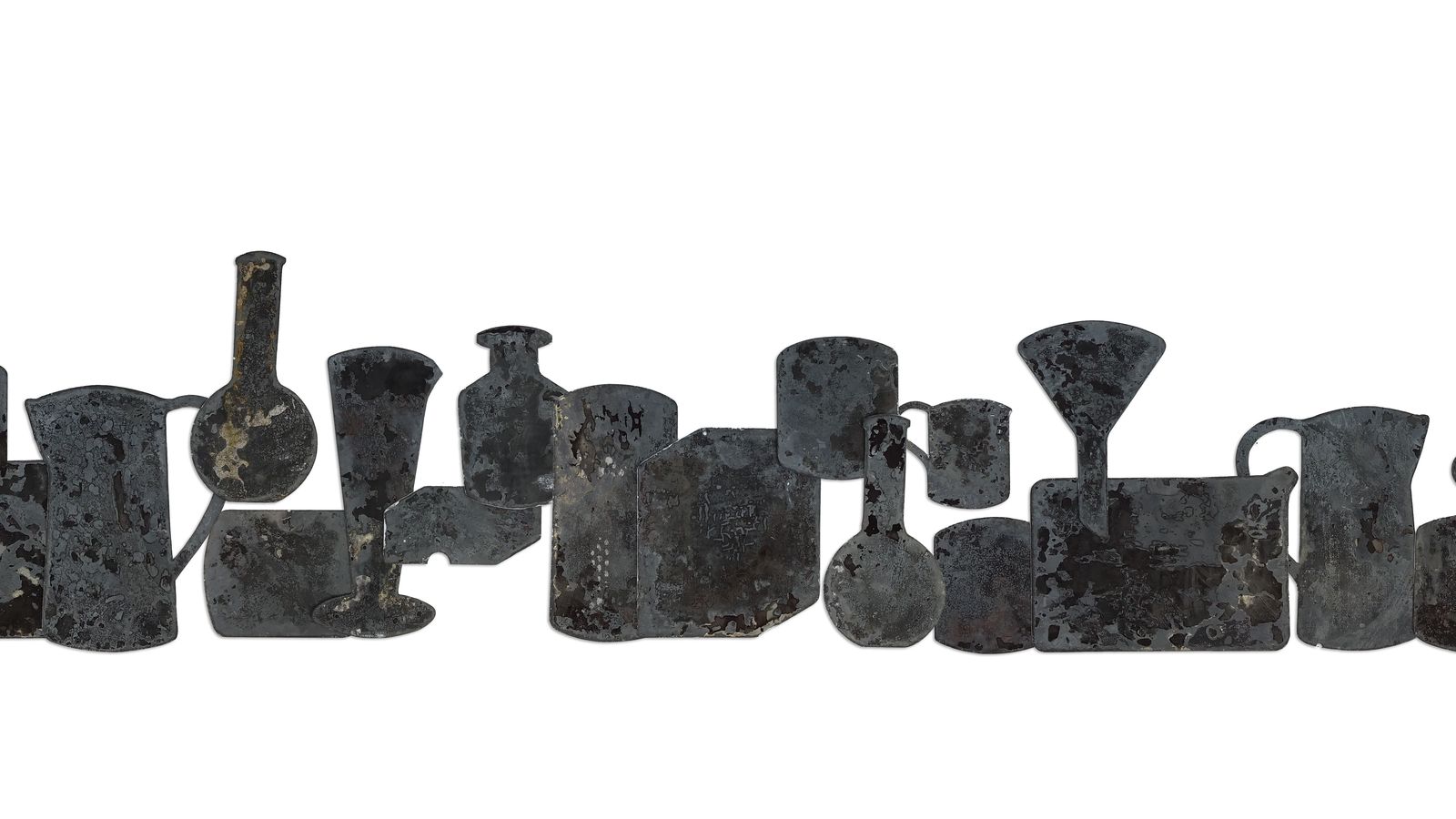 "Ice Shadows is a series of pendants that respond to the Barne Glacier located directly opposite the Terra Nova Hut at Cape Evans. The forms are traced objects from photographs taken inside the hut. The line creates a tracing or shadow of items remaining in the darkened explorer's huts. The objects preserved inside were essential items on expeditions. They are symbolic objects to remind us of early scientific recordings and observations made in Antarctica.
The longer I work from original photographs of objects, the deeper I reflect on the form of an object and the capacity to hold necessity and meaning. The overlapping vitreous white enamel and black steel pendants on the wall form a silhouette with intersections and junctures over 1.8 meters long. These lines reflect the creases and layers of ice on the cliff face of the glacier. One side of the pendants is white enamel, and the other is blackened steel. One reflects the immensity and the other the potential future loss of glaciers. Worn the pendant around the neck is used as an aide memoire, located on the body to touch, feel and remember what is here, what to hold safe or what is lost."
As an artist driven by research and practice, Kirsten Haydon investigates the potential of gold and silversmithing to communicate human experience and connections with the environment. Kirsten completed a PhD in 2009 and has taught at the School of Fine Art, RMIT University in Melbourne since 2002. Her teaching and research advance knowledge in the areas of enamelling and installation for object-based practice. In 2004, Kirsten travelled as a New Zealand Antarctic Arts Fellow to Antarctica for her doctoral research project, Antarctic landscapes in the souvenir and jewellery.
Ice Shadows, 2021
Steel, enamel, silver, reflector beads
$8,000 (installation)
Image top: Kirsten Haydon, Ice Shadows, 2021. Photo: Courtesy of the artist