Melinda Young
Stories untold - Neckpiece Diptych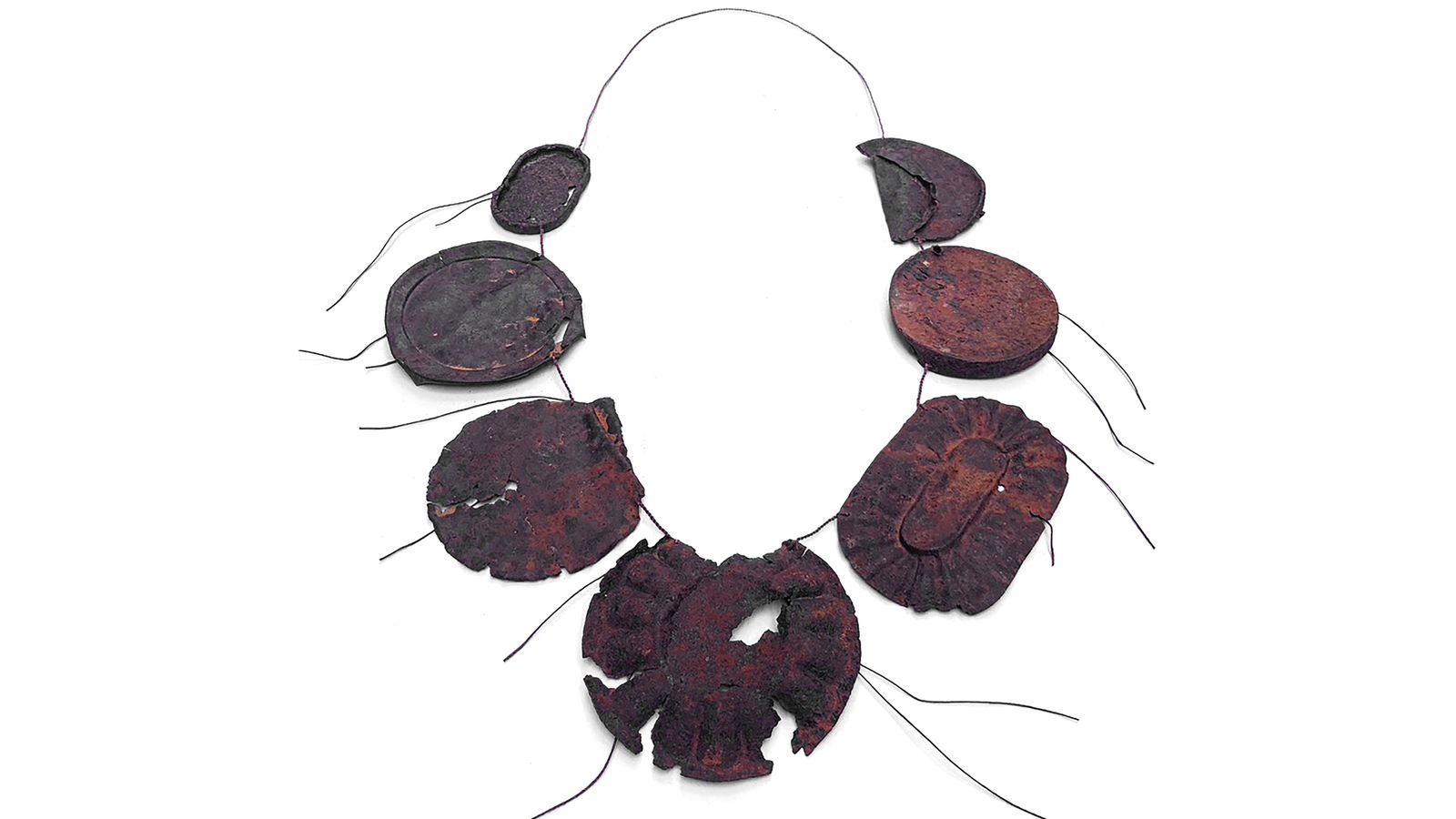 "This work is part of ongoing research into the narratives inherent in collected post-colonial debris. Collected along roadsides and at an abandoned dump in far west NSW the rusted domestic and industrial objects that form this work represent sites where the human and non-human coalesce, where the manufactured object is in the process of being reclaimed by Country.
There has been minimal interference at the jeweller's bench - the site of the component's transformation from rubbish to ornament. Some small holes have been added and the work is strung together with a deliberately thin hand-twisted cord, its loose threads signifying unanswered questions and difficult thoughts. Unstable and in a constant state of change, rust flakes and earth from the place of collection are shed onto the wearer. The work continues to transform as a result of interaction with the wearer's body, the wearer then becoming part of the history of these objects."
Melinda Young has a Master of Visual Arts from Sydney College of the Arts. She has exhibited extensively in Australia and internationally since 1997; her work is held in public collections and included in numerous publications. Melinda's practice primarily engages with the idea of 'place' and explorations of materiality, emphasising found or re-purposed materials as vehicles for narrative explorations of the landscape and its inhabitants.
Stories untold - Neckpiece Diptych, 2021
Rusted objects, linen and cotton thread, cotton cloth
$2,200
Image top: Melinda Young, Stories untold Neckpiece Diptych, (detail) 2021. Photo: Courtesy of the artist