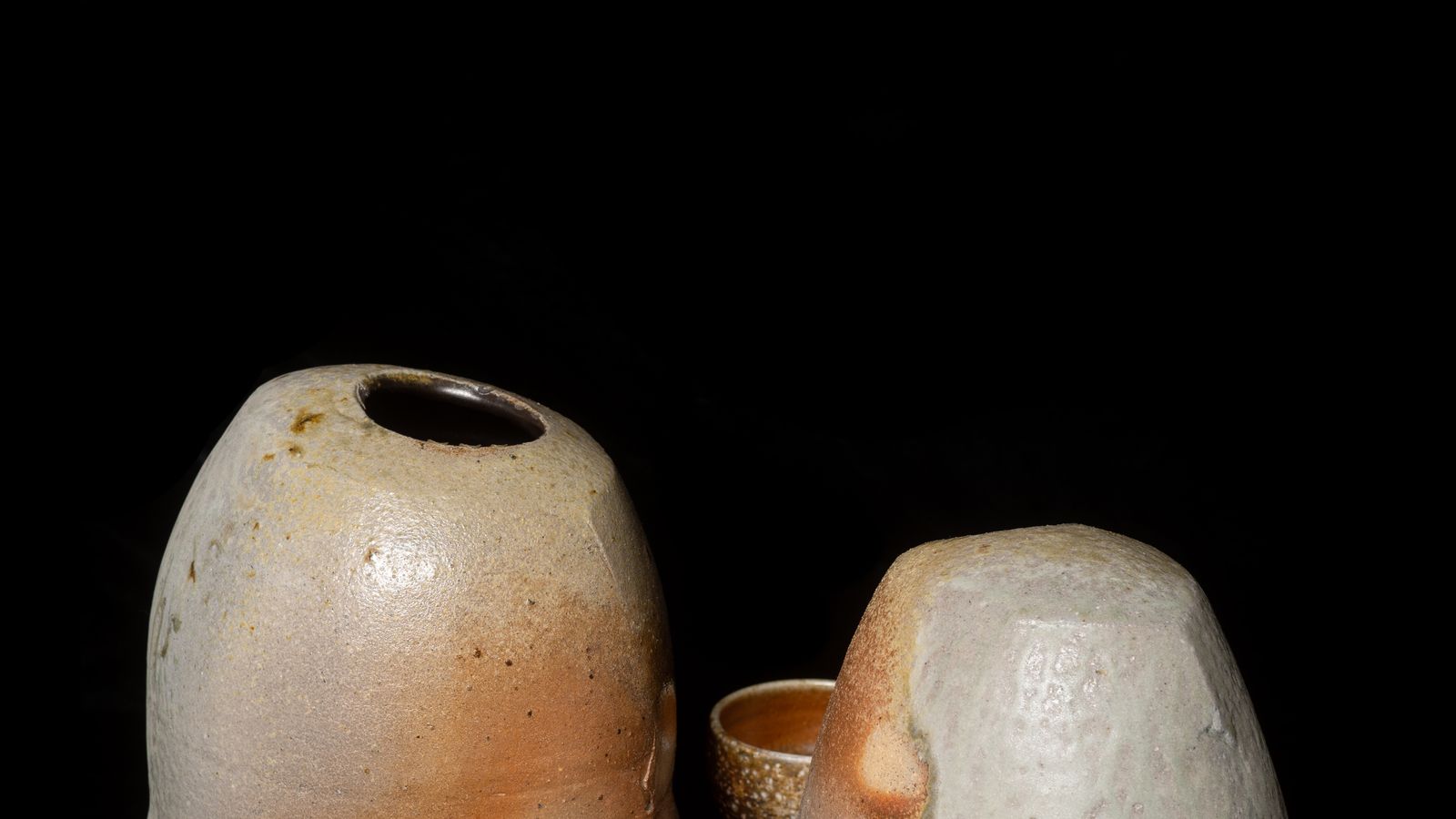 About the artist
Ben Richardson (TAS) was born in Hobart in 1951 and was awarded a B.Commerce degree in 1972 at the University of Tasmania. From 1978-81 he studied ceramics at the School of Art in Hobart and completed a Master of Art, Design and Environment degree in 2004. He has been designing and making his distinctive works for over twenty years after being introduced to wood firing techniques by renowned potters Les Blakebrough and Gwyn Hanssen-Pigott. A wood firing workshop conducted by Hanssen-Pigott just before she left Tasmania in 1980 gave him the stimulus to commit to working with local materials and firing with wood. He has maintained this commitment to an aesthetic based on indigenous materials by digging and preparing his own clay and grinding his own glaze materials. This processing provides the foundation for creating glazes and surfaces that convey both a way of thinking and a strong connection to the place of making. His work has a strong organic presence and an integrity of shape and form, surface and texture. He has studied wood-fired kiln building and firing techniques in Japan and in 2004 was invited to participate in an international wood firing workshop and conference in the United States, with his work selected for a juried international wood firing exhibition.
He is represented in major collections in Australia with work shown in national and international exhibitions.
Artist statement
Exhibition work: Sheltering, 2021, woodfired, stoneware, local clays, glaze
I come from settler and convict immigrants to Tasmania and live on its south-eastern coastal edge near Hobart. Those settlers came after the first wave of the industrial revolution in Europe and that set the scene for their ceramic making of utilitarian wares and building materials for the colonial settlements. The early use of the wild clays here was framed by these beginnings and it is useful to reflect on the industrial supply system that has grown from that. I now see my material choices as positioned in a dialogue between the industrial and the wild.
I came to working with clay in the late 70's towards the end of the initial flourishing of studio pottery. In many ways the timing was right as both Les Blakebrough and Gwyn Hanssen–Piggott were making and teaching here. They still shared an emphasis on using local materials that came from their time as apprentices at Sturt Pottery in Mittagong with Ivan McMeekin. In many ways I see this time as providing a rare opportunity to connect with a very direct conduit to the past – to Leach and Cardew and their formative influences from China and Japan.
It was also a time of increased environmental awareness, with public campaigns to save Lake Pedder from flooding and the Franklin River from damming. There was a recognition that Tasmania contained many special places, some of which were under threat from hydro-electric developments to power future industrial expansion - gradually the value of undeveloped wilderness as an aesthetic resource for the wider community was gaining favour. From these influences my commitment to exploring and using local materials to make useful pots that could find a place within culture grew.

Subsequently I taught part-time alongside Les Blakebrough and Penny Smith at the School of Art in Hobart and was a co-researcher during the prototype development phase of Southern Ice Porcelain and other research projects. After the Ceramics course in Hobart was closed, I subsequently helped develop other teaching opportunities at TAFE where I continued to teach part-time until 2013. For the last 10 years my making has ridden a resurgent interest in handmade ceramics and with it the chance to work with chefs like Ben Shewry at Attica and Peter Gilmore at Quay in making tableware for the theatre of fine dining.

Alongside the tableware I continue to make woodfired work that explores place and purpose and how that work can be presented in an exhibition context where the potency of purpose is difficult to convey. To do this I created Instills - these are arrangements in space of pots born in utility and filled by purpose. Here they are at rest, gathered together to explore relationships and ideas, but it is only in the arrangement of foliage or the sharing of sustenance that the full potency of these pieces can be instilled. It is there, waiting to be discovered, explored and enjoyed to the full.

These works are a contemporary expression exploring the latent power of pots of utility within the breadth of current ceramic art practice - they invite multiple readings and possible arrangements.
Image: Ben Richardson, Sheltering, 2021, woodfired, stoneware, local clays, glaze. Photo: Jonathan Wherrett