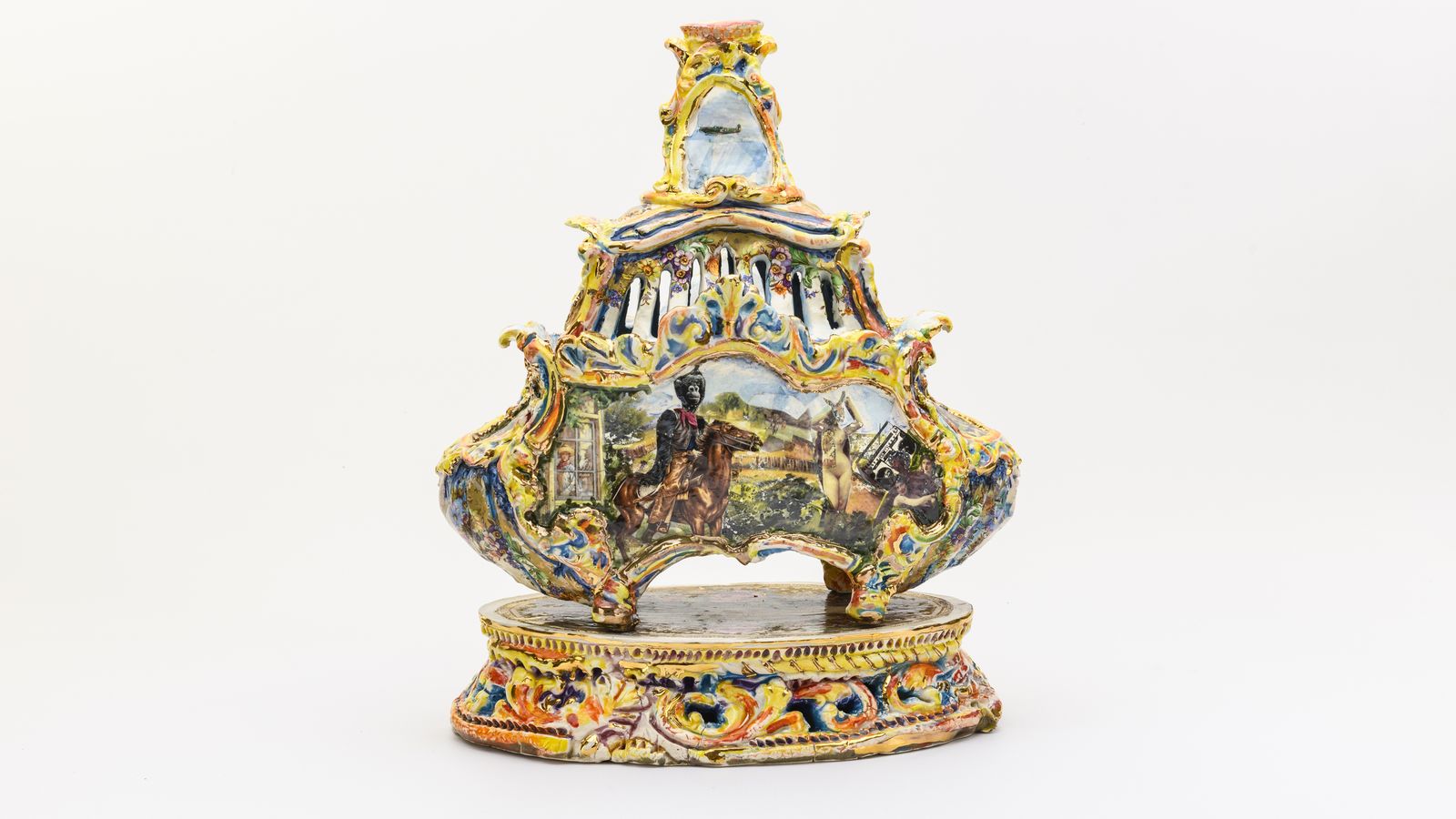 About the artist
David Ray (VIC) is one of Australia's leading ceramic artists. His artwork is held in numerous Australian and International collections and career spans over 25 years. He recently won the prestigious '2019 Winner of Excellence Award' at the Victorian Craft Awards, which recognises the highest achievement in creativity, innovation and design across media in Victoria. In 2018 he won the Manningham 'Victorian Ceramic Award'.
David Ray's art provides wry commentary on contemporary consumerism and the less celebrated aspects of Australian cultural life. Creating neo-baroque ceramics, incorporating an abundance of colours, textures and decals onto his handcrafted vessels, David is interested in the idea of ceramics as both functional objects and ornaments of value.
Artist statement
Exhibition work: Mutated Tureen with Dog Fish Candlesticks, 2021, earthenware, decals, enamel, gold
Dada, Surrealism are two movements of art that inspire my thinking towards Mutated Tureen. The Dada art movement was often satirical and nonsensical in nature which I combine with the subconscious imaginative nature of Surrealism. Using clay as medium has always fascinated me because of its malleability and endless possibilities. I am heavily influenced by the shapes and designs of 17-18 Century European factory ceramic, especially Tureens as they can act as centre piece for a table or sideboard. The word having derived from the French word 'Terrine' that was based on the Latin term 'Terra' meaning earth. Traditionally their function is to hold a stew or soup. My Tureen is earth mutated, that is dysfunctional instead it's the surface decoration that holds a narrative to be decided by you the spectator. The dog fish candle stick compliments the whimsical nature of the work.
Conceptually, my creations explore function and dysfunction within our consumeristic society. The handmade is an idealistic idea I hold dear within my making process. Decoration is incorporated within the body of the work; weaving, twisting and turning, with a confounding plethora of images and motifs. I feel that life is a juxtaposition between the perception of the beautiful and the ugly, which creates a subjective perception towards making and looking at Art itself.
From 1990 to 95 I studied at RMIT under Prue Venables, Kevin White and David Potter each in their own way helped mould me into a young aspiring potter; after that mentors such as Steven Benwell (who I shared a studio with for ten years) and Neville Assad as well as friends and family supported my thinking and practice during those informative years out of Uni. Ceramics mid 90s and early 2000 wasn't a thing back then, yet there was strong ceramics community that persevered to keep the craft alive to which is now thriving.
Magazines such as Australian Potters and Ceramics Art and Perception, (now The Journal of Australian Ceramics) I believe was instrumental in holding a space for shared community dialogue and exposure for Australian ceramics nationally and internationally. I have also been fortunate to have work published in The JAC over the years and be a presenter and demonstrated Australian ceramic conferences.
Image: David Ray, Mutated Tureen, 2021. Photo: Chris Sanders