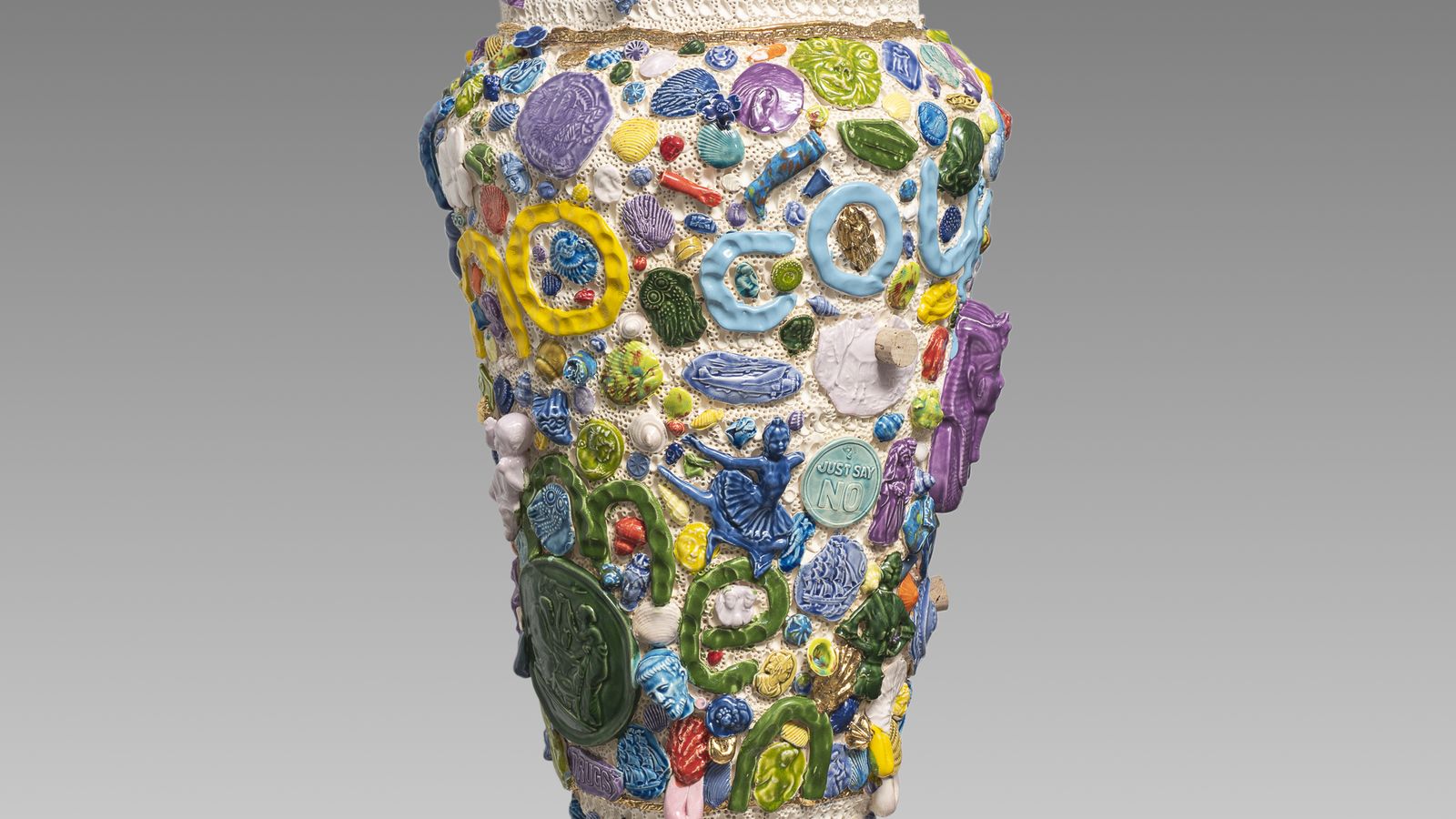 About the Artist
Glenn Barkley (NSW) is an artist, writer, curator and gardener. His work draws upon the history of ceramics, popular song, the garden and conversations about art and the internet.
Recent major exhibitions include imayimightimust, Sullivan+Strumpf, Sydney (2018); yetmorecontemporaryart, Artspace, Sydney (2017); the Adelaide Biennial of Australian Art: Magic Object, Art Gallery of South Australia (2016); The Garden of Earthly Delights, Westspace, Melbourne (with Angela Brennan) (2016); Watching Clouds Pass the Moon, Lake Macquarie Regional Gallery, NSW (2016); and Glazed and Confused: Ceramics in Contemporary Art Practice, Hazelhurst Regional Gallery, NSW (2014).
Glenn was previously senior curator at the Museum of Contemporary Art Australia (2008–14) and curator of the University of Wollongong Art Collection (1996–2007). He is co-founder and co-director of The Curators Department, Sydney and of kil.n.it experimental ceramics studio Glebe, Sydney.
He was a finalist in the 2017 Sidney Myer Ceramics Award and is held in numerous collections both nationally and internationally, including the Art Gallery of South Australia, National Gallery of Australia, Shepparton Art Museum and Artbank Sydney.
Artist statement
Exhibition work: thatisnocountry4oldmen (sailing2byzantium), 2022, earthenware, slipcast, corks, gold lustre
I have always been interested in singular, unpopular or marginal art forms – whether that be working with artists who through virtue of their materials were outside the orthodoxies of contemporary art, or artists who may not have even thought of themselves as artists. I collect objects that are near the point of disappearance, radically out of vogue, or obscured by history and taste. The cast off and hand-me-downs, the cobbled together, the repaired, the bad.
If history tell us anything it's that in life and art there is only a razor thin difference between the op shop, the skip and the museum and I want my work to conceptually co-exist in those three places and where art can be found if you know how to look.
I came to ceramics late in my career and after over twenty years of curating. I always had an interest in pottery as a curator, a collector and due to the influence of my mother-in-law, Lyn Havilah, who was a production potter. She always had TACA journals laying around that I used to read. I'm going to make a plinth of these journals as they are kind of the bedrock of mine, and many others practice, and keeps you propped up and supported to a certain extent.
The large pot incorporates some materials that I found in Lyn's studio – corks and taps. At one point everyone was sticking corks in everything, now no-one uses corks.
But I love the thought of someone starting out, maybe just wanting to do something creative or even start up a small business to support their family. Looking through the journal thinking corks are hot – buying a bag full and then having a go – making something beautiful, something of their own, just being in the moment in the studio, in the kitchen or the garage or wherever it was they worked. Being happy, free, full of joy - the way I feel when I make.
Image: Glenn Barkley, thatisnocountry4oldmen (sailing2byzantium), 2022. Photo: Greg Piper.