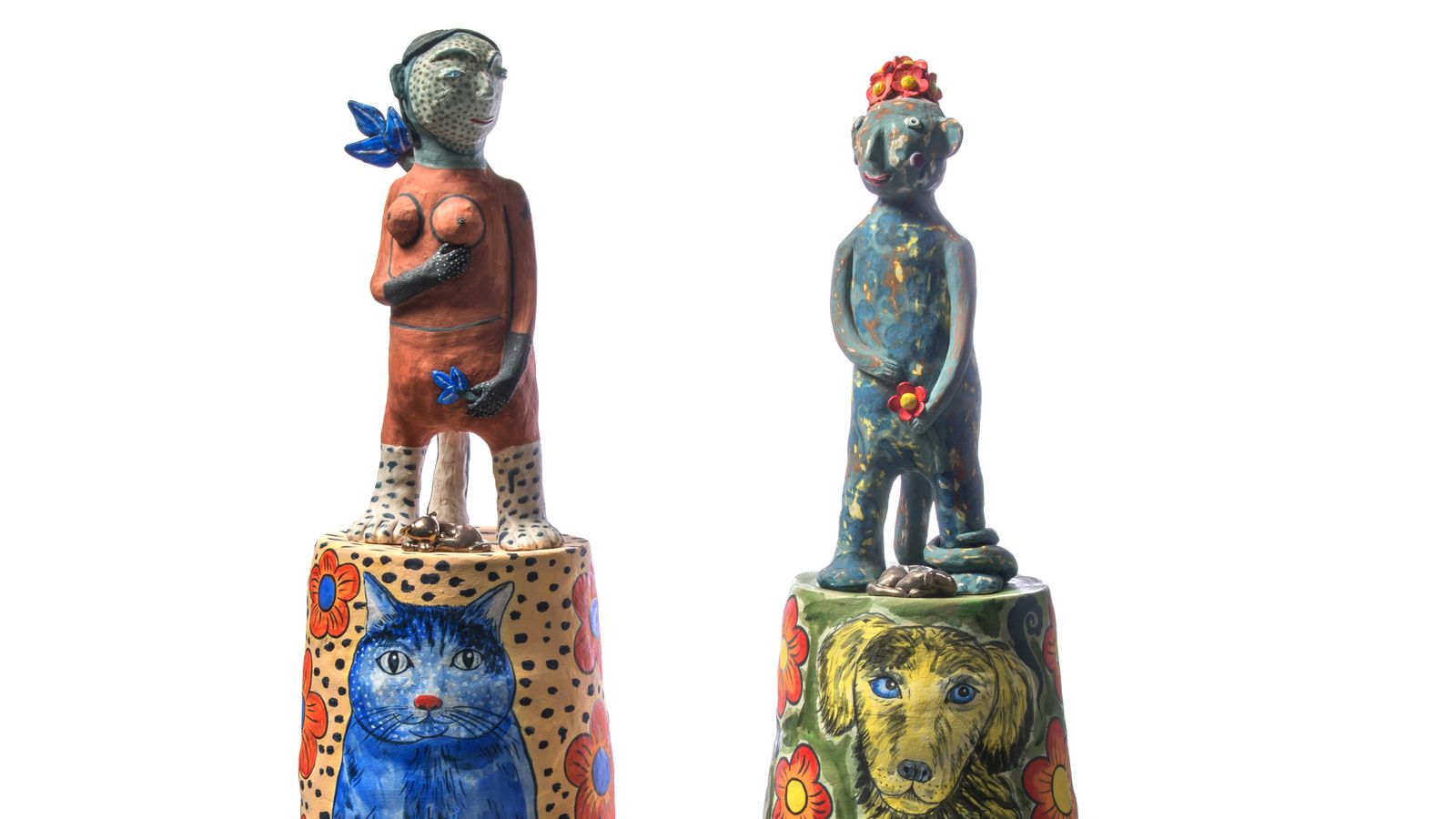 About the artist
Vipoo Srivilasa (VIC) is a Thai-born artist, curator and arts activist who works predominantly in porcelain but also creates work on paper, mix media sculptures, bronze statues and designs large scale public art.
Vipoo's work is a playful blend of European historical figurines and Asian decorative art practices with a healthy dose of contemporary culture. He loves making works that are accessible, beautiful and create positive energy. Usually with a sense of fun and playfulness.
As a Thai-born Australian artist, a cross-cultural experience is in Vipoo's blood and it is his passion to share this experience with others. Cultural diversity helps him understand the conflicts and contradictions in race, religious and sexual discrimination from personal, regional and global points of view. It is the reason why Vipoo is actively involved in organised cultural exchange projects between artists internationally.
In addition to exhibiting his works, Vipoo regularly organizes projects that create opportunities for cultural exchange between artists as well as taking part in many collaborative projects. Collaboration is an important part of Vipoo's art practice. Vipoo has been using clay to engage and include different communities into the creative process for the past 10 years.
Vipoo has experience in working with manufacturer companies to create arts in public space. Including an art column at the new Chancellery building, Monash University, Melbourne; seven large ceramic sculptures for ICON Siam, Bangkok and a 7 meter high inflatable mascot for the Parramasala Festival, Sydney.
For more than 20 years, Vipoo has exhibited both internationally and throughout Australia, including Museum of Fine Arts, Boston; Saatchi Gallery, London; Ayala Museum, Philippines; Yingge Ceramics Museum, Taiwan; Nanjing Arts Institute, China and the National Gallery of Thailand. His work is held in national and international collections including the National Gallery of Australia, the Art Gallery of South Australia, GOMA, and the Craft Council, UK.
Vipoo was awarded a Bachelor of Art (Ceramics) from Rangsit University, Bangkok, Thailand in 1994 which he followed with a Graduate Diploma of Arts (Ceramics) three years later at Monash University in Melbourne, and in 1998 was awarded a Master of Fine Art and Design from the University of Tasmania, Hobart.
He was also awarded the 2021 Ceramic Artist of the Year by the editorial staff of Ceramics Monthly and Pottery Making Illustrated, The American Ceramic Society, USA.
Artist statement
Exhibition work:
Dvarapala (Ta-waa-ra-baan), Door Guardian Porter series, 2019, stoneware, underglaze, gold lustre, acrylic, mixed media
Wi-laa (Feline)
Su-nak (Canis)
Courtesy of Edwina Corlette Gallery, Brisbane; Olsen Gallery, Sydney; Scott Livesey Galleries, Melbourne.
A Dvarapala is a door or gate guardian in Sanskrit. The Dvarapala statue is a widespread architectural element throughout Hindu and Buddhist cultures. They are often placed in front of temple or royal palaces, to protect the holy places inside.
A Dvarapala is usually portrayed as an armed fearsome guardian looking like a demon, but at the gates of Buddhist temples in Sri Lanka, Dvarapalas often display average human features. In Thailand, they are portrayed as a fearsome giants in a standing position holding a club downward in the center. Today some Dvarapalas are figures of policemen or soldiers standing guard.
The ancient sculpture of Dvarapala in Thailand is made of a high-fired stoneware clay covered with a pale, almost milky celadon glaze. Ceramic sculptures of this type were produced in Thailand, during the Sukhothai and Ayutthaya periods, between the 14th and 16th centuries, at several kiln complexes located in northern Thailand.
For this show, I create a pair of friendly Dvarapala. They do not only ward off evil spirits but also welcome visitors. Instead of holding a club, they offer flowers and leave to visitors. Both of my Davrapala come with their own "vahana " or animal- vehicle which they travel on and keep their company. Both animals, cat and dog are the most popular pets in the world. They are not only our great companion but also a guard for our house and a therapy to heal our spirit.
Wi-laa (Feline) Dvarapala holds a bunch of leaves in her hand. Leaves are symbolic of fertility, growth and a chance to start anew and amend their past mistakes.
Su-nak (Canis) Dvarapala holds a five petal flower in his hand. The flower symbolizes perseverance and hope, as well as beauty, purity, and the transitoriness of life.
Image: Vipoo Srivilasa, Dvarapala (Ta-waa- ra-baan) series – Wi-laa and Su-nak, 2019, stoneware, underglaze, gold lustre, acrylic, mixed media. Photo: Andrew Barcham