They farmed tapioca, oranges and rice
Camille Laddawan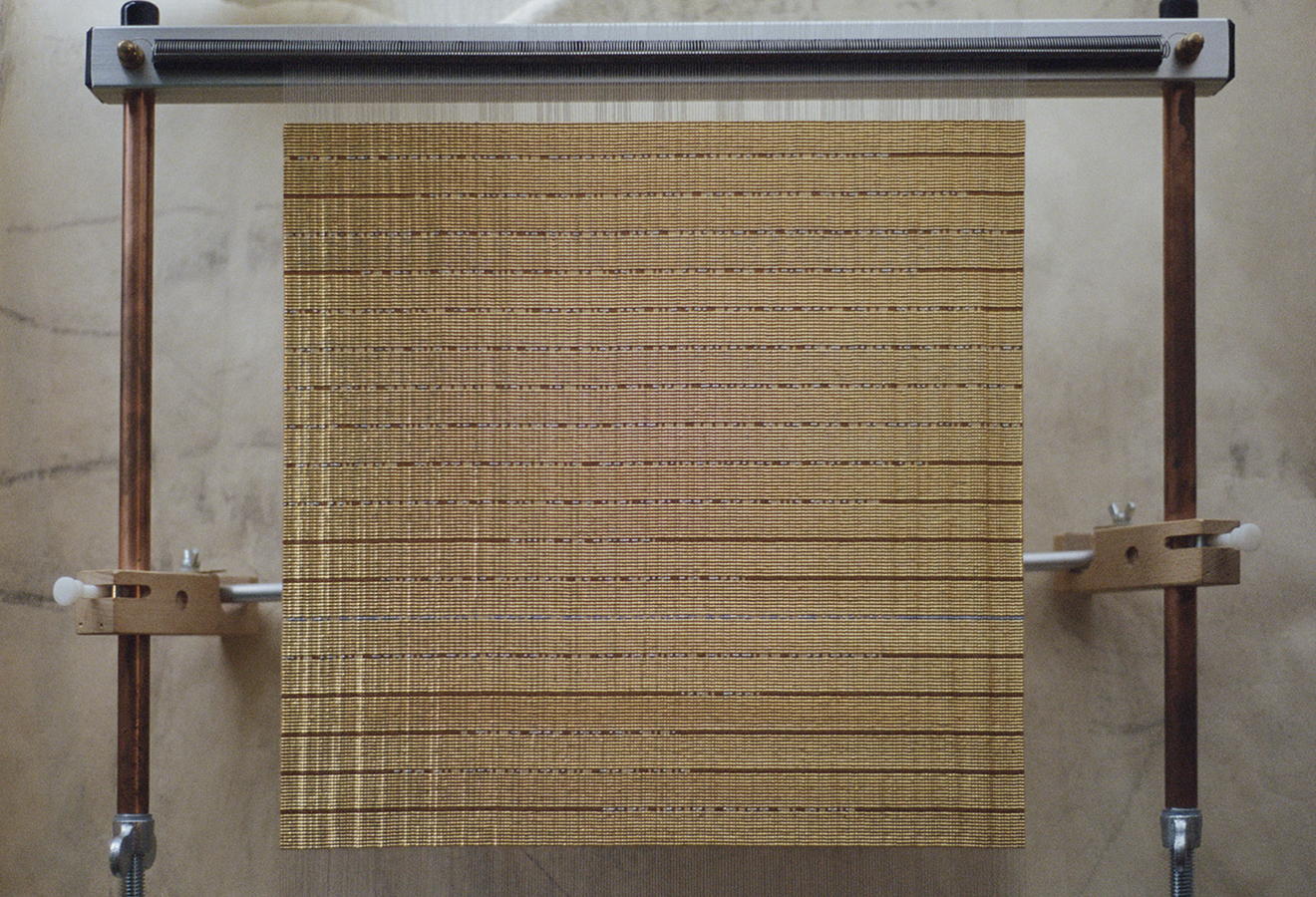 30 November - 25 January 2024
They farmed tapioca, oranges and rice poetically examines the multiple cultural and biological lineages that artist Camille Laddawan and her partner Roslyn Orlando will share with their child.
Through the process of understanding a child's origin story, the birthing parent, the non-birthing parent, and the donor each hold and offer a different relationship to ancestry and heritage. Each has a nuanced history of tradition, migration, cultural loss, and change. This body of work seeks to understand the relationships between what is inherited, and how these different threads culminate in the understanding of a child's own identity through storytelling.
Inscribed within three gold beadings are fragments of stories passed down by the three matriarchal lines that link the child together, with cultures comprising Thai, Laotian, Cambodian, Dai, Greek and Cypriot. Each fragment has been written in code, alluding to the work of trying to find and collect histories that haven't been formally recorded.
The exhibition also includes a hand-made kite with a woven tail of glass seed beads. Referencing official records, public archives and family trees, the kite tail lists names, birth dates and locations of the child's various ancestors as remembered and described orally in conversation. The symbol of the kite is drawn from a childhood story that Camille's mother recalls of kite fighting with her brother in Bangkok, Thailand.
A selection of family ephemera, collected during research for this exhibition, includes photos, plant matter, iconography, and symbolic objects. This personal collection of artifacts references the aesthetics of a museum exhibit, providing visual cues to the oral stories told within the beaded works.
Presented by Australian Design Centre, this exhibition was developed in residence at Bundanon Trust and is supported by Creative Australia.
About Camille Laddawan
Camille's practice is focussed on beading but extends to etching, painting and photography. Her beading work is often inscribed with fragments of text and music notation by way of a visual code. Through this code, her work comments on the nature of institutional language, and the difficulties of navigating it. Drawing on personal experiences of contact with legal, welfare and healthcare bodies, Camille's work seeks to make these experiences visible.

Fragment One, 2023
24 carat gold plated glass beads, thread
50 x 50cm (framed)
$4,400
Fragment Two, 2023
24 carat gold plated glass beads, thread
50 x 50cm (framed)
$4,400
Fragment Three, 2023
24 carat gold plated glass beads, thread
50 x 50cm (framed)
$4,400
Kite, ว่าว, χαρταετός, 2023
rice paper, wood
105.5 x 102.5cm
Price on request
Kite Tail, 2023
glass beads, thread
Price on request
Artefacts, 2023
assorted objects
Not for sale
Image top: Camille Laddawan, Fragment One, 2023. Photo: Courtesy of the Artist