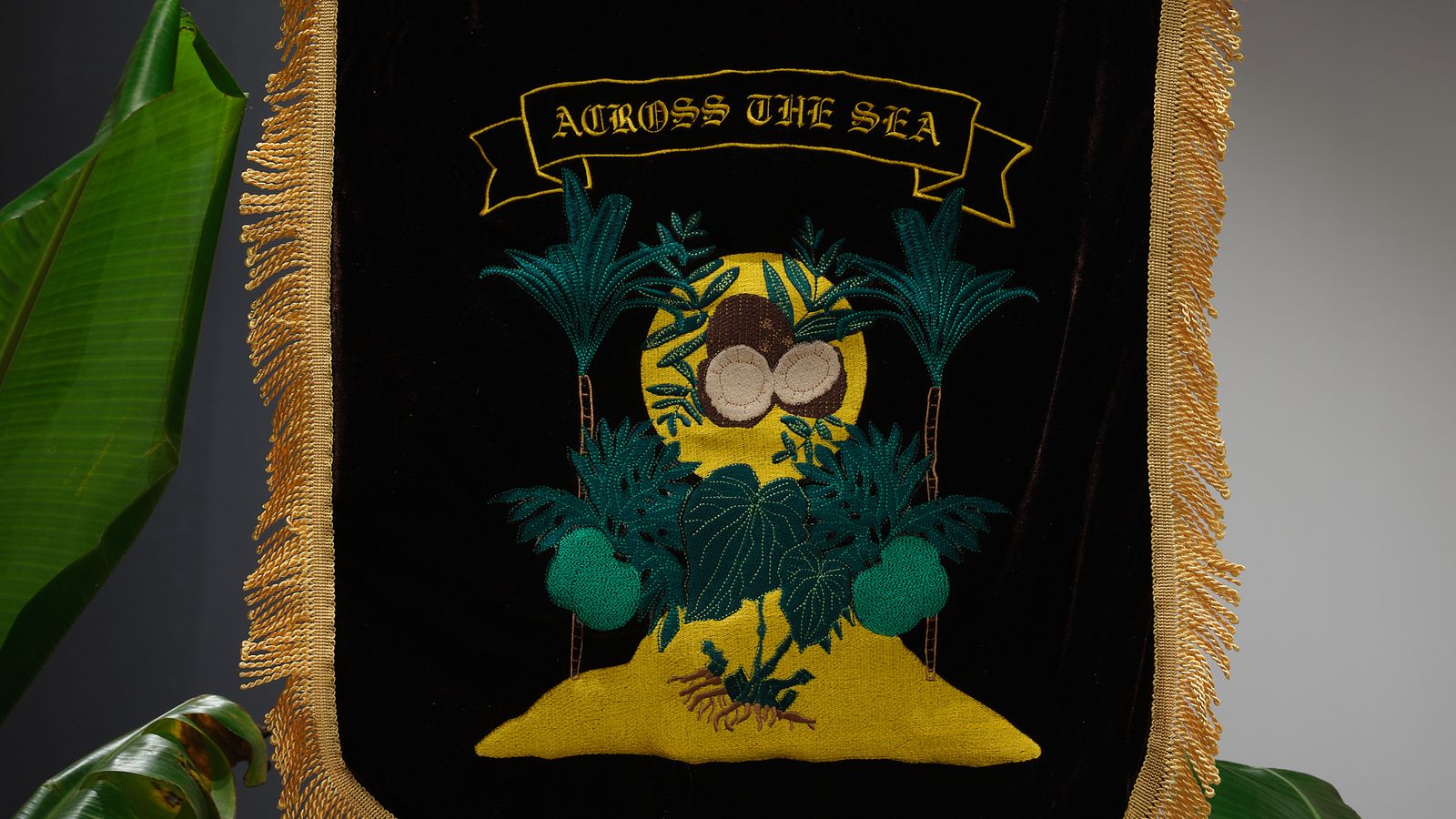 She / Her
Aotearoa / New Zealand
Across the sea 2022
mixed media installation

Referencing embroidered family banners from her Scottish and Irish heritage, this banner honours Ahilapalapa's plant relatives in place of ancestral names and connects with her Hawaiian whakapapa (genealogy).
I love the rigid gaudiness of traditional banners, they're kind of camp, with gold brocade and velvet. In the Kingdom of Hawaii (post contact), we created our own versions to adapt and keep pace with other nations. This material culture married well with our own knack for pageantry, and a distinct aesthetic was formed.
Before colonisation, queerness was a part of our culture; same sex partners and third gendered peoples with sacred roles, were essential. Our aloha as Hawaiians has never been 'straight', it is birthed from our lands and oceans.
Across the sea presents a wall hanging embroidered with a tribute to canoe plants that don't grow in Aotearoa where Ahilapalapa was raised. In a Hawaiian worldview, plants are an intrinsic part of genealogy:
In our whakaapa the kalo (taro) is our older sibling Haloa. Our many akua (deities) have kinolau (many bodies): plants, animals and environments are embodiments of the akua.
Our people were oceanic gardeners who brought plants with them as they migrated across Oceania. How difficult it must have been, arriving here in such a different climate; crops like the banana, the large Hawaiian tī leaf and varieties of taro are quite fragile here, and coconut and breadfruit failed. What were those early years of rapid-fire innovation like? There is something here about home and bringing it with you, but also some things are left behind.
In pre-contact times, Queerness was an entrenched part of our culture; ʻai kane (same sex partners) and māhū (third gendered peoples with sacred roles) were integral to society. The concept ʻaloha is not straight', shared by Hawaiian activists like Jamaica Osorio and Noʻu Revilla, has influenced my thinking around sexuality, place, land and plants. Our aloha as Hawaiians has never been 'straight', it is birthed from our lands and oceans. In the garden, reconnecting to my plant relatives, all of us from across the sea, my queerness is at home.
Ahilapalapa Rands was born and lives in Aotearoa and has whakapapa (ancestry) connected to Hawaii, Samoa, Cook Islands, Fiji, Scotland, Ireland and England. With a strong decolonial agenda she works to restore, rediscover and perpetuate ways of being and creating in relationship with one another across our Moana nui a Kiwa (the Great Ocean of Kiwa, the Pacific Ocean). Ahilapalapa's art practice focuses on her lived experience as part of the Hawaiian diaspora and navigating colonial borders that block access to ancestral homelands.
She holds a Bachelor of Visual Arts from Auckland University of Technology and a Diploma in Te Reo Māori from Te Wananga o Raukawa in Ōtaki, Aotearoa. She loves working collaboratively and has co-founded and worked in collectives for over a decade, most recently, Moana Fresh with Vaimaila Urale.
Top Image: Ahilapalapa Rands, Across the sea, 2022. Photo: Courtesy the artist.