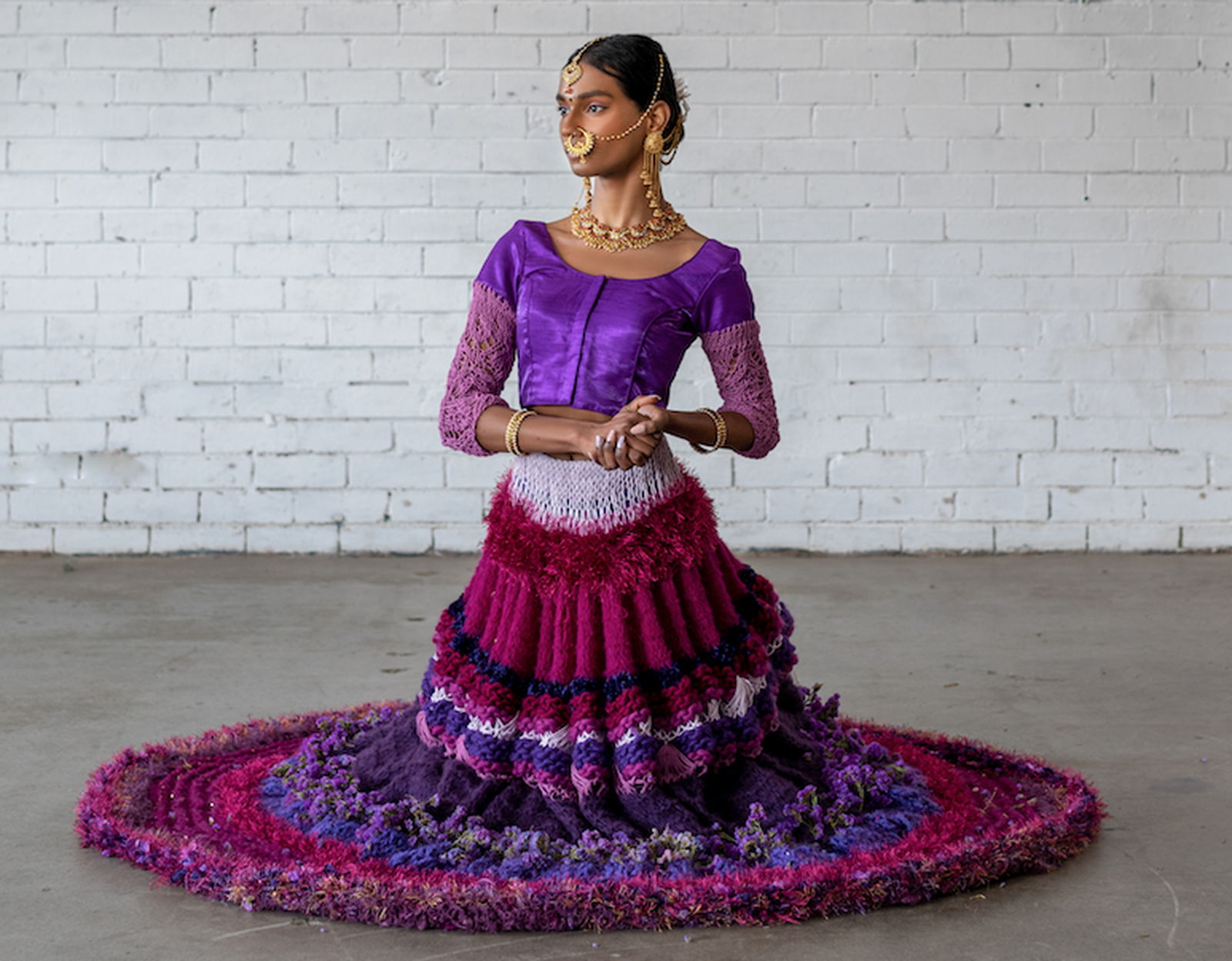 He / Him
Naarm / Melbourne / Australia
Achillea 2021
upcycled Savers jumper knitted on top with different textured yarn, woven with achilleas, floristry by Graham Ho
Pampas and Miscanthus 2021
wispy cabled dress knitted with mohair, merino wool, miscanthus, pampas grass
Spanish Moss 2021
upcycled double denim look dyed in green, knitted on top with different textured yarn, cropped jumper sleeves woven with Spanish moss, side panels on the jeans feature Samoan tattoo patterns
Statice 2021
upcycled sari blouse knitted on top with a lace motif sleeves, lehenga-inspired skirt knitted with different textured yarn, woven with purple statices
Rebuilding Queerness 2021
digital videos
Andrew Chan with Blu Jay, Mavi Rasa, Miss Cairo and JULAI
As a celebration of Queer and Trans People of Colour (QTPOC) Andrew was inspired to create these four pieces that highlight the unique and diverging experiences of Queerness, culture and self-expression. Andrew chose specific people for whom to create these garments, reflecting their individuality.
Weaving together multimedia works from a diverse line of QTPOC performers, and accompanying them with bespoke, hand-knitted pieces, the works featured in the exhibition Rebuilding Queerness as a space for reclamation and unlimited self-expression.
Curated & knitted by Andrew and entwined with the floral wizardry of Graham Ho, these pieces explore the ways that unique experiences of culture, gender, sexuality and individuality inform personal QTPOC stories.
Andrew Chan (thecatwhoknits) is a multidisciplinary artist best known for his work in knitting, tapestry and fashion. Originally from Klang, Malaysia, he now lives and works on the lands of the Wurundjeri and Boonwurrung people of the Kulin nations.
Andrew uses fibre and yarn to create wearable pieces with a focus on narrative and conversation – often expressing and weaving together the intersectional stories of Queer People and People of Colour. He is the recipient of Living Positive Victoria's Community Development Award for their work in HIV advocacy.
Following his 2022 show Rebuilding Queerness with Graham Ho, he is continuing to engage in representation and communal storytelling through his art practice.
Top Image: Andrew Chan, Statice, 2021. Photo: Andrew Chan