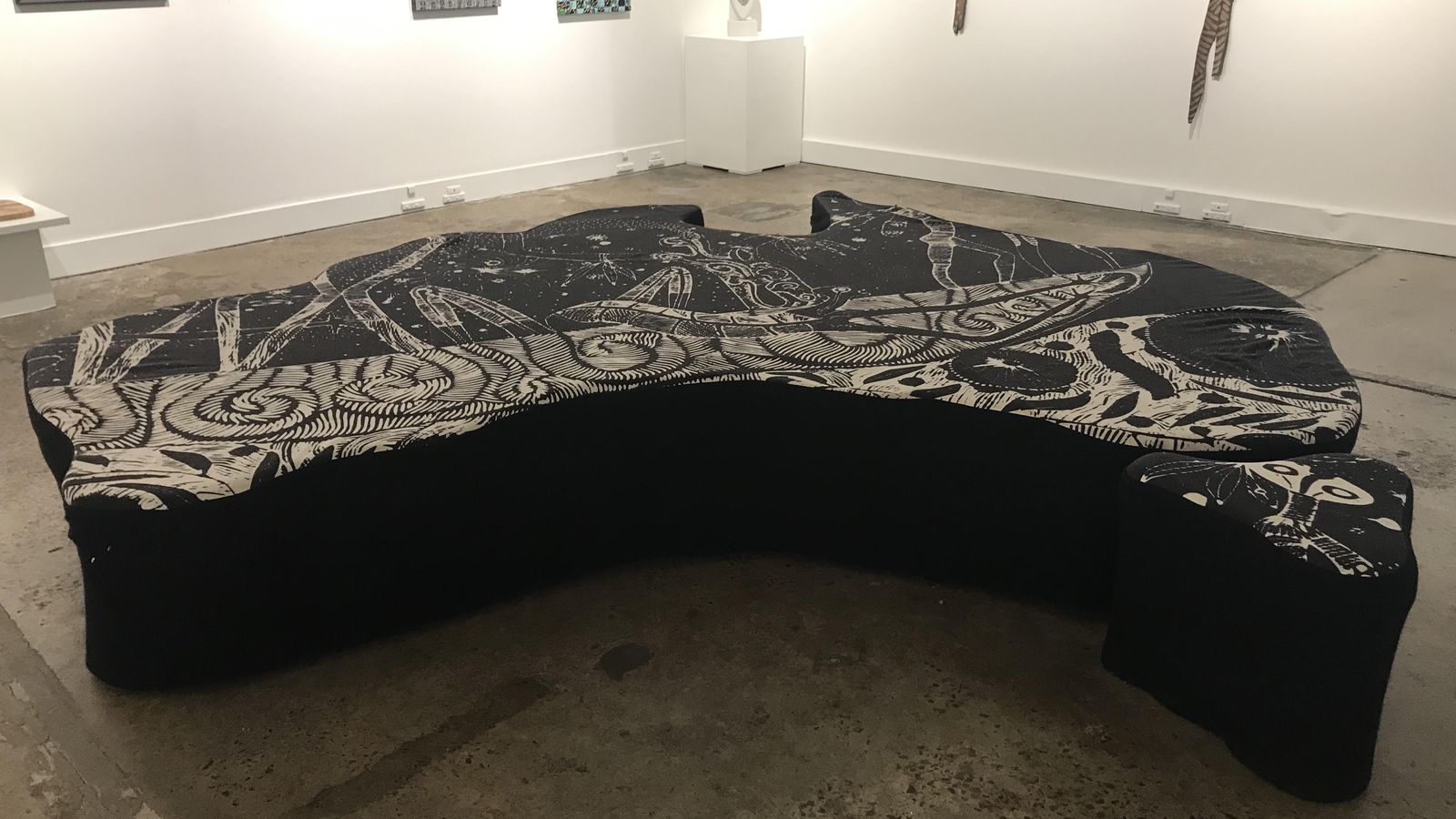 He / Them
Eora / Sydney / Australia/ d. 2021
Spirit Ark 2014
linocut screen printed on fabric, wooden frame
...Within this vessel are elements of my childhood - the figure with three dilly bags, a guiding light, my mother and the three mangrove men figures. The designs below the boat in the water, are location markers. They show the dugong, jellyfish, sea cucumbers and coral.
The design for this work was based on Arone's 2009 linocut print Spirit Ark - Navigation by the Stars.
In 2014, the Australian Federation of AIDS Organisations (AFAO) commissioned Arone to help create the couch for the International AIDS Conference held in Melbourne. This event was a landmark moment for the history of Australia's response to HIV and the first time that an International AIDS Conference had been held in this country.
Spirit Ark is on loan from Boomalli Aboriginal Artist's Co-operative, Sydney, and is exhibited with the permission of the artist's family.
https://www.afao.org.au/article/true-words-true-story-journey-visual-arts-working-communities/
http://www.afao.org.au/library/hiv-australia/volume-12/vol.-12-number-3/true-words-true-story#.VSy_FpMcA7c
Arone Raymond Meeks was a Kuku Miidiji man. He was an artist, teacher and First Nations health advocate for Aboriginal and Torres Strait Islanders. He was a co-founding member of Boomalli Aboriginal Artists Co-operative.
Arone received a traditional education from his grandfather and other relatives and Elders. An accomplished printmaker, Arone's work employs both traditional images and themes arising out of his concern with the issues of Land Rights, sexuality, cultural values and belonging to place.
His work continues to be exhibited across Australia and internationally. His work is held in major national and international collections including Artbank, Art Gallery of NSW, Art Gallery of South Australia, Art Gallery of Western Australia, National Gallery of Australia, Queensland Art Gallery, Biblioteque Nationale and the National Gallery of Japan.
Top Image: Arone Raymond Meeks, Spirit Ark, 2014. Photo: Courtesy Boomalli Aboriginal Artist's Co-operative