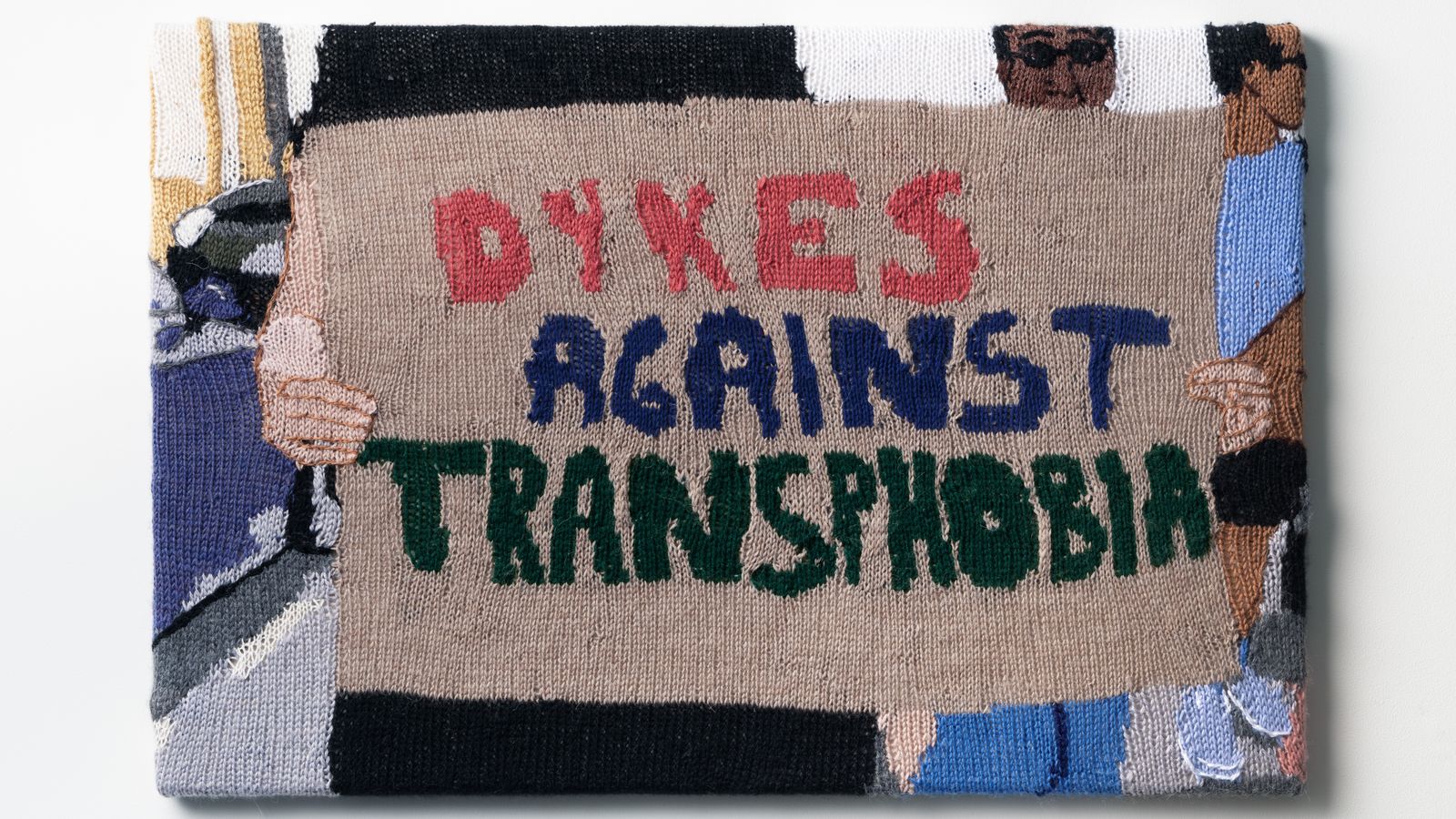 She / Her
Naarm / Melbourne / Australia
Dykes Against Transphobia 2022
knitted wool, plywood, oak
Keep Your Fucking Hands Off Us 2022.
knitted wool, plywood, oak
These works are a part of PROTEST SIGNS, a series of hand-knitted works. Each sign is a knitted homage to a protest collected via social media, news media, online or at live protests. This suite of knitted protest signs addresses a broad range of significant social and political issues of our time including feminism, sexual harassment and assault, reproductive freedom, LGBTQIA+ pride and discrimination, racism, sexism, transphobia and ecological crisis.
The translation of these hand-made signs into knitted form invites a close tactile engagement with the value of protest signs – which are usually ephemeral, dynamic, funny and made by everyday people with at-hand material and discarded after use. This body of work about the 'signs of our times,' continues Kate's engagement with urgent social change movements and heralds the potential we all have to change the world with our own two hands.
Kate's visual art practice is primarily focussed on the deployment of traditional craft forms in contemporary art works that question histories of female and Queer representation through the lens of subjective experience. Past works have included knitted figures, large text sculptures, abstracted forms and collections of knitted skins, tools and armours. Specific to Kate's practice is the use of knitting as an engaging sculptural medium, a poetic or political tool.
Kate Just is an American-born Australian feminist artist known for her inventive and political use of knitting and currently living on Dja Dja Wurrung Country (Central Victoria). In addition to her solo art practice, Kate works collaboratively within communities to create public art projects that tackle significant social issues including sexual harassment and violence against women.
Kate holds a PhD in Sculpture from Monash University, a Master of Arts from RMIT University and a Bachelor of Fine Arts from Victorian College of the Arts where she is a Senior Lecturer in the Master of Contemporary Art program. She has exhibited extensively across Australia and internationally at major public galleries and contemporary art spaces.
Top Image: Kate Just, Dykes Against Transphobia, 2022. Photo: Simon Strong